Longtime area Judaic studies professor Eric Friedland dies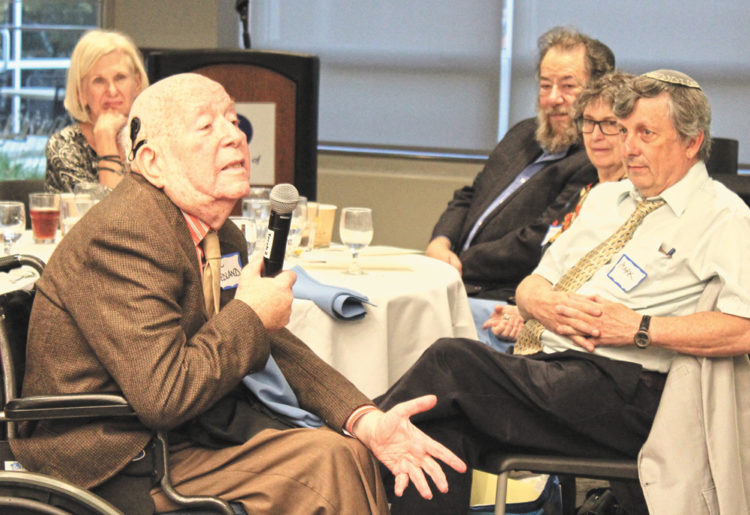 By Marshall Weiss, The Dayton Jewish Observer
Dr. Eric L. Friedland, who for 30 years served as Sanders Professor of Judaic Studies for United Theological Seminary, University of Dayton, and Wright State University, died Jan. 16 at age 79.
Born in New York and raised in Boston, Friedland arrived in Dayton in 1968 with a doctorate in Judaic studies from Brandeis University; he moved here to fill the new Sanders professorship, conceived by Rabbi Selwyn Ruslander of Temple Israel and funded through the Harriet Sanders Trust at the temple. Friedland taught two courses a year at UTS, UD, and Wright State until his retirement in 1998, and at Antioch College until 1982.
In an interview with The Observer when he retired, Friedland recalled there was an air of excitement about teaching Judaism on the college level after the Vatican II Council in the '60s.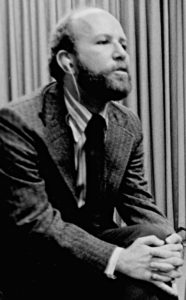 "It was beginning to catch on. It was something of a novelty," he said. Even so, the Sanders program was a rarity in the academic world: Friedland had to meet the needs of a Protestant seminary, a Catholic university, a state university, and a private liberal arts college under the aegis of a single professorship.
Because none of Dayton's institutions of higher learning could fully support a Judaic studies position, his professorship was developed for several schools. The Sanders Trust funded the program for its first 10 years; the schools then took over the funding.
At UD, Friedland taught courses on basic Judaism and the Holocaust, in line with the university's adherence to Vatican II, which he described as acknowledging "the special role accorded Judaism in the work of God."
At UTS, his teaching helped seminarians know Judaism on its own terms, to help them arrive at an understanding of how and why Christianity came to be.
His focus at Wright State was for students to recognize Judaism as vital to a diverse, pluralistic society. Because of a requirement in the Wright State Religion Department, Friedland also taught the New Testament course there.
"I'd give something of a Jewish stance, presenting a scholarly view without any doctrinal suppositions," he told The Observer.
Friedland was a noted scholar of liberal Jewish liturgy, beginning with his Ph.D. dissertation, The Historical and Theological Development of the Non-Orthodox Jewish Prayer Books in the United States, and culminating with his 1997 book, Were Our Mouths Filled With Song: Studies in Liberal Jewish Liturgy, published by Hebrew Union College Press.
Filled with a passion for interfaith dialogue, Friedland initiated an annual scholarly symposium in 1978, which continues as the Ryterband Symposium, sponsored by and rotating among UTS, UD, and Wright State. He was also a participant in the first National Workshop on Catholic-Jewish Relations, held at Dayton's Bergamo Center in 1973.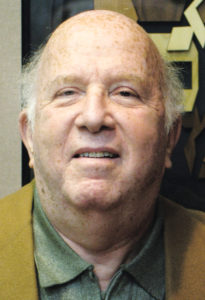 "He was like a brother to me. Our relationship goes back 47 years," said Peter Wells, retired executive director of the Jewish Federation of Greater Dayton. "He's been a good friend, teacher, and adviser to me. Being in Eric's presence was always a spiritual and learning experience."
Friedland continued to live in the Dayton area after his retirement and taught Jewish adult education courses for a few years with the Jewish Federation.
"He wasn't interested in just any one Jewish denomination: it was all of the liturgy," said Dr. Michael Meyer, professor emeritus of Jewish history at Hebrew Union College-Jewish Institute of Religion, at the gathering following Friedland's funeral. "He was someone who was interested in the totality of the Jewish people."
Born with a hearing impairment, Friedland learned to speak as a youth and communicated through a combination of lip reading and hearing aid amplified sound.
"We have lost an extraordinary colleague, a precious friend, and an incredible mensch," wrote Dr. Nick Piediscalzi, a Wright State professor emeritus of religion, in an email to other retired Wright State faculty. "When we invited Eric to join our faculty in 1968, our acting dean criticized us for hiring a deaf person who would not be able to communicate with students and colleagues. Little did any of us realize that we had added a giant to our ranks. His courage, creativity, healing sense of humor, infectious smile, brilliance, and compassionate spirit raised us all to new heights and took us to new depths. Eric taught us not to curse the darkness but, rather, to light candles. His presence will be greatly missed."
"When I look at Eric, I've seen how strong a human being can be. How somebody can transcend the physical disability and when they are sitting with you, you are sitting with a giant — a spiritual giant," said longtime friend, physician Wayel Azmeh. He and his wife, Ramzieh — also a physician — studied Muslim and Jewish sacred texts with Friedland for years. The Azmehs are Muslims from Syria.
"We felt he was part of our family," Ramzieh Azmeh said. "He came every Ramadan to our mosque. Everybody in the Muslim community knew about him. We never felt difficulty sitting together (in study). We were each one of us secure in our own religion. We always compared notes because it complemented the picture of what God wants us to do."
In 2016, UD and HUC-JIR established the Selwyn Ruslander/Eric Friedland Fellowship — to honor Friedland and the late Temple Israel rabbi who conceived Friedland's professorship — for their bridge-building in Dayton Jewish-Christian relations. The fellowship funds an HUC-JIR doctoral or post-doctoral student to teach Judaics courses at UD each semester.
To read the complete February 2020 Dayton Jewish Observer, click here.