World Jewish music program for Chorale's Feb. 9 fundraiser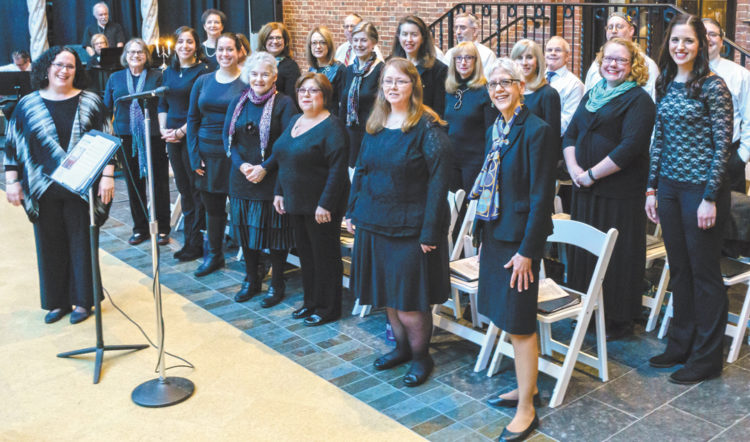 With a focus on the Jewish people's diversity, the Dayton Jewish Chorale's Feb. 9 concert at PNC Arts Annex will feature Jewish music spanning five continents.
A World of Jewish Music also marks the five-year-old ensemble's first full choral concert program, according to its director, Cantor Jenna Greenberg.
"They have worked very hard on some challenging pieces, both in terms of the music and the languages in which they are singing as well," Greenberg says. "For the first time ever, we will be singing in Luganda, the language of the Abayudaya, the Jewish community in Uganda. I am very proud of what this talented group of singers from across the Miami Valley is able to accomplish over a three-month period of rehearsals."
The concert will also include selections from Israel and Italy, and Yiddish, Hebrew, Yemenite, and Sephardic folk songs.
With support from a Jewish Federation Innovation Grant in 2015, Greenberg co-founded the Dayton Jewish Chorale with Beth Abraham Synagogue Cantor Andrea Raizen and Temple Israel Music and Program Director Courtney Cummings. Its members, some as young as high school age, come from across the Dayton area Jewish community.
"Each time we perform a concert or sing in a special Shabbat service, we have always scheduled these programs during the weekend of Shabbat Shira, the Sabbath of Song, which nearly coincides with Tu B'Shevat, the holiday celebrating the birthday of the trees," Greenberg says.
This concert, she says, will celebrate "the many branches of the Jewish people, all rooted in the same family tree."
Soloists will include Greenberg, Raizen, and Cummings, and Shana Fishbein. Instrumentalists backing up the Chorale will be pianist Bernadette O'Connor — accompanist for the ensemble since its first season — and guitarist Ken Krochmal, Irwin Dumtschin on drums, and violinist Goldye Kopmar.
"We are thrilled to share our music with not only the Jewish community but with the general public as well," Greenberg says, noting the secular venue sponsoring the program, and having ticket sales go through ticketcenterstage.com.
"By sharing our musical traditions with the wider community, we hope to alleviate some of the hatred, bigotry, and specifically antisemitism in today's world."
— Marshall Weiss
The Dayton Jewish Chorale presents A World of Jewish Music, 4 p.m., Sunday, Feb. 9 at PNC Arts Annex, 46 W. 2nd St., Dayton. Tickets are $18, $50, and $75 and are available at ticketcenterstage.com or 937-228-3630.
To read the complete February 2020 Dayton Jewish Observer, click here.