Europe's horrific past, potential for hope tug at mission participants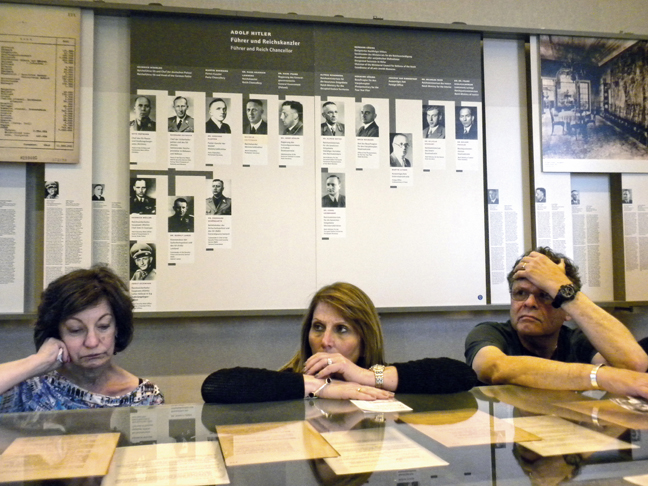 By Marc Katz, Special To The Dayton Jewish Observer
Daniel, our soft-spoken, 31-year-old guide, told us the story of a previous tour. A man in his 80s, recalled that when he was 15, he had peddled his bicycle to a soccer field to watch a game. At that young age, he thought nothing about it. It was just part of life. And death. The game was played in the 1940s, on a field at the base of Mauthausen concentration camp.
On the opposite side of the soccer field were barracks, mostly holding Jews, who were worked to death.
Some of the soccer field remains, and some of the camp. As a group of 26 Daytonians on a two-week tour of Eastern Europe watched, Daniel swept his arm across the countryside.
Townspeople were there, Daniel said. They watched. They knew. They did nothing.
Though not the centerpiece of the Jewish Federation of Greater Dayton's trip, Mauthausen was one of the most powerful stops on the tour.
Budapest — connected to Dayton's Jewish Federation through the Jewish Agency For Israel's Partnership2Together program — comprised the heart of the trip, preceded by visits to Prague and Vienna. About half the group continued on to Berlin for an additional three days. Gayle and Irvin Moscowitz co-chaired the trip.
Though heavily laced with visits to Jewish sites, there were plenty of palaces, art museums and small shops in an Eastern Europe hoarding centuries of history.
Among the cities we visited, Budapest seemed most intent on rebuilding its Jewish community.
"We want to be connected with them (the Jews of Budapest)," said Cathy Gardner, CEO of Dayton's Jewish Federation. "We combined the trip with Prague and Vienna to show what was. Budapest is what could be."
Berlin is a whole different story, she added. Actually, there are several stories. One is of building bridges among the Jews of Budapest and Dayton to help return and improve Jewish life there. Another is continuing education about the Holocaust.
The diverse group of travelers built bridges among themselves to strengthen the Dayton Jewish community.
"The trip far exceeded my expectations," said Marlene Maimon, who with her husband Dr. Henry Maimon, had been to Prague before. "The bonding with people I barely knew, it was heart-warming and gratifying. Learning history. It was a wonderful experience. I'm blown away."
Of the cities visited, Budapest easily has the most identifiable number of Jews, about 40,000, although estimates put the number as high as 100,000.
Prague is said to have about 5,000 Jews, and Vienna nearly 7,000.
Berlin, a city of about 3.5 million residents, the epicenter of the Holocaust, has approximately 50,000 Jews. Berlin seems pained about its past, constantly alluding to the "murder" of six million Jews.
Prague, Vienna and Budapest lean toward euphemisms such as "victims" and "people who didn't return."
As we discovered this, awaiting our country's Fourth of July, we learned of Elie Wiesel's death; a voice of freedom had passed in the night.
Officially, our tour ended at the house of the Wannsee Conference, just outside the center of Berlin, where Adolf Eichmann presided over a 1942 meeting of high-level Nazi officials to decide — in fewer than 90 minutes before breakfast — how the Final Solution should be carried out.
Our guide there forcefully pointed out the Final Solution was well under way before 1942, punctuating her talk with pictures and a sheet of paper stating the Nazi regime's plan was to continue its work until 11 million Jews were dead.
Wondrous tour manager Sara Kort led us through the journey as we stepped off our planes, pointing out that the United States has been configured as it is now longer than most of Europe, which has been readjusted several times through two world wars and Communist invasions over the last 100 years.
At least one marvel surviving in Prague is a captivating astronomical clock, the oldest still in use, dating to 1410.
Sadly, most synagogues in Prague and Vienna have been reduced to museums. Our group was stunned to see the Old Jewish Cemetery of Prague, crammed with 12 layers of tombstones.
When the Communists replaced the Nazis in 1945, there was no religion at all in some places, prompting our guide, Vida Neuwirthova, to call what is now the Czech Republic, "the most atheist country in Europe."
Because she grew up in the Communist era, Neuwirthova did not find out she was Jewish until she was about 14, after which the search for her family history led her to embrace Judaism.
While she didn't marry a Jewish man, she took us to the Spanish Synagogue and sighed. With luck, next year, it will be where her oldest son marries, and her youngest son celebrates his Bar Mitzvah.
Neuwirthova is also a puppeteer. On her final day with us, she carried a Queen Esther puppet, becoming the envy not only of us, but of other passing groups.
Though it was easy to see which buildings were replaced due to war bombings in Vienna, Budapest and Berlin, Prague seemed to be hardly touched, in deference to Nazi officials who were said to expect to return and make homes there after the war.
In Vienna, Susan and Dr. David Joffe shared silent moments. Her parents met in Vienna and her father was from Budapest.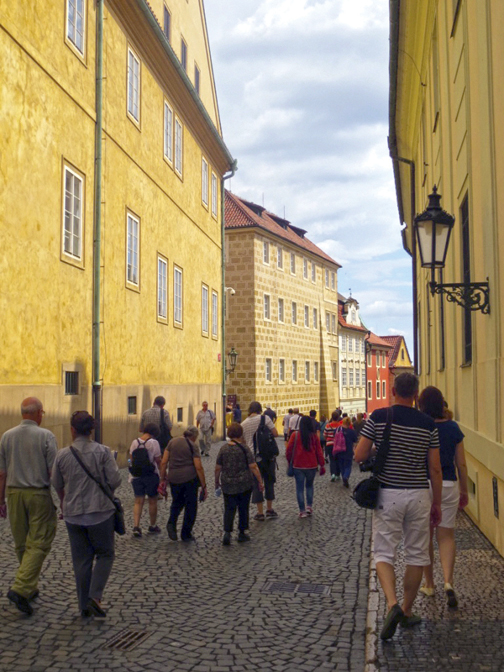 While in Budapest, the Joffes broke away for a night to visit Eszter Rudas, a Hillel exchange student with them 21 years ago.
Also in Vienna, we learned of auto entrepreneur Emil Jellinek, who named the new car he was developing in 1900 after his daughter, Mercedes.
Later Germans may not have known one of their favorite automobiles was named after the granddaughter of a rabbi.
Outside Vienna, we found guide Daniel at Mauthausen.
"This place could not work without an infrastructure," the non-Jewish guide said, his eyes close to tearing over. He had a grandfather in the war, he said, but had not researched much about him.
"It is common to have a family album," Daniel said, "and an encyclopedia. The two books must not touch on the bookshelves."
The inference was clear. Not only did the locals not want to see, they did not want to remember. The local train stations transported prisoners as well as residents.
Before we left Mauthausen, our tour manager, Sara, held out her hand with three small stones, one each from Auschwitz, Birkenau and Majdanek. She added one from Mauthausen, to bring souls together symbolically.
We went on to Budapest, visiting large and small synagogues. The smallest was a three-room apartment with a tiny congregation that just made a minyan (prayer quorum) without the seven of us who attended Shabbat morning services.
In the Jewish quarter where it is located, there were once 40 such synagogues. This was the only one left — the oldest continuous shul in Europe, one of the congregants said — and the cholent lunch was delicious. The congregants are producing a documentary about their community.
"When people from Israel and the United States work on the same projects, it personalizes it," said Irv Moscowitz, past chair of Partnership2Together. Dave London, also on the trip, is the current chair. "Look at the way young people are revitalizing Jewishness here," Moscowitz added.
It was in Budapest where Pamela Schwartz struck up a conversation with a young woman who wanted to know what it was like to grow up knowing she's Jewish. The young woman said she had suspected she was Jewish, and ultimately learned that she was.
"I told her I grew up in Dayton and not only was I raised to be proud of my Judaism, but that there were Jewish families in our city living there for generations," Schwartz said.
Generations? Before World War II, 800,000 Jews lived in Hungary. Of those, 565,000 were killed and 100,000 left of their own accord. An estimated 40,000 can be accounted for in Budapest.
There are programs for them to embrace their Judaism. Last year, 180, mostly adults, studied Hebrew. Young families have said they don't want to focus on the Holocaust. They want to focus on the future.
As the future rushes in, it is difficult to let go of the past. There is the bunker in Berlin where Hitler spent his final days. It is now a parking lot, marked only with a small unadorned sign none of us walked the few hundred feet to see.
"I thought I knew the Holocaust," mission participant Rick Carne said. "This trip framed it for me."
To read the complete August 2016 Dayton Jewish Observer, click here.