Russian-Jewish violinist to share stories, songs of freedom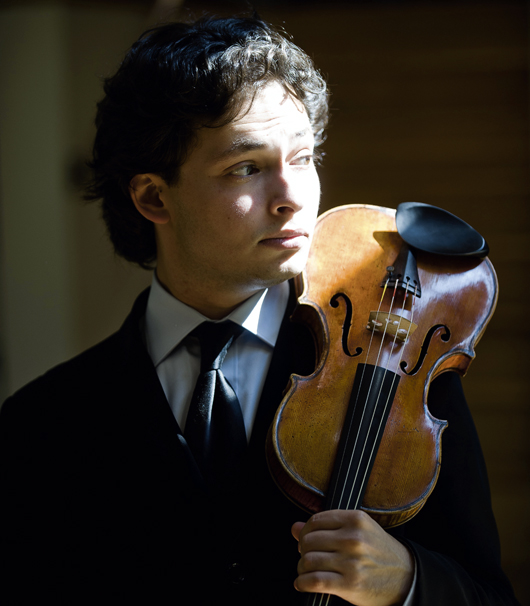 By Marc Katz, Special To The Dayton Jewish Observer
In a year of harsh national immigration talk and disrespect for various races and religions, the Springfield Symphony Orchestra will celebrate a virtuoso violinist from the former Soviet Union — and will celebrate the city's small Jewish community — when Yevgeny Kutik makes his debut with the orchestra in April.
A few days before he performs the Shostakovich Violin Concerto No. 1 with the symphony, he'll visit Springfield's Temple Sholom for an hors d'oeuvres and wine reception on April 20, where he'll share stories about his life and will play works from his CD, Music From the Suitcase: A Collection of Russian Miniatures.
Kutik, who left Minsk, Belarus with his family when he was 5 in 1990, is now a U.S. citizen. He recorded the album in 2014, featuring music he found in his family's suitcase after they immigrated to the United States.
Soloist and symphony arranged the Temple Sholom event to reach out to the Jewish community since he'll make his debut with the symphony when many Jews are sitting down to their second Passover Seder.
"We were forced into the concert date because of a myriad of scheduling conflicts (mine, the hall, and Yevgeny's)," said Peter Stafford Wilson, music director of the Springfield Orchestra.
"(Yevgeny) has graciously agreed to perform on the evening of the second Seder. While we are sad to have created the conflict with holy days, we felt that having him visit with all segments of our community (would be beneficial), hence his visit to Temple Sholom earlier in the week."
Wilson is also hopeful Kutik will be able to visit schools in the area, and has secured Kutik's invite to the home of Temple Sholom congregants Laurie and Eddie Leventhal for the first Passover Seder, on Friday, April 22.
In a telephone interview, Kutik said he isn't necessarily observant when it comes to Judaism. "I respect and really like our various traditions," he said.
"In terms of Jewish causes, it's complicated. I'm always aware about what Jews have gone through. I've started learning a lot more about my grandparents and great-grandparents in Russia. In my grandparents' generation, half their families didn't make it out.
"I've always been committed to telling the Jewish story. And it just so happens we have this (story) coming from Russia and having to escape because of our Jewishness. Why, why did we have to escape? Because we are Jewish."
Kutik, his parents and older brother left Belarus with the help of HIAS, the Hebrew Immigrant Aid Society, first stopping in Vienna, then near Rome for about six months before the Jewish Federation of the Berkshires (Mass.) agreed to take them in.
"The Jewish Federations raise a lot of money for Jewish causes," he said. "A lot of donors don't actually get to see where that money goes. But in my case, people can indirectly see: all the money helped. In my playing, they can see a direct result of their investment."
Today, the fate of immigrants is even more uncertain, creating much controversy connected to this year's elections.
"I've always been a big advocate for people, for refugees, for people that had to leave or take pressure either because of their religion or political beliefs, or because of their race, you name it," Kutik said. "It boggles my mind there are so many people in the world who are suffering."
Kutik's mother, Alla Zernitskaya, a music teacher, began teaching him violin when he was 5 ½. His father, Alexander, played trumpet in the Belarusian State Philharmonic.
By the time Kutik was 13, he was good enough for special classes in Boston. Earlier considerations that he might become a doctor or work for the CIA faded as he won several prizes for his playing, including the 2003 Boston Symphony Orchestra's Young Artists Competition.
He continued his music education at New England Conservatory, and has performed around the world ever since.
Kutik is a staunch supporter of music education.
"I really believe in the power of music, in the power of art," Kutik said. "Whether (students) go on in music or not, they go on and become amazing, productive, successful members of society."
He'll return to the Miami Valley in March 2017 when he solos with the Dayton Philharmonic.
Violinist Yevgeny Kutik will perform and talk about his life, Wednesday, April 20 at 5 p.m. during an hors d'oeuvres and wine reception at Temple Sholom, 2424 N. Limestone St., Springfield. Admission is free, but limited to 100 guests. R.S.V.P. to the temple at 937-399-1231. He'll also perform with the Springfield Symphony Orchestra on Saturday, April 23 at 8 p.m. at Clark State Performing Arts Center. For details, go to springfieldsym.org. 
To read the complete April 2016 Dayton Jewish Observer, click here.