Son's love for his dad imbues Nate Ebner's story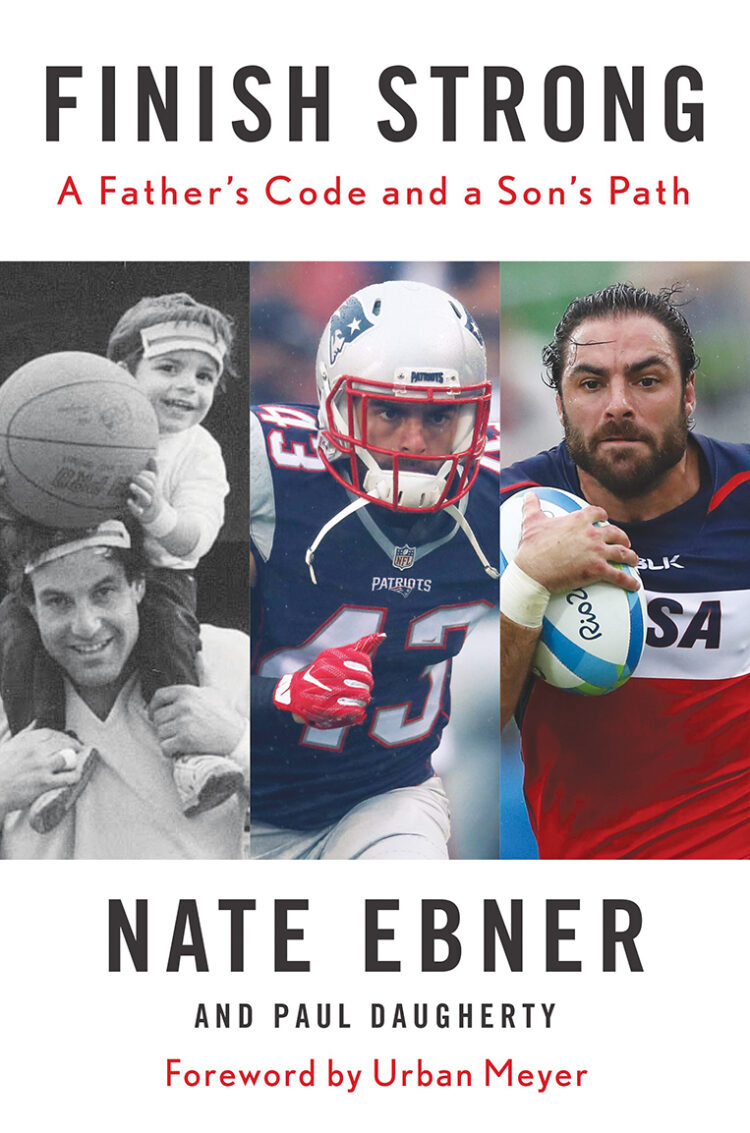 Finish Strong: A Father's Code and a Son's Path
By Nate Ebner and Paul Daugherty • Penguin Press • 266 pages • $27
Story by Marc Katz, Special To The Dayton Jewish Observer
Tucked in a 266-page book about the loving relationship he had with his father — and his rise from walk-on status with the Ohio State football team that led him to three Super Bowl championships with the Patriots — is Nate Ebner's reference to his Jewish lineage.
"My great-great-grandfather Nathan Ebner came to America from Austria in 1883," chapter four of Finish Strong begins, "when he was 27 years old. He didn't speak English. He didn't know where he would go once he got here, or what he would do. In the final minutes of his boat passage across the Atlantic, Nathan stood at the bow of a steamship packed with would-be Americans. The ship neared Castle Garden, the immigration station at the southern tip of Manhattan.
"'Where are you going?' Nathan asked the man standing next to him. They'd developed a friendship during the journey, bonded by religion. Both were Orthodox Jews.
"'I'm going to Springfield, Ohio,' the man answered. There was an Orthodox Jewish community in Springfield.
"Nathan said, 'I think I'll go to Springfield, Ohio, too.'"
That's how Springfield landed the Ebner family — some of it is still there — although the Orthodox Jewish community is gone.
Nate Ebner's book is a story about a boy and his dad, the late Jeff Ebner, who instilled in his son the mantra to "finish strong" doing any task, and the feeling that if somebody else has done it, why can't we? Ebner's writing companion is the fine Cincinnati columnist Paul Daugherty.
Ebner's story is about bonding with his dad and how, from toddlerhood on, he navigated his family after his parents divorced, moving him to nearby Mason, where his mother lived.
Jeff Ebner still worked in the family junk/salvage/scrapyard business in Springfield, which continues as Ebner and Sons today.
Despite the breakup, Ebner's mother, Nancy, encouraged full visitation for father and son.
Jeff Ebner was murdered at his Springfield junkyard in 2008 during an attempted robbery. He was 54. Nate had just informed his dad he was going to try to walk on the Ohio State football team as a conduit to playing in the NFL.
Most dads would have scoffed at that idea, but Jeff Ebner had been encouraging. Jeff Ebner had multiple skills himself; he was principal at Temple Sholom's Sunday school in Springfield and participated in Israel's Maccabiah Games, honing his love of rugby.
Nate followed his dad so closely, he had passed on playing football at Hillard High School near Columbus to play rugby as well, becoming good enough to participate in the Olympic Games.
His bond with his father and path to the NFL are the essence of his story, but not the only part of it.
"I really don't talk about religion unless it's something we're talking about," Ebner said in a phone conversation from his Columbus home. "I went to temple as a young kid; I'm not a super-religious person. I did not have a Bar Mitzvah.
"My dad and my grandparents and that side of my family are Jewish. I've always celebrated Jewish holidays. My mom's side was Christian so I kind of had a perspective of both and essentially, in terms of being super religious, that was never anyone in my family, but if I had to say what I practice, I would say I'm more Jewish than anything else in what I believe."
He has given some thought to how he would bring up children with his Christian wife, Chelsey.
"At the end of the day, it's not so much that they choose, it's how they carry themselves and daily lessons of character and work ethic and the type of person you are," Ebner said. "That, you learn through religion, whether that be Judaism or any religion."
In 2019, Ebner took a trip to Israel, one of the many New England Patriots' owner Robert Kraft initiated.
"You don't need to be Jewish (to take the trip)," Ebner said. "A lot of guys (players) who are super religious want to go to Bethlehem and Jerusalem and things of that nature. And going with Robert Kraft was super. We went everywhere, for a week. What took me back was how beautiful the country was."
Ebner left the Patriots as a free agent in 2019, played a year for the Giants and currently is rehabbing an injury that precluded him from a second Olympics bid in rugby. He should know his 2021 playing fate by fall.
He said he thinks about his father every day. "Something comes up. Those weight room moments, those conditioning moments, pushing through. All the years of doing that with him. You spend a lot of time in those moments. He's always on my mind, always has been and I think he kinda always will be."
To read the complete September 2021 Dayton Jewish Observer, click here.