Temple Israel to host son of WWII master sgt. who saved 200 Jewish GIs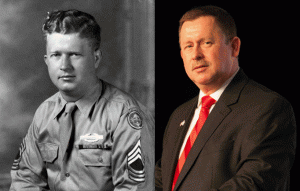 Pastor Chris Edmonds, son of late Righteous Among the Nations honoree Master Sgt. Roddie Edmonds, will share the story of how his father saved 200 Jewish GIs, at Temple Israel's Shabbat service on Friday, Sept. 7 at 6 p.m.
During the Battle of the Bulge in 1944, the Germans captured the 422nd Regiment. The commandant of Stalag IXA, Maj. Siegmann, ordered all Jewish POWs among the 1,292 American non-commissioned officers to present themselves. Edmonds was the highest ranking NCO in the group.
According to The Jewish Foundation for the Righteous, Edmonds ordered all 1,292 NCOs to present themselves. Edmonds told the furious commandant, "We are all Jews here."
When the commandant put a pistol to Edmonds' forehead, Edmonds said, "According to the Geneva Convention, we only have to give our name, rank and serial number. If you shoot me, you will have to shoot all of us, and when we win this war you will be tried for war crimes."
The commandant walked away.
The community is welcome to attend the service. Temple Israel is located at 130 Riverside Dr., Dayton. For more information, call the temple at 496-0050.