Temple Sholom at 150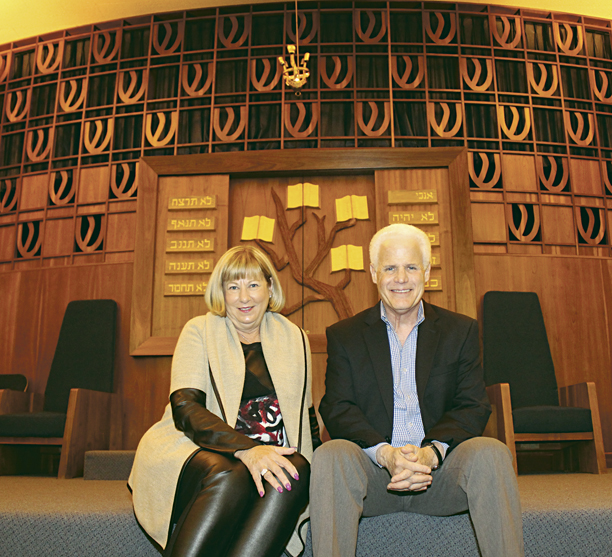 Springfield's only Jewish congregation continues to shrink, but not ready to close. 'We're going to fight it until the very end.'
By Marshall Weiss, The Dayton Jewish Observer
In 1951, New Yorkers Ray and Marilyn Schneider were driving to Dayton. Ray, an engineer with the Air Force, had just been stationed at Wright-Patterson Air Force Base.
"When we moved here, we were on our way to Dayton and we stopped and asked somebody, 'How do you get there?'" recalls Marilyn Schneider, 92. "He said, 'Why?' We said we just moved. And he said, 'You need a place to live? Don't go to Dayton. You better go to Springfield. You'll get a place to live there.' So we turned around and went back to Springfield, and we've been here ever since."
The Schneiders have also been members of Springfield's Reform congregation, Temple Sholom, ever since.
"We're temple people," Marilyn says with a laugh and a smile.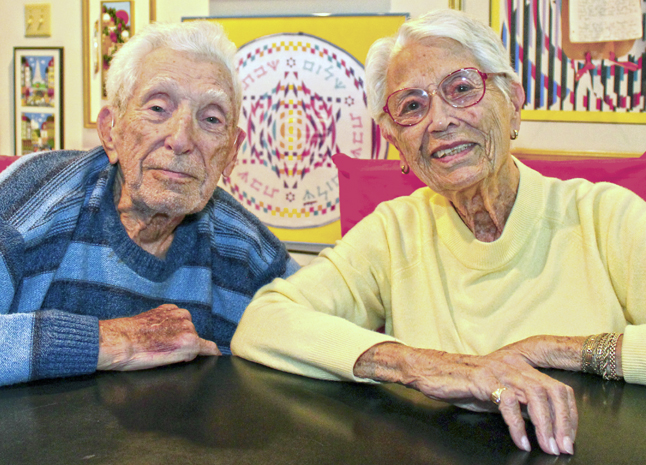 Over the years, Ray, 95, and Marilyn have served as president of the congregation and sisterhood respectively, have chaired virtually every committee, and have celebrated their children and grandchildren's numerous simchas at Temple Sholom.
Ray and Marilyn count themselves among the Jewish grandparents in Springfield whose family members still live nearby.
"We have a nice congregation of very educated people," Marilyn says. "We're near Antioch and Wittenberg. We have several professors. But the population has gone down drastically."
As the economic fortunes of Springfield's industries have waxed and waned, so too has the membership of the city's only Jewish congregation, Temple Sholom.
It was on Aug. 25, 1866 when nine men met to organize the Jewish Congregation of Ohev Zedukah (He Loves Righteousness), now Temple Sholom. Jewish peddlers who pushed their carts in the area joined the services, which were held in rented spaces for the congregation's first 52 years.
By the mid-1950s, the congregation expanded to its peak, with approximately 140 memberships and 90 students in its religious school.
Laurie Leventhal, who has served on and off as Temple Sholom's president since 2000 (she's on again), says there are now between 40 and 45 local memberships. Eight or nine people attend Friday night services regularly. There are no children in the congregation.
A few years ago, the temple's leadership considered closing its doors. Ultimately, the remaining congregants were not ready.
"We were at the point then that our membership was going down a cliff," Laurie says. "That was two summers ago. And we had been using layleaders. The minute you say we're going to close or something, then we have people coming. We weren't ready to close up. Even though we maybe had 40 memberships, we weren't going to stop. Financially, I know who I can go to, and we have an endowment. What's the point of having money if you can't use it?"
At the end of this summer, Laurie and the board hired a familiar face to serve as part-time rabbi for Temple Sholom — Rabbi Cary Kozberg.
After his ordination from Hebrew Union College-Jewish Institute of Religion in Cincinnati, Cary's first pulpit was Temple Sholom, from 1977 to 1980. It was a new experience for the Reform congregation to have a guitar-playing rabbi whose first Rosh Hashanah sermon was about Star Wars.
When Laurie recently learned that Cary had retired after 25 years as director of spiritual care at Wexner Heritage Village in Columbus, she asked if he'd return to Temple Sholom part-time.
"The leaders here, so many people weren't just nice to the rabbi, they really wanted to help the new rabbis," Cary says. "They wanted them to have a good experience, they wanted to shepherd them and nurture them. I felt that while I was here. I'm glad I can come back and can repay the favor."
On two Friday evenings each month, the rabbi leads Shabbat services. The other two Friday evening services are led by Cantor Lauren Bandman, the daughter of congregants; she recently moved back to the area from California.
"With my background of working with older adults, I really see that as a plus," Cary says. "I want to do some programming about aging, the Jewish perspective on aging. When I come up, much of my time is spent making pastoral visits. And for a lot of folks, they haven't heard from a rabbi in years. And it's not a matter of, 'We need you for a minyan.' It's really a matter of, 'I want to get to know you, I want to know who you are, what your concerns are. I'm here for you if you need me.'"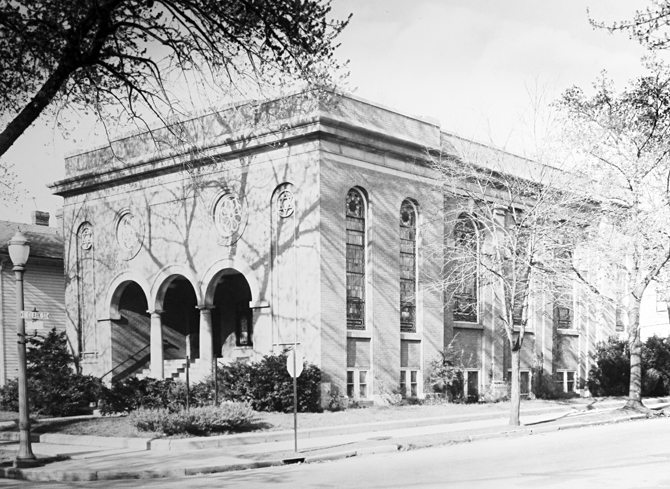 Phyllis and Dr. Stan Nedelman of Cincinnati arrived in Springfield in 1963 after Stan's medical residency with the Air Force. Phyllis was raised Conservative; Stan's family attended an Orthodox synagogue.
"And so when we found out we were moving to Springfield, I called someone from the Conservative synagogue," Phyllis, now the temple's vice president remembers. "And they said, 'If you have children, you really ought to consider going to the Reform temple because they have a Sunday school, and we have very few members left.' That's how we got to Temple Sholom."
The Conservative synagogue at that time was Beth-el Congregation. Now defunct, it originally began as an Orthodox synagogue. In its later years, Beth-el met in rooms at Temple Sholom's current location on North Limestone Street.
"As the years went on, they got their student rabbis from Jewish Theological Seminary (Conservative)," Cary says of Beth-el. "When I was here in the '70s, I'd help make a minyan for them when I could. They barely had 12 to 15 people then."
When Phyllis and her husband arrived at Temple Sholom in '63, she was impressed that there seemed to be no divisions by age.
"People of all ages intermingled and were kind and welcoming to us," Phyllis, now 80, says. "There were several other young couples. We were in our 20s and 30s. But we were accepted."
The temple was always busy. "There were parties, there were shows, there were fund-raisers, and everybody worked together," Phyllis recalls. "It was basically the women, although the men participated in the shows and things like that. We had a Council of Jewish Women Chapter, a sisterhood chapter."
She also remembers the antisemitism of the day. When the Nedelmans built a home in a new development, Stan noticed their builder trying to wipe away a chalk swastika that someone drew on their walkway.

And the Springfield Country Club was restricted, she notes. "My husband joined a radiologist's practice who said before we came, 'Is a country club important to you?' Stan said, 'No, not really.' And he said, 'Because you cannot belong. Jews are not allowed.'"
Laurie and her husband, Eddie, moved from Cleveland to Springfield in 1971 when Eddie went to work with his uncles Fred and Harry Leventhal at Vining Broom manufacturing company.
"The Jewish community, if you were Jewish, was the center of everything," Laurie says. "As a young couple, we didn't do anything with anyone not Jewish. My friends were all Jewish here, the older couples, every weekend there was a party — formal dinner parties — and everybody ate there."
As the country club and other organizations became more inclusive over the 1970s, Jewish couples began making non-Jewish friends.
"And we then moved away from the temple per se," Phyllis says. "And once these organizations opened up, the Jewish community wasn't as strong here I would say, with the younger people. It wasn't like the people of Maxine and Fred's era."
Phyllis says that when her children were in elementary school, Springfield's public schools provided students with "release time" for religious education.
"Those children whose parents signed an agreement to let their children go to this religious class were met by representatives from a church that was near the school who would walk the children down to a church," she says.
The few Jewish children were left to sit in their classrooms with their teachers, who provided no instruction.
"After two or three years, it just stopped," Phyllis says. "Things usually got done by working person-to-person and knowing people who were on the school board or people who had some influence on the school board."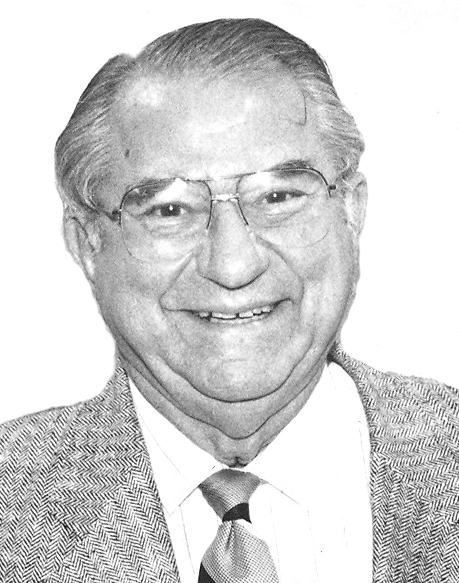 One of those with influence was Fred Leventhal, who died at the age of 94 on June 16.
Fred and his brother Harry arrived in Springfield from Cleveland in 1939 and bought Vining Broom. The brothers expanded the company to 650 employees in four states; Vining became one of Springfield's largest employers.
The company disbanded in 2003 following a merger and an acquisition.
Laurie shares a smartphone video of Fred from earlier this year, when he spoke at a celebration of Temple Sholom's 150th anniversary.
"The Jewish strength lied in the merchant class, from the pushcart they came with, to the store they opened, and they got the little temple going," Fred explains on the recording.
"Fred was instrumental in half the things that happened in the city," Laurie adds.
"The story was told that when he bought his first house in the '40s," Cary says, "his neighbor actually wanted to buy the house from Fred before they even moved in because he was Jewish. He didn't want a Jew living next door. It was still that difficult."
"He was a very strong leader in the community and as a result of that, the Jewish community was always in good hands," Ray Schneider remembers of Fred.
"What was he like?" Marilyn Schneider says. "We once had a rummage sale and we asked all the men to bring their clothes down there. He had a factory here in town. So all the men brought their sport coats and stuff like that, and he bought them all and gave them to people in his factory. He was as sweet as could be.
"The outsiders loved Fred. 'Oh, Fred Leventhal, we know him!' That's a big thing. But everybody did know him. He was on every board. He did everything. Everybody knew he was Jewish — he didn't hesitate about that."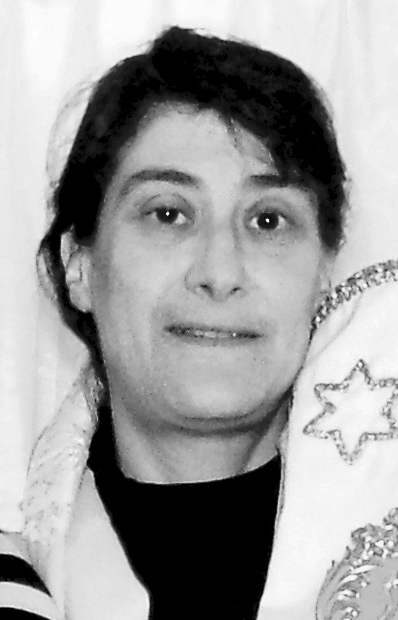 Until Cary returned to Temple Sholom this year, the congregation had been without its own rabbi since 2010. At the time, the temple didn't renew the contract of its full-time rabbi, Janice Garfunkel, citing budget constraints. Three years later, the rabbi died in Cincinnati after a long battle with breast cancer.
This was the third rabbinic death Temple Sholom congregants had experienced since the 1970s.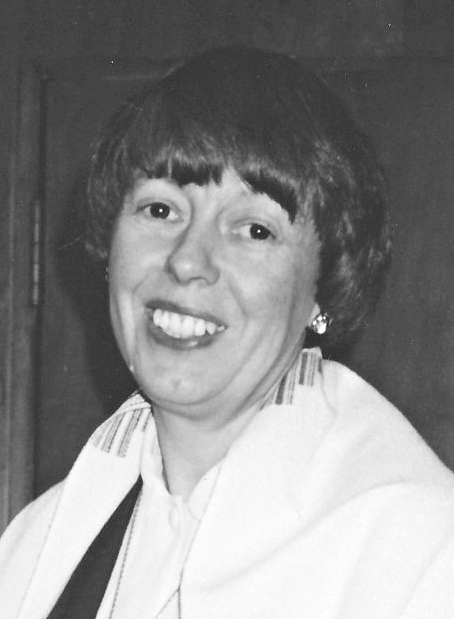 Her immediate predecessor, Rabbi Marianne Gevirtz, died in 2003 of lymphoma.
And a generation before, death struck a rabbi and his wife. Rabbi C. Melvyn Helfgott was let go in 1969 when leadership wasn't pleased with his work.
"I wasn't here yet, but they felt he wasn't doing a good job," Laurie says. "He went elsewhere for a summer. And while he was there, they realized something was wrong and he was diagnosed with the beginning of Alzheimer's.
"So they came back here. She came back here with four children and a husband she was trying to take care of. Ellen was a social worker and very well liked. And then they ended up putting him in a home. And then she got diagnosed with breast cancer and died first."
In 1975, while Laurie was pregnant with her third child, she and Eddie took in the two younger Helfgott children while the two older children finished college.
According to the Schneiders, retired Temple Sholom Rabbi Lloyd R. Goldman, who now lives in Cleveland, still writes to the congregation.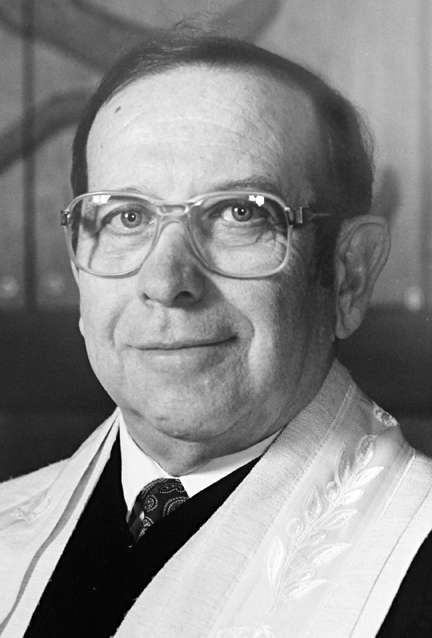 "And some people write him personal letters," Marilyn says. "And he comes down for the holidays."
Goldman's son, who lives in Columbus, teaches and coaches at Springfield High School.
Even though Laurie isn't worried about the temple's finances right now, she knows the clock is ticking.
"No one new is coming," she says. "As I've lost Fred, and I see the Schneiders aren't able to attend, the Nedelmans are gone five months (to California for the winter), I'm not sure what's going to happen."
She and Cary just had the conversation that they may have even fewer people at services now.
"Unfortunately one of them just had surgery, so he hasn't been here," Laurie says. "What are we going to do when we have five or six people on Friday nights? We don't want to stop having services because once you stop, and once you say once a month or every other week, it will never be the right Friday night."
For now, Laurie decides to hold services even if it's just for five or six. She's sending a letter to members asking them to commit to one Friday night a month.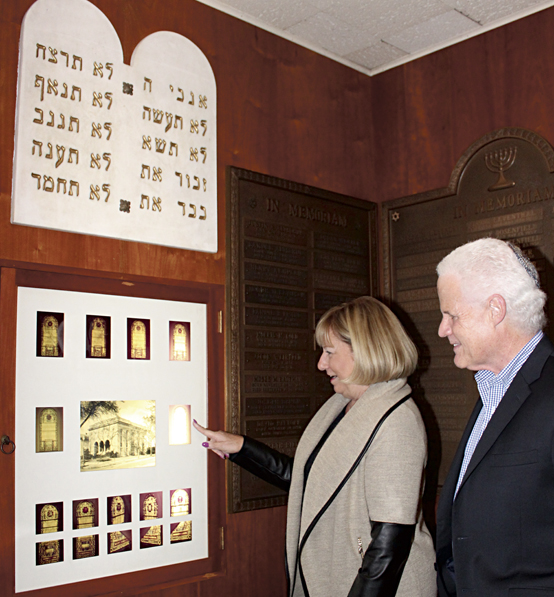 "It might be that what happens in this building on a Friday night is not a formal service," Cary says. "Maybe it will be something else that is more engaging to people."
E.F. Hutton's announcement in September that it will relocate its headquarters to Springfield along with 400 jobs encourages Temple Sholom to hang in there.
"We're kind of waiting to see what happens with E.F. Hutton," Phyllis says. "And if they really do bring in 400 people, we think there may be a few Jewish people among them, in which case, maybe they would want to join a temple."
"We're going to fight it until the very end," Laurie says. "We're not going to go easy, that's for sure. We will be the Jewish presence in Springfield. You have to. I have a granddaughter here. She's a high school senior. She's taking classes at Wittenberg. There are 13 students at Wittenberg who are Jewish. And she says she's trying to get them to come on a Friday. And we said, 'Come have pizza with us.'"
"Wherever Jews are," Cary says, "we're supposed to be a light unto the nations. And even though we don't have a large searchlight here, we do have flashlights. And every flashlight counts. And as long as the flashlights are on, there will be light."
Editor's note: Ray Schneider died peacefully, surrounded by his family, on Dec. 3.
To read the complete December 2016 Dayton Jewish Observer, click here.