What I learned from my mother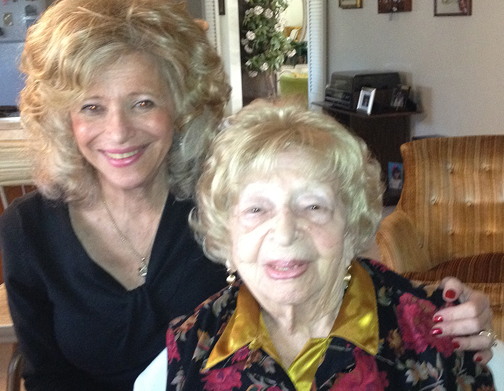 Mother's Day 2015
By Renate Frydman, Special To The Dayton Jewish Observer
This is the first time since I was a little girl that I won't buy a Mother's Day card.
My mother, who passed away in December, was almost 108 years old. I miss her tremendously.
Carmen was possibly the oldest Jewish person in our city; she had amassed a gargantuan amount of knowledge over her many years.
As her only daughter and only child until my brother, Brian, was born when I was 13, I absorbed so much of life's lessons from her.
I probably didn't even realize it as I accompanied her to meeting after meeting, to the train station to welcome émigrés to Dayton, and to all her missions of mercy. I thought everyone did these things. Little did I know then how amazing she was. That is still the word everyone else uses to describe Carmen — amazing.
Looking back at our time together, here are some of the things I learned from my mother.
1. Feel sympathy for those less fortunate. Whenever she met a person who needed assistance in any way, she tried to help them. And help them she did. She left no stone unturned to solve the problem at hand. If someone needed a job, housing, doctor visits, meals, a lift-up when they were down, Carmen was there. Her phone never stopped ringing; her problem solving was endless.
2. Be polite to everyone you encounter. She was always polite to others. Her caregivers from her last seven years said they all loved this trait about her. She still was able to say thank you until her very last day.
3. "Giving is living" was her famous quote. As a newcomer to this country, she had to find her own way around the city and resolved to make it easier for others when they began arriving after World War II. Carmen gave her time over and over to others who were recent arrivals to this great country. From the 1940s to more recent years, she reached out to them and helped them find their way.
4. Eating well-balanced meals makes for a healthier person. She did this way before food charts and calorie counters came out. Each of our dinners when I was growing up consisted of a protein, a starch, a salad, and lots of vegetables. They were all thoroughly cooked, but apparently still contained enough vitamins to sustain a long, healthy life.
5. Stealing is totally unacceptable. However, if you didn't have flowers growing in the small green space by the apartment house you live in, then it was OK to "borrow" a few from a neighbor's yard.
6. Use every talent God has given you, even if you have limited means. She managed to take me to plays, ballet, symphony, opera. I started ballet lessons at 4, and progressed to art classes at the Dayton Art Institute, and piano lessons at home.
7. Use materials at hand to create beautiful decorations such as flowers made from crepe paper. Recycling wrapping paper and ribbons from gifts — which in later years made her great-grandchildren roll their eyes — was a saving measure from her earlier years. Growing up, we cut pictures from Life magazine to tape on our walls for parties and we made Ritz cracker appetizers with egg slices and a touch of caviar.
8. Make friends with people younger than yourself. As you age, this helps keep you young.
9. Volunteer for many organizations. There are so many ways to help people. Carmen was not afraid of new experiences. She bravely became the first Jewish woman on the board of the YWCA and the League of Women Voters in the 1940s.
10. Never take no for an answer when you are soliciting for a charitable cause. It's for the common good.
11. Get dressed early when you arise and take on each day head on.
12. Do anything and everything necessary to sustain your family. At the age of 29, my mother went to the British Embassy in Nazi Germany on Kristallnacht — the Night of Broken Glass — and came away with the papers to get her family to England.
13. Do not dwell on your own misfortunes or let sadness overtake you. Rather you march on, helping others with their problems, and in that effort, your own burden becomes lighter.
14. It is never too late to say, 'I love you.' That was her final gift to me.
To read the complete May 2015 Dayton Jewish Observer, click here.