Film celebrates birth of Israel's air force, with help from Americans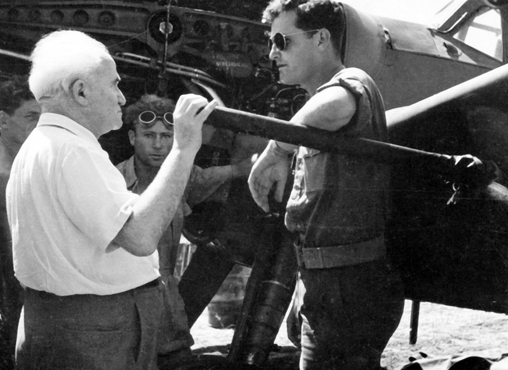 By Michael Fox, Special To The Dayton Jewish Observer
Documentary makers often get their ideas from the front page. Nancy Spielberg discovered the forgotten late-1940s saga that gives wings to Above and Beyond on the obituary page.
"I found out about Al Schwimmer, and that this guy, an American, was considered the godfather of the Israeli Air Force," Spielberg recalls. She saw Schwimmer's name mentioned in the obituary of a former Israeli pilot. "It talked about smuggling planes and being indicted and I was like, 'Whoa.'"
Schwimmer was alive, and it turned out so were several other World War II veterans who risked their American citizenship and their lives to leap into the fray when the state of Israel was created.
They were men of exceptional character, with a few adrenaline junkies rather than ardent Zionists, but their experience and skill proved essential when Israel's Arab neighbors attacked.
Above and Beyond, screening at Dayton's JCC Film Fest, soars on the colorful and occasionally ribald exploits of the still-vital pilots.
"What happens is you realize if you want to talk to anyone, they're in their 90s, and you don't have time," Spielberg explains. "So you really have to (put the) pedal to the metal. We didn't have a script. I got a few bucks, and as soon as I got enough to get a director on board and grab a cameraman and go, we went."
New to the world of documentaries, Spielberg produced Above and Beyond with Roberta Grossman, the savvy, talented director of the riveting World War II portrait, Blessed Is the Match: The Life and Death of Hannah Senesh, and the crowd-pleaser Hava Nagila: The Movie.
Spielberg will attend the Dayton premiere of Above and Beyond and talk about the project after the screening.
"I was worried when we started out that the subtitle of the film was going to be Old Guys Talking," Grossman says. "And that wouldn't be hugely compelling. We'd end up with a film that would only appeal to those who were specifically interested in this story. What makes the film rise above that, I hope, is the guys are really wonderful characters. As it should be in a film, the history's in the background and the individuals are in the foreground. And they were worthy individuals to put in the foreground."
Spielberg, who happens to be Steven's sister, had the same concern; she chose Grossman in part because the director had employed reenactments in Blessed Is the Match with skill and effectiveness.
"I needed to do these kinds of (reenacted) flying sequences," Spielberg says. "We researched archival footage and we got some great stuff, but there's not a lot out there. That combination, I thought, may be able to attract a younger audience, which to me is very important."
The straight-talking American pilots in Above and Beyond have no interest in perpetuating sanitized myths or posing for statues. They revel in long-ago love affairs, and every rule they broke.
"I have to tell you that we really cleaned up a lot," Grossman says with a smile. "Not just language, but stories. Believe me, compared to the (full) interviews, this is a G-rated film."
"They were young men," Spielberg elaborates, "and many of them said when they came back from World War II they were celebrated heroes, and all of a sudden they were selling insurance or shoes. That just doesn't hold a candle. They liked their flight jackets. They liked their girls. Several of them needed that thrill. They wanted a band of brothers, they wanted the glory days. They wanted another shot."
Consequently, they procured, repaired and flew airplanes that — among other invaluable contributions — helped thwart the Egyptian blockade of supplies that threatened the newborn state's existence.
Above and Beyond provides insight into the contemporary Jewish experience.
"It's a really interesting snapshot for me of how — before, during and after the Holocaust and the birth of Israel — the trajectory of American Jewish identity became so connected to Israel and to Zionism," Grossman says. "It really was a very, very quick ramp-up. There was a very small Zionist community in the United States before the war, and then we became all about supporting Israel. These guys' lives follow that trajectory, and it's interesting to learn about American Jewish history through the lives of individuals.
The JCC Film Fest in partnership with Reel Stuff Aviation Resources presents Above and Beyond on Thursday, April 30, 7 p.m. at the Air Force Museum Theatre, 1100 Spaatz St., Riverside. Producer Nancy Spielberg will talk about the documentary following the screening. Tickets are available at the door, at jewishdayton.org, at the Boonshoft CJCE, 525 Versailles Dr., Centerville, or by calling Karen Steiger at 610-1555. 
To read the complete April 2015 Dayton Jewish Observer, click here.