Last of the red-hot mamas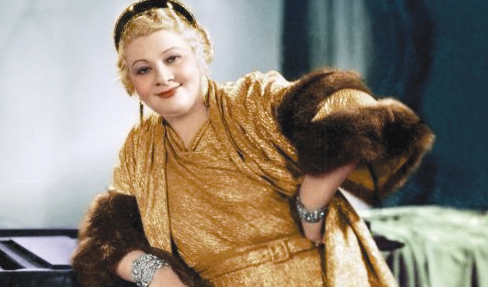 By Karen Davis, Jewish Women's Archive
"I believe in tit for tat, and if that's the case someone owes me a lot of tat." That quote begins well-researched documentary about Sophie Tucker, the bawdy singer and comedian known for being "the last of the red-hot mamas."
And thanks to the producing-writing team of Lloyd and Sue Ecker, a new generation of fans will be giving Sophie lots of "tat," just as their parents and grandparents did during her career, which lasted from the first decade of the 20th century through the 1960s.
The child of Ukrainian-Jewish immigrants who settled in Hartford, Conn., Sophie was bitten by the stage bug in her early teens and entered show business as a way to get out of the kitchen in the family-owned deli.
As the film points out, Sophie was as adept at the "business" part of the entertainment world — promoting herself and supporting her family — as she was at the "show" part. "Always let them see you before they hear you," she later said about her feather plumes, furs and sequined, spangled gowns.
The film opens as Sophie is starting her career in vaudeville, where she initially performed in black face. Short, overweight, with brassy blonde hair and a homely face, an early stage manager took a look at her and said, "black her up."
But at a Chicago theatre, Sophie conveniently forgot her make-up, went on stage with a naked face, and belted out songs with such a big, smoky voice that the audience forgot her appearance and fell in love with her singing and raunchy style.
Later during prohibition, many of the nightclubs were owned by gangsters, so after performing, Sophie often played cards with Al Capone and other mobsters. Somewhat of a cardshark herself, she frequently won.
Always popular, even young J. Edgar Hoover was a friend. He reportedly asked for one of her gowns only to be told by Sophie that he wouldn't fit into it.
With access to Sophie's 400-plus scrapbooks and interviews with relatives and celebrities who knew her, this lively, engaging film tries to be definitive about an entertainer who was the predecessor of comedian Moms Mabley, actress Mae West, and the inspiration for actress/singer/comedian Bette Midler.
If it falls short at all, it's when the filmmakers get a little too playful. In one instance, they refer to one of her husbands, a womanizer, as having "trouble with his zipper."
Filmmakers hint at Tucker's possible bisexuality when pointing out that after her third marriage ended, Sophie was surrounded by women and kept intimate letters from at least one of them.
It's rare for documentary filmmakers to insert themselves into the film they're making, but the Eckers are such big fans of Sophie that they become talking heads themselves, and include many of Sophie's relatives as part of their "extended family" in the closing credits.
Among the talking heads, Barbara Walters' interview is the most revealing, since she hung around her father's Latin Quarter nightclub in Miami and knew Sophie first-hand.
Using computer-generated techniques of animation, the film tries to insert some variety into the predictable archival footage/talking heads format of many documentaries, although clips of her performances are truly compelling. Computer colorization of black-and-white photos makes Sophie look almost glamorous.
What comes across most about this popular female entertainer was her self-confidence and clear message that women — even fat ones! — enjoy sex as much as men.
Sophie embraced her size and her sexuality with risqué lyrics, often accompanying her singing by running her hands suggestively over her body and casting seductive, sideways glances at her audiences. When she sang her signature "You're gonna miss your big fat mama," she wasn't talking about maternal love. After viewing The Outrageous Sophie Tucker, you'll see why she still burns bright and hot today.
The JCC Film Fest in partnership with Hadassah presents The Outrageous Sophie Tucker, Tuesday, April 28, 10 a.m. at the Neon Movies, 130 E. 5th St., Dayton. Jewish Observer Editor and Publisher Marshall Weiss will lead a discussion after the film. Tickets are available at the door, at jewishdayton.org, at the Boonshoft CJCE, 525 Versailles Dr., Centerville, or by calling Karen Steiger at 610-1555. 
To read the complete April 2015 Dayton Jewish Observer, click here.