Hal Linden film opens JCC Film Fest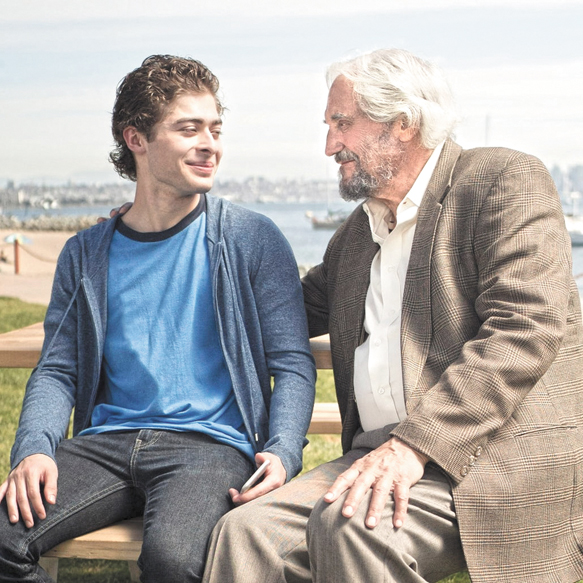 Q&A with the veteran performer about The Samuel Project
By Darren Paltrowitz, Jewish Journal
LOS ANGELES — A legend in the world of entertainment, Hal Linden is a Tony winner, Emmy winner, and multiple Golden Globe nominee. While he made a big splash as the title character on the classic television show Barney Miller, Linden first found success as a stage actor. He has worked consistently over the past 60-plus years. Beyond his career, Linden has been an advocate for the Jewish National Fund for many years.
His latest high-profile release is The Samuel Project, which opens Dayton's JCC Film Fest June 4. It focuses on the universal struggles for acceptance and opportunity. Here, Linden talks about his past, present, and future as an actor.
Is there a career accomplishment that you are most proud of?
The truth, longevity (laughs). The fact that I'm still alive and still doing it. The fact of the matter is you put in as much sweat, love, and effort into the losers as you do the winners, so they're all favorites.
Probably the biggest reward is in actually doing it, not the applause after, but the physical and mental work you put in to accomplish it to begin with. That's what I'm most proud of.
When did this feel like a career to you and not just a series of one-off bookings and guest appearances?
Well, there were no guest appearances when I started. Actually it got to be a career when I did the musical The Bells Are Ringing back in 1958 I believe. That's when I knew I was going to be an actor, and not go back to being a musician.
I specifically put my horns away. I didn't play the clarinet for 20 years because I didn't want to get lulled back into the music business. I wanted to concentrate on being an actor.
The Samuel Project is your latest film. When did you first find out that you were working on the project?
OK, first of all, The Samuel Project is not my latest film (laughs). I happen to have a later film that should be coming out soon, called Granddaddy Day Care that I shot this year. But The Samuel Project is one that I stuck a little more effort on — let me put it that way.
I was booked to appear in a play at the Old Globe Theatre in San Diego. When I was announced for the play, the producers of The Samuel Project, who are from San Diego, and were going to film in San Diego, contacted my people and said, "Since you're going to be here, would you like to do this picture?"
They sent me a script, we started talking about the film, and I agreed to do it. We starting filming immediately after I completed the play, Picasso at The Lapin Agile, at the Old Globe. While I was in San Diego doing the play, I was working with the director and producer on what we were going to be doing for The Samuel Project, so I was already preparing for my part in the film.
How would you describe The Samuel Project to someone who has not yet seen the trailer?
You know it's very interesting, because when you do a picture or a play, you always see it through your own eyes — the eyes of your character — and that's the way I approached The Samuel Project until the director, Marc Fusco, and I sat down and started talking about it and looking at the script.
We realized The Samuel Project is really not about Samuel at all — it's about Eli, his grandson, who is an art student.
First of all, the picture is about three generations in a family, with a very common dysfunction of not communicating. I find that not only in that family, but also in my own.
I remember I was sitting at a dinner table. My granddaughter was on the left and she was texting on her telephone, so I took out my phone and I texted her. I said, "The gentleman on your right is your grandfather, please say hello."
Unfortunately, generations don't communicate that well. You know it's natural — no generations communicate. That's the whole premise of new generations: you try to distance yourself from the generations before.
So you specifically listen to different music, wear different clothes; cut your hair differently just to make sure there is a difference between you and your parents' generation. That's the norm.
In The Samuel Project , you have three generations who don't really communicate. As I say, it's the story of a boy named Eli who wants to be an artist, but unfortunately, his father tells him that he can only afford community college and can't afford an art school.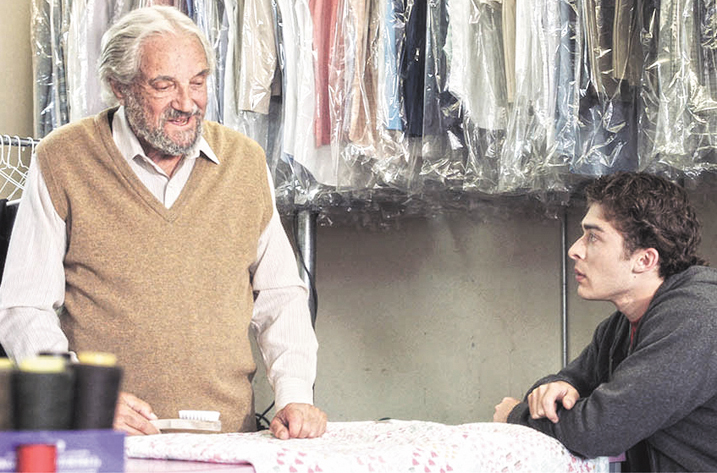 And the boy, because he has an art project in school, uses that project to try to further his art study and the point that he would, indeed, be able to go to art school.
The Samuel Project is the telling of the grandfather's story in an art form, so you come away with not only the grandfather's story, but also the brilliancy of the boy, the stick-to-itiveness of the boy to get the project done, even though nobody is really helping him, and the fact that maybe art can be more eloquent than words. It's an intimate story about three generations trying communication and are eventually brought together through art, through Eli's project, The Samuel Project.
The Samuel Project aside, what is coming up for you career-wise?
Actually it's hard to say. I was about to do a play for the Reprise Theatre here in L.A. I was to start rehearsals for a staged concert version of a musical there, but I'm not too sure that's going to happen now. I think there was a funding problem. I don't know exactly what's going to happen with that. Other than that, I'm available for anybody who has a part for an old person.
When not busy with work, how do you like to spend your free time?
My life is my work, honestly. When I have any other free time, I'm a very bad golfer, but an avid golfer — I do a lot of that. I now have a four-year relationship with a lady that I am pursuing, so that's kind of nice. That's about it.
Is there something you wish more people knew about Hal Linden?
You know, I'm pretty much an open book by now to most people. My activities are public — like with the Jewish National Fund, who I've been with for over 20 years now. I've also never been quiet about political stances. I'm an open book and ready for new experiences.
Although, I must tell you this: I was once asked that question, a little differently though — an interviewer said to me, "Is there something you can do that nobody knows about?" I said, "I'll tell you what, there is something I can do that nobody knows about — I can tie a bowtie without a mirror. Perfectly."
And here's the catch, it actually came to pass where I had to do it. I was doing a musical in Texas, and the scene was on an ocean liner, and we were getting ready to go to the Captain's Dinner. I was putting on a full-dress tuxedo with tails and a bowtie. My "wife" was off stage getting dressed and we were carrying on a conversation. I was on stage starting in my shorts and garters, putting on my clothing, and then ending up full dress, and at the end of the scene we go off to the Captain's Dinner. That's the scene.
As we're rehearsing it, I said to the director "I have to put on the bowtie, where's the mirror? Is there a mirror?" The director says, "The mirror is on the downstage wall." Well, that means there is no mirror there, and I would have to pantomime that there's a mirror — by looking right out over the orchestra, into the "mirror" and making my bowtie.
And I said to him, "What are the odds that you have cast the only actor, probably, in Actors' Equity, who can actually do that?" I actually had to make a bow tie looking into a pantomime mirror.
There you go, I guess there are things that nobody knows about me.
Finally, Hal, any last words for the kids?
I'll give the same advice I give when young actors approach me: "The reward is in the doing." If you can find your rewards in whatever it is that you do, then you're never bored, you're never angry, you're thrilled doing what you do, and you don't look for outside rewards. This is what I usually tell actors. You can become a great actor totally unknown to anybody, but if you do it right, you'll have a terrific career, because the reward is in the doing. That's really my advice to anybody, in whatever area of life they are involved.
The JCC Film Fest opens with The Samuel Project at 7 p.m. Tuesday, June 4 at The Dayton Art Institute, 456 Belmonte Park N., Dayton; and at 7:15 p.m. Wednesday, June 5 at the Little Art Theatre, 247 Xenia Ave., Yellow Springs. Tickets are available at the door, at jewishdayton.org, at the Boonshoft CJCE, 525 Versailles Dr., Centerville, or by calling Karen Steiger at 610-1555. 
To read the complete May 2019 Dayton Jewish Observer, click here.