On Rosh Hashanah, neo-Nazi flyers dropped at Tipp City homes and in Cincinnati area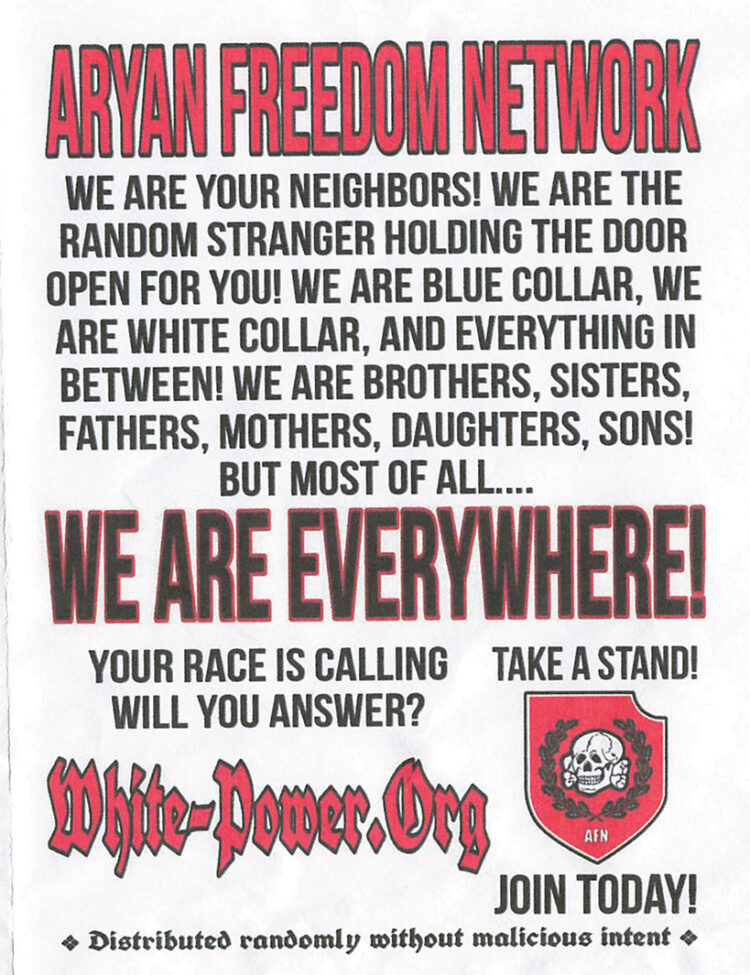 By Marshall Weiss, The Dayton Jewish Observer
One city near Dayton and five communities in the Cincinnati area were littered with neo-Nazi flyers on Rosh Hashanah, Sept. 16 and 17.
In Tipp City, 16 miles north of Dayton in Miami County, "a lot more than 50" hate flyers were dropped in front of homes between 9 p.m., Sept. 16 and the afternoon of Sept. 17, Tipp City Chief of Police Greg Adkins told The Observer.
Neo-Nazi flyers were also discovered on those days across the neighborhoods of Downtown Cincinnati, Walnut Hills, East Walnut Hills, the city of Loveland, and Anderson Township.
The six different versions of the hate flyers in Tipp all carried the name of the Aryan Freedom Network and its website. At least two of the flyers distributed in the Cincinnati area indicated they originated from the Aryan Freedom Network.
Cincyjewfolk.com reported that the flyers in the Cincinnati area contained neo-Nazi images along with links to conspiracy websites such as the antisemitic Jew-Watch.
According to the Anti-Defamation League's Center on Extremism, the Aryan Freedom Network is a small, growing neo-Nazi group based in De Kalb, Texas. It claims to have chapters in 25 states, including Ohio. It directs its hatred toward Jews, Black people, and the LGBTQ + community.
"Definitely a lot of the area got hit," Adkins said of Tipp City, where one of his police officers found and collected the hate flyers in several neighborhoods.
"The people who did it definitely spent some money, because they put them all in Ziploc bags with gravel in the bags," he said. "Our belief is they drove down the street and just tossed them on the curb lawns, and that way they wouldn't trigger a ringing doorbell."
A rising tide of hate
The Anti-Defamation League's regional office confirmed that hate activity in southwest Ohio has expanded in recent months.
"These types of activities are increasingly being deployed by antisemites and White supremacists to sow hatred and attempt to intimidate our communities," ADL Regional Director Kelly Fishman said.
The flyers hit Tipp City 11 days after Tipp City Board of Education Member Anne Zakkour sarcastically gave the Nazi salute and said 'Sieg Heil' to then board President Simon Patry during a Sept. 5 work session. Over the next few days, local media coverage and video of the outburst were picked up by local media outlets across the United States, and ultimately landed at national and international news media.
"I think the climate surrounding that could have played into the fact that they (the flyers) were delivered (so soon) after that had occurred," Adkins said, "but we have nothing to say that it did or did not."
Sept. 5 was also when the West Chester Tea Party hosted author Harald Zieger, who made several antisemitic remarks. The incident and its video distribution led the Cincinnati Jewish Community Relations Council to track and denounce the West Chester Tea Party's history of antisemitic conspiracy theories on the party's social media profiles.
Adkins said that in his 23 years with the force, he's never seen hate flyers distributed in Tipp City. He added that he had no evidence that the flyer drop was timed to the Jewish new year.
Steve Shuchat, who has lived in Tipp City for 23 years, also said he has never seen hate flyers in Tipp City, though he did recall antisemitic flyers that were distributed in western Miami County about five years ago.
Four years ago, Tipp City was the site of three incidents of hate vandalism, when swastikas were found spray-painted on two sidewalks along Plum Street and on a CSX railroad electric box. One included the phrase "White Lives Matter." Another was tagged "'merica."
Shuchat is president of Temple Anshe Emeth in Piqua ― also in Miami County ― where his family goes back generations. He didn't receive a flyer at his home but has reviewed the flyers Tipp police collected.
"It's very disturbing that anyone is targeting Tipp City with this kind of horrible information," he said. "I don't think this is specifically someone who is living in Tipp distributing this to Tipp homes."
Also on Rosh Hashanah, on Sept. 16, seven Dayton police cruisers and a MetroParks cruiser converged to block Temple Israel's main entrance minutes after receiving word of a swatting threat. More than 300 people were praying in Temple Israel at the time.
In August, the Washington Township neighborhood of Brittany Hills/Woodbourne south of Dayton was also hit with White supremacist flyers.
Even if perpetrators of such flyer drops are found, Adkins said, the only charge that might apply would be littering. The message on the flyers, he said, is protected as free speech.
"Whether it was legal or criminal, the flyers that have been distributed demonstrate how important it is that individuals and our community voice our disgust and state that this is not welcome in our community," said Jewish Federation of Greater Dayton CEO Cathy Gardner.
"Speaking out in public will raise the communal voice that the ideology behind the flyer is hateful – plain and simple. Speaking out is the action of an upstander and not a bystander."
Sam Fisher of cincyjewfolk.com contributed to this story.