Neo-Nazis protest outside Toledo Jewish Federation campus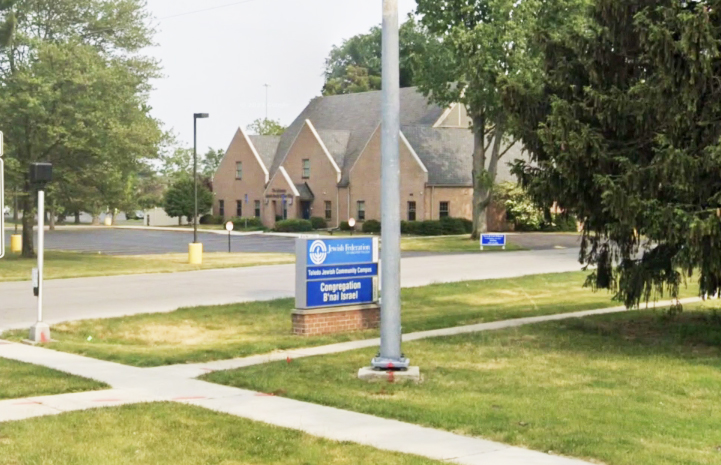 By Meghan Walsh
Cleveland Jewish News
Eighteen neo-Nazis showed up to the Toledo Love Fest in Uptown Toledo and the Jewish Federation of Greater Toledo in Sylvania on the evening of July 15 to protest against the LGBTQ and Jewish communities at their respective locations.
The group, called Blood Tribe, was also responsible for the protests at a drag brunch in Columbus in May.
Members of the group showed up to Equality Toledo's Toledo Love Fest at about 7 p.m., according to Daniel Pearlman, vice president of community and government relations for the Jewish Federation of Greater Toledo.
"They were outside of the event, there was a security perimeter already established, and they were all masked; they were all wearing the same clothing," Pearlman said.
"They were holding tiki torches and they were trying to intimidate participants of this event. So, they were there for about 15 or 20 minutes. Most of the event attendees were ignoring them, or at least trying to ignore them."
After leaving the Love Fest, the group made its way to the Sylvania campus of the Jewish Federation of Greater Toledo, where it protested in a similar manner with the intention of harassing and intimidating members of the Jewish community, he said, adding that fortunately there were no events taking place on the campus at that time.
The campus consists of the Sylvania YMCA/JCC, Jewish Federation of Greater Toledo, Congregation B'nai Israel, and Temple Shomer Emunim.
"There was a Sylvania Township Police Department police officer who told them that they're not allowed on the property. It's private property," Pearlman said.
"So, instead, they parked across the street at a strip mall and were walking on the sidewalk on public property, which they were allowed to do, continuing to wear their masks and tiki torches and clothing, and basically just trying to instill fear in the hearts and minds of the Jewish community."
No Jewish community members were harmed, and no vandalism took place, he said. The group left after about 15 to 20 minutes, and the police stayed there the entire time.
"We immediately got in touch with Equality Toledo, which is an organization we have a very close working relationship with," Pearlman said. "We also got in touch with other community partners who we thought may have a chance at being impacted by these neo-Nazis. We contacted partners in the Muslim community. Toledo has a large Muslim community and a lot of mosques. We all have a close working relationship. Fortunately, they did not go anywhere else after they came to the Jewish Toledo campus."
He said that the Federation is grateful for these close working relationships with other organizations and law enforcement.
Multiple jurisdictions, as well as the FBI, were involved because the group crossed city lines.
Pearlman said he believes the decision to go to the Jewish Toledo campus was spontaneous and that the group had originally planned to protest only at the Toledo Love Fest.
"We're not surprised, necessarily, that a neo-Nazi group decides to harass a Jewish institution, but we weren't really the main or the initial target," he said. "It just proves that when one group is targeted, oftentimes another group will be targeted as well."
To read the complete August 2023 Dayton Jewish Observer, click here.