Turning learning into art at Hillel Academy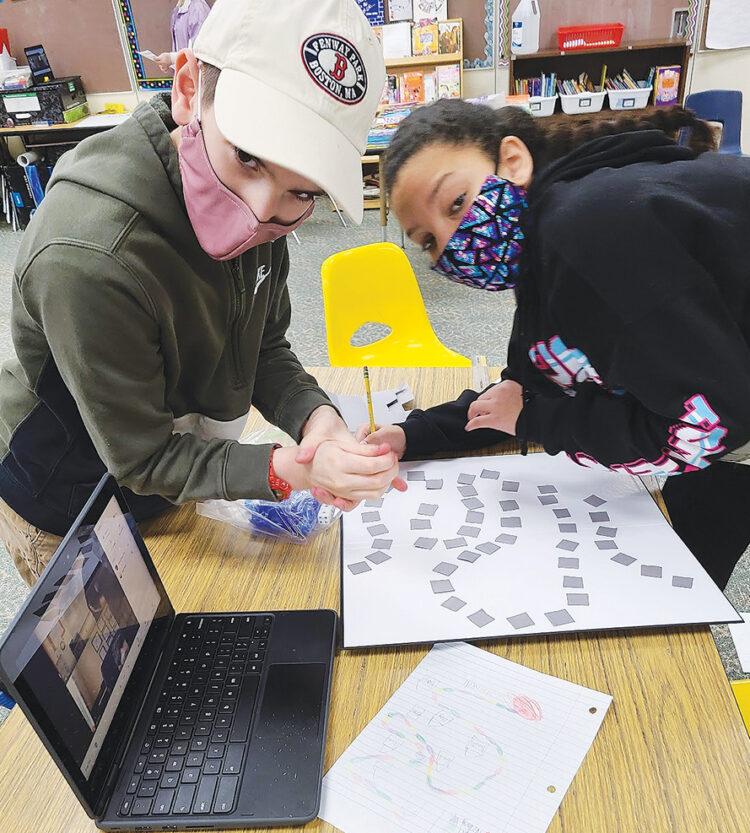 Project reconnects Judaic artist & calligrapher David Moss to his Dayton roots
By Faygie Holt, Special To The Dayton Jewish Observer
Against the window, colorful glass pieces shined and sparkled, the meaning of each square personal to its creator. In a hallway, handwritten and crafted posters about biblical leaders lined the halls, serving as a reminder of the importance of good behavior.
While art activities such as these may not be the first thing one thinks about when it comes to Jewish education, these works and numerous other hands-on art projects were a key component of this year's Judaics curriculum at Hillel Academy of Greater Dayton.
The blending of art and Jewish studies was made possible by the kindergarten-to-grade-six Jewish day school's acceptance into the Teacher Institute for the Arts.
The nonprofit program seeks to elevate Jewish educational instruction through innovative curricula and programs by providing mentorship to teachers in text, art, and leadership.
"Compared to traditional text-based learning alone, using creativity and the arts can vastly enhance Judaic studies by engaging much more of the abilities, talents, and potential of students," said calligrapher and Judaica painter David Moss — originally from Dayton — who oversees the Teacher Institute. "(The students) participate in and create and live the ideas rather than just rationally remembering them."
Moss, a resident of Jerusalem since 1983, has been combining Judaics and art since he finished college several decades ago. The father of four and grandfather of 16 has created pieces in several formats. Among his most famous works is the Moss Haggadah. The commissioned, one-of-a-kind piece was done in medieval style and crafted on parchment paper with gold leaf, moving parts, mirrors, and more. Moss was also instrumental in making handcrafted, illuminated ketubot (marriage contracts) one of the most sought-after additions to modern-day Jewish wedding ceremonies.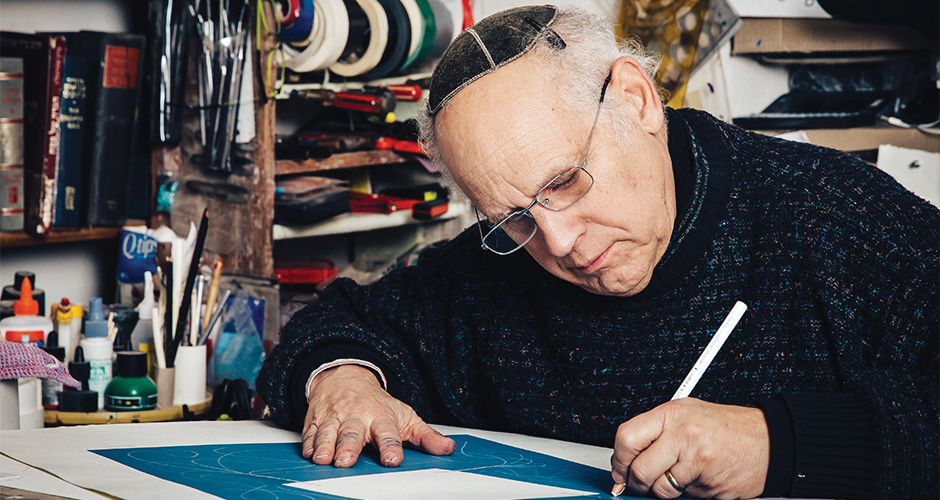 It was his sister, Meredith Moss Levinson, who suggested that Hillel apply for the program, according to Kathy Mecoli, co-administrator of the school with her husband, Dan.
"Because we do so much with project-based learning and the arts in general, Meredith thought this would be a good fit for us," Kathy Mecoli said. "We hoped that the children would gain a greater understanding of Jewish texts by engaging the arts and, in turn, applying the text to their own lives."
Hillel was accepted into the program this year, and that's when the real work began as the program is traditionally offered to older students and had to be made understandable to kids as young as 5.
"I thought it was going to be interesting, and I was curious to see how we would scale it down especially after seeing some of the things other schools had done," said Anna Smith, one of the teachers at Hillel who took part in the institute's training.
Complicating matters was the lack of a dedicated art teacher because of the pandemic. That meant that everyone — teachers, students, support staff — had to up their game. While the classroom teachers were the "official" participants in the Teacher Institute and training, they worked hand-in-hand with the Judaic teachers who taught the lessons used in the artworks.
"I teach general studies and not Judaics, so I had to coordinate with Rabbi Levi Simon," Smith explained. "I would sit in on his classes and when we'd get to a portion I thought was meaningful to introduce an (art) concept, I'd say, 'So tomorrow we're going to do art with this,' and the next day, I would lead the class."
One technique the teachers employed was using visible symbols to represent specific concepts.
When learning about Joseph, for instance, the older students created posters with 10 unique symbols to represent 10 parts of his life's story. Using only symbols, they had to retell what happened and in the right order. They also had to check their work using their chumashim (the Torah in printed form) to ensure they were correct.
It was a time-consuming endeavor, Smith said, "but I feel they gained more from it. I think anytime you are asked to do something with information, you retain it differently."
Mecoli agreed.
"When you can apply something, we know that you really understand it," she said. "You didn't just memorize the material, but you understand it and can do something with it."
While the educators may have been focused on the lessons and ensuring the students were learning the material, the kids themselves thought the yearlong program was great fun.
They got to explore numerous mediums — including glassworks, game-making, computer programming and stop-motion animation — and bring out their creative sides.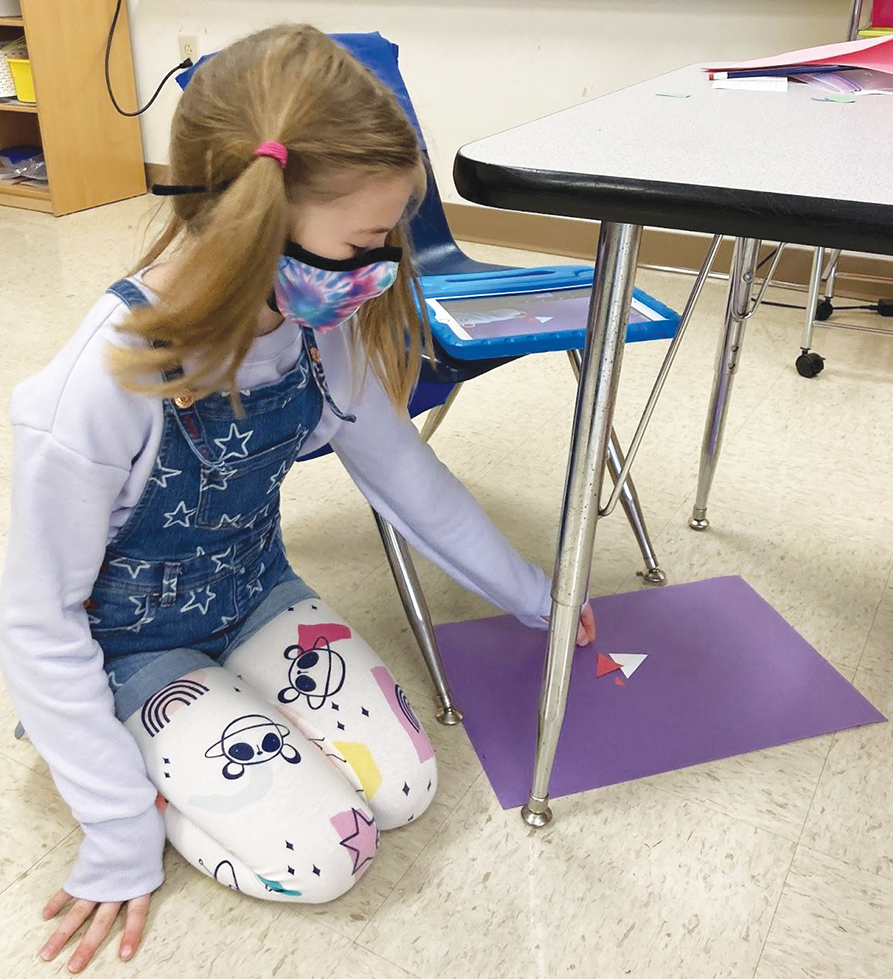 Some of the students even worked with their music teacher on an original song based on school-wide lessons of integrity and being accountable for their own actions.
"It was fun to turn learning into art, and I think other kids will like it, too," said 11-year-old Ellie Peace, who painted a sprout on a glass block as part of her art studies this year.
Her friend, Shoshana Krummel-Adkins, 11, said her favorite project was creating posters about biblical figures and what people can learn from their actions.
"We were trying to think about what our Jewish ancestors were doing good and bad," she said. "The bad things was harder to do, but we were able to think of the good things."
The girls said their group came up with slogans they used on their posters, including "Be Like Noah and do the right thing," or "Don't Gossip," because "Joseph would gossip to his dad about what his brothers were doing."
Looking back over the last year, everyone is thrilled with what they accomplished.
"This opportunity catapulted us into something unique and fun, imaginative and creative," Mecoli said. "It was a one-time experience, but we will certainly continue to use the techniques and ideas that were generated through this process."
Smith agreed, noting that the lessons have permeated beyond the Judaic classes.
"It is applicable everywhere," she said, "and art is a great form of self-expression, and anytime you can bring those two things together, you are creating a much richer experience for students."
As for Moss, who "loved reconnecting with the community" this year, he knows Hillel's arts program will be just as successful next year as the new, incoming arts teacher, Hannah Levinson, is married to his nephew and is "just fabulous."
To read the complete July 2021 Dayton Jewish Observer, click here.