'Every child is gifted in some way'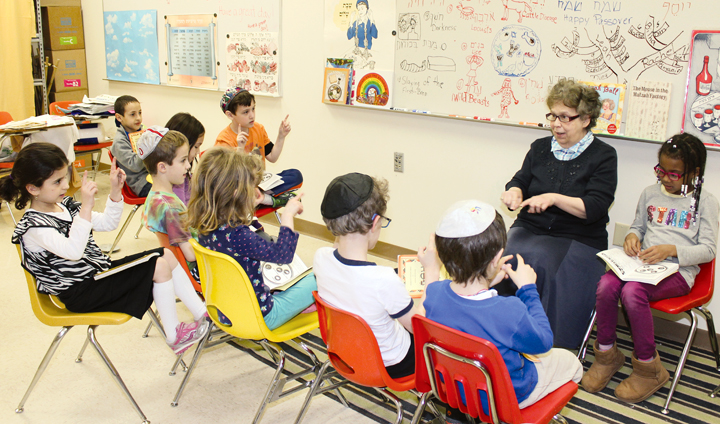 Hillel Academy to honor Sandy Sloane-Brenner
By Marshall Weiss, The Dayton Jewish Observer
"Moses was in my class. He was the cutest boy," Sandy Sloane-Brenner quips when she looks back over her years of teaching at Hillel Academy.
"Hillel's been my home for so many years, it's very touching for me to talk about, because now I'm working with children of my former students," Sandy says.
The Jewish day school will celebrate Sandy's 43 years of teaching Judaics to students in its younger grades, on May 31 with a brunch in her honor. Proceeds will benefit Hillel.
A native of Cincinnati, Sandy arrived in Dayton in 1972 when she married the late Les Sloane. She received her bachelor's degree in education from the University of Cincinnati.
Sandy was a remedial reading tutor for Dayton Public Schools when Beth Jacob Synagogue's Rabbi Sam Fox told her, "Oh, we have a school for you."
At that time, Hillel was based at Beth Abraham Synagogue on Salem Avenue. In 1974, Hillel moved to its own building on North Main Street. Since 2010, Hillel's home has been with Beth Abraham at its new location at Sugar Camp in Oakwood.
"The main goal for Judaic teachers," Sandy says, "is for everybody to embrace Judaism and to ask questions — not to be afraid to ask questions. No child should ever be unsuccessful in a religious studies class."
Her approach, she says, is to give her students the chance to make discoveries on their own.
"When they first come in, we do a unit on Hashem (God) where they explore things for themselves," Sandy says. "They begin to explore order. Where does order come from? We talk about davening (praying), about this little thing that we can do for Hashem — look at what he's done for us. What can we do to thank Hashem? It's our prayers."
She recalls a boy in her class one year who was terrified of thunderstorms.
"Right away, he would get into the bed with mommy and daddy," she says. "Well, it came to a point where we were doing a Siddur (prayer book) unit and one day his mother comes to me and tells me, 'I was a little worried last night. He did not come into bed with us when it stormed. I went to check on him. His Siddur was open on his chest and he had fallen asleep.' These are the things we talk about: how we love Hashem, how he takes good care of us. How we are very fortunate: we have food. And that brings us to tzedakah (right-eous giving), what we can do for others. And so they're wonderful about bringing in tzedakah."
The most significant change she's experienced over the years is Hillel's more recent embrace of all Jewish movements in the Dayton area — in its approach to Judaics and in the school's overall culture.
Students have always come from Dayton's Reform, Conservative, and Orthodox households. But now, Judaic instruction comes from teachers and clergy across these movements, too. The student body includes children from interfaith households who are being raised Jewish, and children whose interfaith parents are considering Judaism for them.
Sandy says this microcosm of modern Jewish America offers the students teachable moments.
"I want them to understand that being Jewish means being respectful. And being kind. And caring," she says.
"Even those who say to me, 'we don't do that, I'm not really Jewish,' I say to them, 'Isn't it a wonderful thing that your parents made the decision to send you to a Jewish school so that you could learn all about being Jewish?'"
Each fall, with the approach of the holiest day on the Jewish calendar, Yom Kippur — a solemn period of fasting — Sandy tells her students "do not come and tell me your father did not fast or your mother didn't. That's between themselves and Hashem. I'm not coming to school to tell you whether I fast or don't fast. Just know that if they don't fast, they have a reason. And there are reasons why people don't have to fast. They're not bad people if they don't fast and it doesn't make them super-good people if they fast."
Hillel's small environment, Sandy says, has made it easy for her to reach out and get to know her students' families.
"A very important strategy that I follow is to get to know the child," she says. "I try to find their strengths and appeal to them. Because every child is gifted in some way. They may not be in math, they may not be in reading. They might be in music. Or they might be in art."
As she's done for more than four decades, Sandy will preside over her students' Siddur presentation ceremony in May.
After an intensive year of learning the prayers in the Siddur and what they mean, each student receives his or her own Siddur and a miniature Torah scroll from Hillel, with their families there.
"I decided that it should be like a pre-Bar or pre-Bat Mitzvah," she says, "that it should be a very important step in a child's life. And my children, over the years, could almost lead a Shacharit (morning) service. They know. And they love it."
Hillel Academy will honor Sandy Sloane-Brenner at a brunch on Sunday, May 31 at 11 a.m. at Beth Abraham Synagogue, 305 Sugar Camp Cir., Oakwood. The cost is $75, with proceeds to benefit Hillel. R.S.V.P. to 277-8966.
To read the complete May 2015 Dayton Jewish Observer, click here.