Longtime Jewish Federation/JCC staffers retire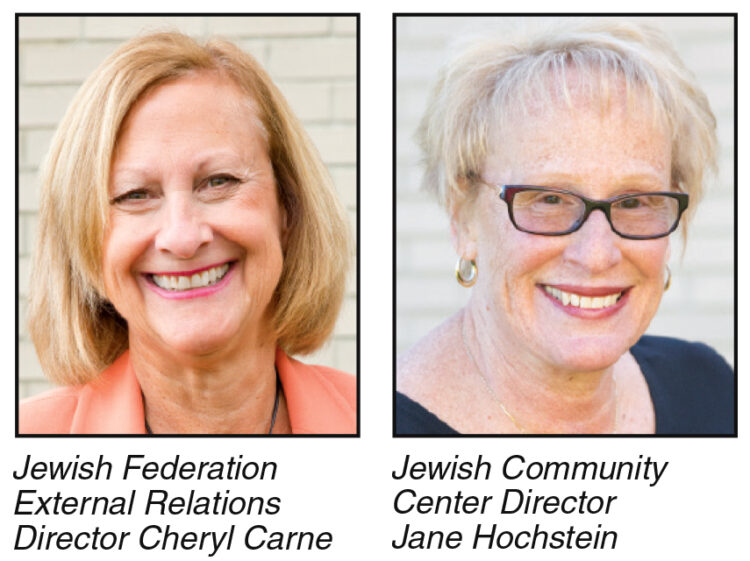 By Marshall Weiss, The Dayton Jewish Observer
With 33 years of combined service between them, Jewish Federation External Relations Director Cheryl Carne and Jewish Community Center Director Jane Hochstein retire from the Federation this summer.
Both started as volunteers in the Jewish community when they had young children at home. Now, they each look forward to the time they'll enjoy visiting their grandchildren.
"When my daughters were in the JCC preschool, I joined the Early Childhood Committee," says Cheryl, who started her career as a market analyst with Mead Data Central, which would become LexisNexis. "And then we decided to send our girls to Hillel Academy Jewish day school, so we became involved in Hillel as well."
For eight years, Cheryl was employed at Hillel, in charge of recruitment and retention. In 2002, she came over to the JCC as its membership director. Since then, she's held numerous positions across the Federation and its agencies, including JCC director, Federation's director of resource development, and, since 2013, as Federation's director of external relations.
Jane worked for the Montgomery County Board of Mental Health and Retardation and then for Centerville Public Schools.
She became a member of the JCC South/Jewish Federation Board in the 1990s. When Jane's mother moved in with her, Jane noticed there was no programming for Jewish older adults south of Dayton.
With the Federation's blessing, Jane and Bonnie Orlins volunteered to start a grassroots program for Jewish older adults south of Dayton. The late Hyla Weiskind would staff the program through the JCC and Jewish Family Services.
In 2007, the JCC hired Jane for its cultural arts and active adults programming. Much of her portfolio encompassed running the JCC's Jewish Film Fest and its Cultural Arts & Book Series. Jane was named JCC director in 2013.
Jane says it's been rewarding to see how Film Fest and CABS have evolved and expanded through the talent and energy of their committees.
"When I first took the position, Film Fest was practically every night for a certain brief amount of time, and Cultural Arts & Books was the same way, though over a few months," Jane says. "We started spreading them out more over time and our attendance is really good. Both have grown."
The community Women's Seder, which the JCC oversees, is one of her favorite programs.
"Working with that group was just amazing because they were just so enthusiastic. They really take the initiative," she says of the women — representing Dayton-area Jewish congregations and organizations — who bring women from across local non-Jewish communities to participate in the Seder.
Cheryl says her current work in external relations has been her most challenging and rewarding with the Federation.
"When asking community members to support our annual campaign, you have to provide people with a reason — why Federation — due to the many worthy organizations they can give their money to," she says. "I liked that part of it. And the most rewarding for me are the people I've met along the way."
Her favorite aspects of the job have been meeting with newcomers and reactivating the Federation's Young Adult Division.
"I was able to have lunch this week with someone new to Dayton. Due to the pandemic, I hadn't done that in 15 months. It was so very gratifying," Cheryl says.
"I loved the challenge of introducing newcomers to other people. It is a pleasure to match them with similar age groups, including if they have small children, and often connecting them to people who live in their neighborhood and who have similar backgrounds. What is pleasing to me is that our community embraces new people."
Jane says she's loved when community members have come to her with program ideas.
"If other people are interested in those ideas and suggestions, we try to make it happen. And that's been fun. Like our virtual "Happy Hours" last year with comedians and a magician when Covid hit. That's where I would use the JCC Advisory Board and bounce suggestions off of them. Right now, there's a series of three hikes we have planned through June and that came from the advisory board. I've had the opportunity to meet and work with some really super people. Those are relationships that you cherish. That I won't forget."
The Jewish Federation will honor Cheryl Carne and Jane Hochstein with a picnic lunch at Polen Farm, 5099 Bigger Road, Kettering, 11:30 a.m.-2 p.m., Sunday, Aug. 29. Register for this free event here.
To read the complete July 2021 Dayton Jewish Observer, click here.