New home for Holocaust Resource Center & Frydman ERC at Wright State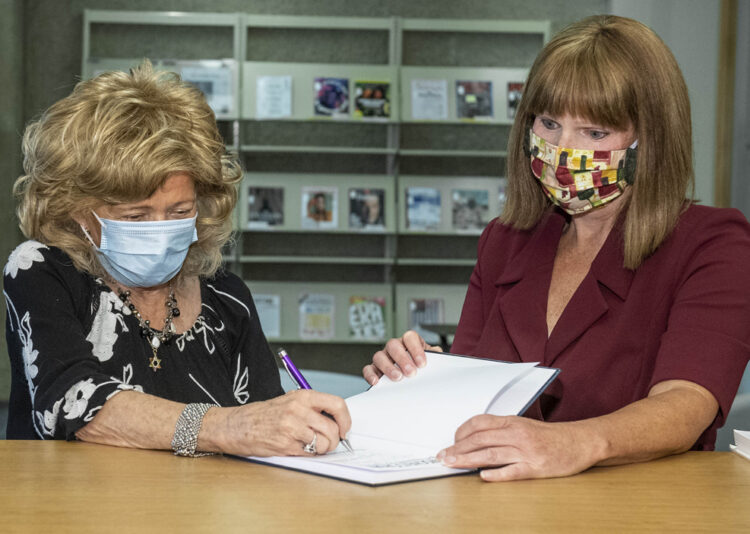 By Marshall Weiss, The Dayton Jewish Observer
Wright State University moved its Charles and Renate Frydman Educational Resource Center in August from Allyn Hall to the second floor of Dunbar Library, where it is now a featured collection within the university libraries.
The Frydman ERC includes in its holdings the collection of the Dayton Holocaust Resource Center.
According to Wright State University Librarian Sue Polanka, the move makes the collection more accessible to the entire Wright State community.
"We are open more hours than the ERC was, we have seven-day service, we have evenings, and we have a larger staff to be able to help," Polanka said.
The Frydman ERC's new location, in Room 210 of the Dunbar Library, includes display cases to feature works from the Max May Memorial Holocaust Art Contest.
Previously, the Frydman ERC was housed at Allyn Hall and maintained by the College of Education and Human Services.
"I'm beyond thrilled that it's found such a good home now," said Renate Frydman, founder and director of the Dayton Holocaust Resource Center. "The space is large and open, and has a lot of light. It's just beautiful. And they're not done. From where we started to where we are now, we've come so far."
Frydman began the Dayton Holocaust Resource Center out of her own home.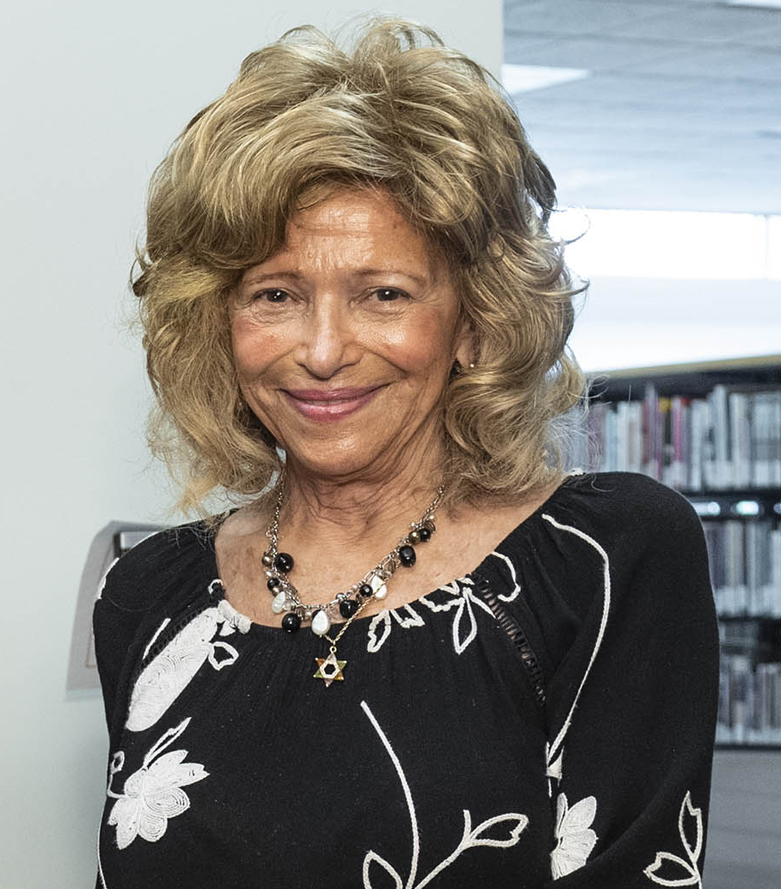 From 1993 to 2001, Hillel Academy Jewish day school, then in Harrison Township, housed the center at its library.
The center came to Allyn Hall at Wright State in 2001. The university named the ERC in honor of Frydman and her late husband, Holocaust survivor Charles Frydman, in 2007.
Polanka said the move was a way for the university to be more financially efficient and at the same time more effective for the ERC.
"We'll have our Instruction and Research Services handle queries," Polanka said. "We have 10 librarians in that department; they can all provide a general level of service. We'll have one librarian, Heather Back, and she will be the librarian who will learn the collection and do more outreach and instruction with that collection."
"Wright State has been so good to us," said Frydman, whose Holocaust education projects with the university go back more than three decades.
She produced videotaped interviews with local Holocaust survivors beginning in 1985 for the Dayton Holocaust Resource Center's Faces of the Holocaust series, directed by K. Roland Knight and produced at Wright State's television center. Frydman continued conducting local survivor and liberator video interviews — as well as a daughter of survivors and a German exchange student — with Wright State a decade later.
Today, the Faces of the Holocaust series of 16 interviews is also available at YouTube and in audio file format at iTunes.
Frydman, who has spoken about the Holocaust at countless schools over more than a generation, is also the project director of Prejudice and Memory: A Holocaust Exhibit, on permanent display at the National Museum of the U.S. Air Force for the past 21 years.
The Frydman ERC now comprises 19,000 print and non-print items. Overall, it provides research and instructional materials, media, and equipment for teacher education majors.
Dunbar Library is also where Wright State's Special Collection and Archives department is based, on the third floor; it's the home of the Jewish Federation of Greater Dayton Records collection.
To meet the university's August deadline to bring the Frydman ERC to Dunbar, 10 librarians made more than 250 trips back and forth through Wright State's underground tunnel system.
The Holocaust Resource Center component of the collection comprises Holocaust-related materials for teachers and researchers in the Dayton area, including video resources, curriculum materials, research and reference sources, periodicals, books, and artifacts. It also maintains a website and Facebook page for teachers and students.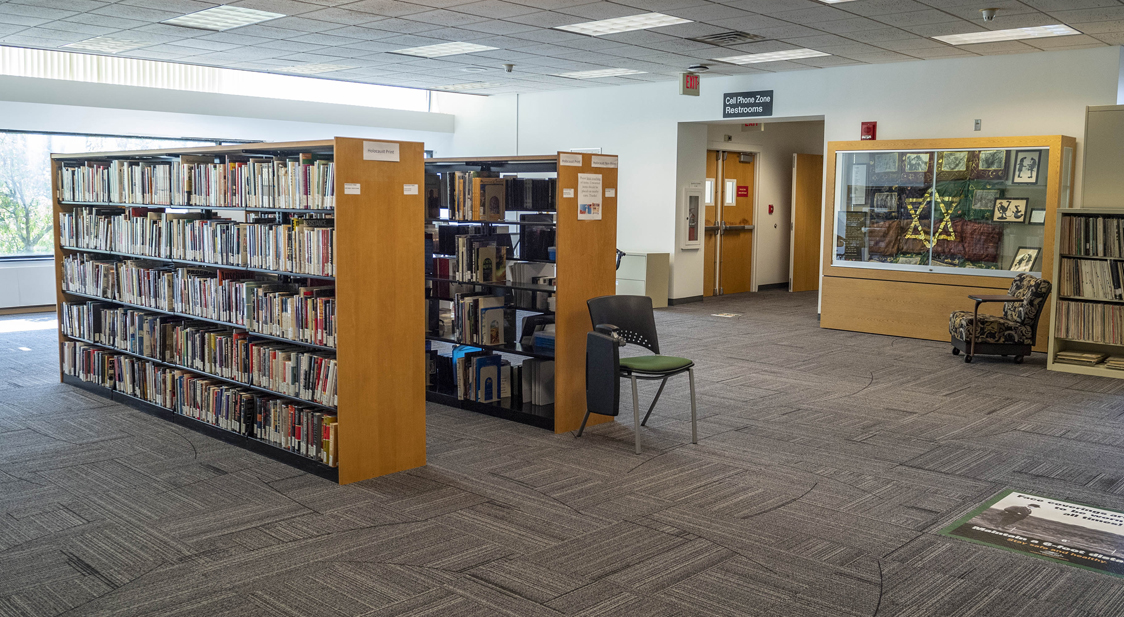 With Dunbar Library staff working remotely because of the Covid-19 epidemic, Polanka suggests those with queries email them to the university's Ask A Librarian service.
"Ask A Librarian gives you instant help," she said. "It's an instant way to chat online with a librarian. The people who work that service are the people in the department I mentioned. They'll provide assistance and if needed, will refer people to Heather Back. That service provides a lot of hours: evening hours, weekend hours."
People can visit Dunbar Library — which has social-distancing health procedures in place — and may borrow items from the Frydman ERC collection with a Wright State Library Card, available by joining WSU Friends of the Library.
"We are blessed and honored to have a Holocaust center like this, to be on the forefront of Holocaust education at Wright State," Frydman said. "Holocaust education is a large movement now, because it goes along with teaching about prejudice and bullying, things I had hoped wouldn't still be so much a part of society anymore. We have a mission to fulfill, and being at Wright State's Dunbar Library expands our mission."
For assistance with Frydman ERC & Dayton Holocaust Resource Center materials:
• Ask A Librarian: libraries.wright.edu/ask
• Phone: 937-775-2925. With staff working remotely due to Covid-19, phone messages will be transferred to email and staff will return calls.
• Librarian Heather Back will work most closely with this collection.
• Borrowers from Wright State University Libraries must have one of the following:
To read the complete October 2020 Dayton Jewish Observer, click here.