Documentary's newly discovered film footage keeps memory of Warsaw Ghetto alive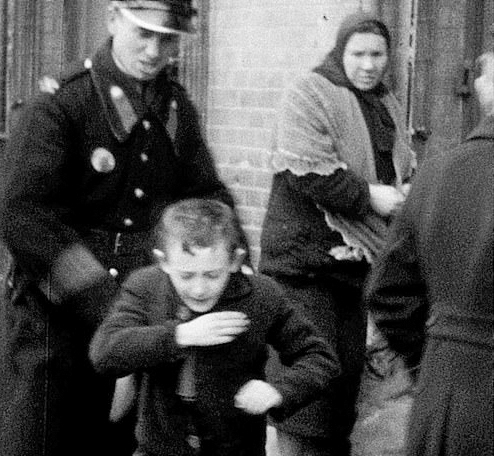 By Masha Kisel, The Dayton Jewish Observer
Previously unseen amateur 8mm footage of the Warsaw Ghetto alongside testimony from survivors and their descendants offers a new perspective on the creation of the Warsaw Ghetto and the fate of Warsaw's Jewish inhabitants in Eric Bednarski's 2019 documentary Warsaw: A City Divided.
Ohio State University's Center for Slavic and East European Studies and the Wexner Center for the Arts will screen the film online at 1 p.m., Sunday, Oct. 18 followed by a Q&A with the director.
Bednarski's film work has earned him a Gemini Award, a Writers' Guild of Canada Award nomination, and a Decoration of Honor by the Polish Ministry of Culture and National Heritage.
Warsaw: A City Divided has been screened at film festivals around the world, including in Paris, Prague, Bucharest, Copenhagen, Chicago, Los Angeles and Jerusalem. It won the Best Documentary Audience Award at the Warsaw Jewish Film Festival.
Here, Bednarski talks about how Warsaw: A City Divided came to be.
How did you become interested in the Warsaw Ghetto?
Although I was born and raised in Halifax, Canada, I have always felt close to Warsaw, Poland. It is my father's city and has a tragic past. From an early age, I've been keenly aware of, and deeply moved by the tragedy of the Warsaw Ghetto.
After doing an M.A. in history in Toronto, I attended film school in Denmark. Ten years ago, I moved to Warsaw. As a filmmaker, I have frequently been inspired to explore topics and issues relating to the history of Warsaw. In 1939, for example, Warsaw was almost one third Jewish. It was the most Jewish city in the world at the time, after New York. I learned at an early age how over the course of World War II and in its aftermath, the city was divided and destroyed by one totalitarian force (that of the Nazis), then nationalized, redesigned and rebuilt by another (that of the Soviets).
Did your family heritage inspire your interest?
I am half Polish, and although I am not aware of any Jewish roots, I am deeply interested in Jewish-Polish history and culture in Poland. My father is 91 years old, so he remembers pre-war Poland. He survived the Nazi occupation and destruction of Warsaw. Growing up, his many stories about the war and the Holocaust had a profound effect on me.
How did you discover the footage that's in the film? Tell me more about the process of making the film and how the narrative of what you saw in the footage changed over time.
About 15 years ago, I unearthed unique and hitherto unknown 8mm Polish amateur footage, shot in 1941 in the ghetto, soon after its creation by the Nazis. I'd heard rumors of this footage in my family for years. It turns out the man who shot the footage was a distant relative of mine. Soon after finishing film school, I tracked down his descendants. I knew I needed to not only restore, study, and properly identify the footage, but above all, show it to the world. My goal was to provide meaningful context for this footage.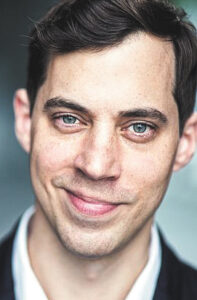 Work began on the film with the National Film Board of Canada when I was still living in Canada. I read a lot on the subject and consulted with survivors, witnesses, as well as institutions and historians in the U.K., Israel, Poland, and Canada. After it was professionally cleaned, restored and digitized, I was able to see much more detail in it. I worked with experts to identify all the present-day locations of the footage in Warsaw. In my documentary, I've interspersed stories of survivors and witnesses with scenes of the anonymous people in the historic 8mm footage itself — crowds of individuals, not one of whom has been identified, and almost all of whom likely have perished. This is the film's human face.
While the emphasis is on the collective and individual human tragedy, the film also draws attention to architectural and urban aspects of Nazi actions, and to what was a cruel and premeditated assault on the city as a functioning physical whole. I also wanted to focus on the creation and ultimate liquidation of the artificially established ghetto and the murder of its inhabitants, in relation to the city of which it had once been a living part and from which it was brutally severed.
What were surprising discoveries you made about the Warsaw ghetto?
The fact that Nazis could divide up, administer and then destroy a European capital city and murder hundreds of thousands of its inhabitants is frightening. We hear a lot about Auschwitz, but almost as many people died in Treblinka, which is where most of the Jews of Warsaw were murdered. I had no idea how quickly some 300,000 Jewish Warsaw residents were deported to their deaths for example, from July to September 1942. I had no idea that approximately 100,000 Warsaw Jews and 100,000 Warsaw Christians were moved around the city so that the ghetto could be artificially created by the German occupiers, and that the creation of the ghetto was continually justified by racist, pseudo-scientific Nazi scare tactics of the spread of disease by Jewish residents.
I also had no idea that after the ghetto uprising was crushed by Nazi forces in May of 1943, a concentration camp was set up among the ruins of the ghetto, so that it could be plundered and dismantled by slave laborers, mainly Jews from Greece and Hungary. The camp operated until it was liberated by the Polish Resistance in 1944, during the second Warsaw uprising.
Viewers will also find the 8mm footage of interest. Previously known footage of the Warsaw Ghetto was shot by Nazi propaganda film crews, so the footage in my documentary shows things from a different perspective, created earlier than all previously known footage.
Was it difficult to find survivors or their descendants?
The people I interviewed for the film were a mix of ghetto survivors and witnesses like Agata Boldok and Krystyna Budnicka, as well as architects, urban historians and even the chief rabbi of Poland, Michael Shudrich. When I first visited Yad Vashem in 2006, I met Prof. Israel Gutman, the renowned Holocaust scholar and Warsaw Ghetto Uprising survivor. I was able to interview him in Warsaw years later, just before he passed away.
Soon after I started work on the film, through a family friend, I got in touch with a Warsaw based organization called Children of the Holocaust. I explained that I found remarkable footage and hoped to meet with people who had been in the Warsaw Ghetto. I was eventually able to show them my footage and meet with some of the organization's members. After that meeting, I decided to focus on several women as the main characters in my film. Warsaw isn't a huge place, so everyone sort of knows everyone. Over 10 years of working on the film, I got to know quite a few survivors and their descendants.
The film was co-financed by the city of Warsaw and the Polish Film institute. What was the city's attitude toward the history of the Warsaw ghetto?
The attitude towards the history of the Warsaw Ghetto varies between people, neighborhoods, and political parties. It is impossible to generalize. We can't say that there is only one attitude to historical events in the United States.
I can say, however, from my own perspective of living in Warsaw, I've seen a growing interest in learning about the Warsaw Ghetto and commemorating it over the past 10 years. I tried to show this in my film, on a personal and collective level. More people are realizing its importance in Warsaw's history, especially those who live in the area of the former ghetto. Of course some people in Warsaw might be indifferent or even hostile, but I would say that they are a minority.
The film was supported by the Mazovia Film Fund, which in turn is partially supported by the City of Warsaw. Warsaw has done a lot in recent years to educate both visitors and residents about the history of the Warsaw Ghetto.
Of course more can be done, and there have been worrying developments in recent years in Poland with a rising far right, but this doesn't directly connect to municipal politics in Warsaw.
Warsaw is a bit of a bubble in Poland. As for the Polish Film Institute, just like with the City of Warsaw, the fact the film was financed means that it was considered important enough to be supported.
What do you hope audiences will take away from this film?
I hope audiences will have a better understanding of what happened to Warsaw and its Jewish community, but I also want them to see the 8mm film that I discovered, in context. I hope that this film will be a warning. By the time the film was in its final stages, all over the world, xenophobia, racism and antisemitism were once again on the rise. In such a world, the task of sustaining the memory of tragedies such as that of the Warsaw Ghetto is more urgent than ever. Warsaw: A City Divided is one small contribution to the process of keeping that memory alive.
Ohio State University's Center for Slavic and East European Studies and the Wexner Center for the Arts will screen Eric Bednarski's 2019 documentary Warsaw: A City Divided online at 1 p.m., Sunday, Oct. 18 followed by a Q&A with the director. Click here to register.
Masha Kisel is a lecturer in English at the University of Dayton.