Golden age romantic comedy sparks Love in Suspenders
Film Review By Michael Fox, Special To The Observer
The graying of the baby boomer generation has had a side effect we should have anticipated: septuagenarian romantic comedies.
Made for a specific demographic, golden age rom-coms are a decidedly mixed bag.
If the leads are movie stars, we've followed their whole careers, or even if they're less well-known, seeing them later in life inevitably reminds us of our own mortality.
American viewers likely won't recognize Israeli actors Nitza Shaul and Yehuda Barkan, the would-be lovers in the genial, slight Love in Suspenders. But they will certainly register every time-honored convention of the romantic-comedy genre.
The obligatory cutesy meeting between the two leads occurs in a parking lot outside a strip mall, where dotty but stylish widow Tami backs her car into pot-bellied Benno. Not into his car, mind you, but into him. Tami's son, a control-freak lawyer, instructs her on the phone to take every conceivable measure to dissuade Benno from suing, including plying him with cash.
But Benno isn't the type to exploit situations to his advantage, even if he doesn't have three shekels to rub together. Easygoing and unassuming, he's just trying to hang on to his dingy apartment — temporarily rendered uninhabitable while the jerry-rigged electricity is fixed — and get through his days with a minimum of tsuris.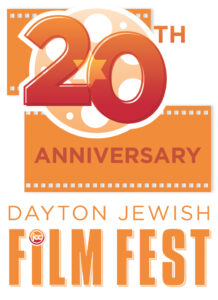 Between his circumstances and Tami's insistence, Benno winds up spending the night on the couch at her place, which turns out to be a spiffy apartment in an upscale retirement high-rise. It's a good location if you want to make a movie on a small budget, but there's a downside that quickly becomes apparent: The rom-com starts to feel like a sitcom.
That unfortunate sensation isn't alleviated by the introduction of Tami's pajama-clad husband, whom only she can see and hear.
Director Yohanan Weller and writer Elisa Dor are aiming for poignancy rather than easy laughs, but the pedestrian dialogue and ham-fisted staging fail to convey what Tami misses about him beyond familiarity and company.
Interestingly, the couple enjoyed a long career as a performing duo. But Tami evinces no sign that she pines to sing for an audience. Regrettably, the film uses her decades of stage experience only passingly to deepen her character or drive the plot.
Similarly, the filmmakers are neither industrious nor creative about developing the attraction between Benno and Tami. We're supposed to take it on faith — or as a movie-logic imperative — without any basis in shared interests, common enemies or pent-up desire.
Love in Suspenders features some clumsily executed and distinctly unfunny machinations involving Viagra, but they pay off, surprisingly, with a genuine moment of revelation and warmth.
The other obstacles that one expects in a rom-com, namely the suitors' families, show up more or less as expected. Benno's daughter is tired of her father's ongoing financial struggles, while Tami's son is suspicious that his mother is being conned by the scruffy stranger.
The most enlightened character is the youngest, which is standard practice for a sitcom. Tami's adolescent granddaughter, who regularly drops by for voice lessons, sports a live-and-let-live attitude about Tami's stimulating affair that, you will not be remotely shocked to learn, is embraced by everyone in due time.
Even by Tami's late husband, for those with an incurable sentimental streak.
The JCC Film Fest presents the feature film Love in Suspenders free online, June 30-July 2. To watch, go to jewishdayton.org/program/dayton-jewish-film-festival.
To read the complete July 2020 Dayton Jewish Observer, click here.