Ben Ferencz shines the light of law in Prosecuting Evil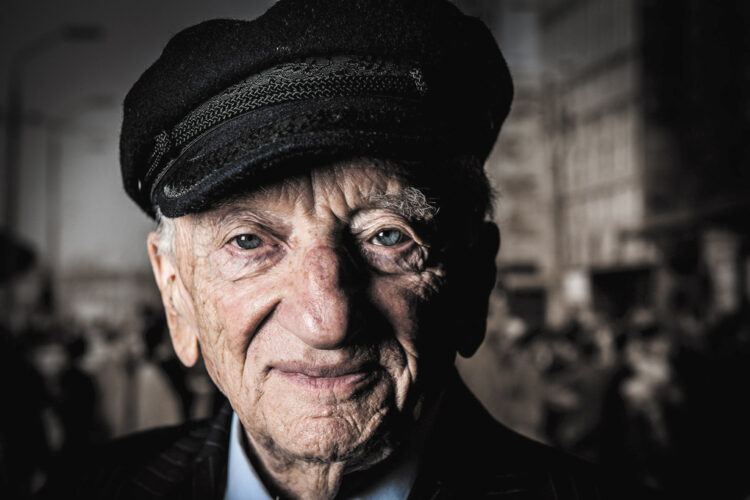 By Michael Fox
Special To The Dayton Jewish Observer
Benjamin Ferencz was the lead prosecutor in the Nuremberg trial of 24 officers who led the Einsatzgruppen (mobile SS extermination squads) that murdered more than a million Jews and other "enemies of the state" in Nazi-occupied Eastern Europe.
Just 27 when he tried the case, Ferencz obtained a full slate of convictions including death sentences for chief defendant Otto Ohlendorf and several other commanders.
The lifelong human-rights lawyer finally gets the spotlight to himself in the feature-length documentary Prosecuting Evil: The Extraordinary World of Ben Ferencz.
Simply sitting in a chair, recounting his life story in a pin-striped suit with red pocket square, this nonagenarian commands our attention.
Canadian director Barry Avrich, whose credits include The Last Mogul, a documentary about the late Hollywood agent and macher Lew Wasserman, takes the conservative route of assembling archival photos and footage and a couple interview subjects to augment his subject's testimony.
It's not a bad strategy when you have a figure as riveting as Ferencz.
He was born in Romania in 1920 and his family immigrated to the United States within the year.
A straight-shooting product of Hell's Kitchen and City College of New York, he augmented his Yiddish and English with the French that he taught himself from Charles Boyer and Danielle Darrieux movies at the local cinema.
Ferencz was interested in juvenile delinquency and crime prevention, and did so well on his criminal law exams that Harvard Law School gave him a full scholarship.
He found a government program that paid him a stipend as the assistant to a criminology professor who, when World War II began, started researching and writing about war crimes.
We infer that Ferencz had uncommon intelligence and initiative, and his frustration after Pearl Harbor at the Army's inability — because of his diminutive size — to see a use for his exceptional skills is palpable.
His time finally came when he was appointed a war crimes investigator with carte blanche to enter the concentration camps and collect evidence.
Ferencz recounts this dramatic and pivotal period in his life with incredible recall and, on occasion, welling emotion that forces him to pause.
The camps are as vivid to him as they were 70-plus years ago, and he succeeds in putting us there with him.
His training and experience brought him to the attention of Telford Taylor, the assistant (and eventual successor) to chief counsel and prosecutor of the Nazi high command, Robert Jackson.
Ferencz was instrumental in the dozen trials (including the Einsatzgruppen trial he spearheaded) that followed.
He stayed in Germany with his wife and children to lead the reclamation of Jewish property for a non-governmental organization.
The story of how Ferencz persuaded the German government to agree to maintain Jewish cemeteries in perpetuity provides one of the film's emotional peaks.
Upon his return to the States, Ferencz reunited with Taylor and took cases in the areas of civil rights and human rights law before those terms were invented.
Ferencz went on to play a pivotal role, across three-plus decades, in establishing the International Criminal Court at The Hague (in 2002).
It's a manifestation of Ferencz's philosophy for ending bloodshed.
"The only way out of this," he declares, "is law, not war."
If it's still unclear what kind of man we're talking about, one of his sons recalls that his dad began every dinner for years with the question, "What have you done for mankind today?"
The JCC Film Fest presents the documentary Prosecuting Evil free online June 19-22. To watch, go to jewishdayton.org/program/dayton-jewish-film-festival. You can also sign up for a Zoom discussion of the film with Jewish Community Relations Council Director Marcy L. Paul at 7 p.m., Monday, June 22.
To read the complete June 2020 Dayton Jewish Observer, click here.