Antisemitic vandalism found at The Greene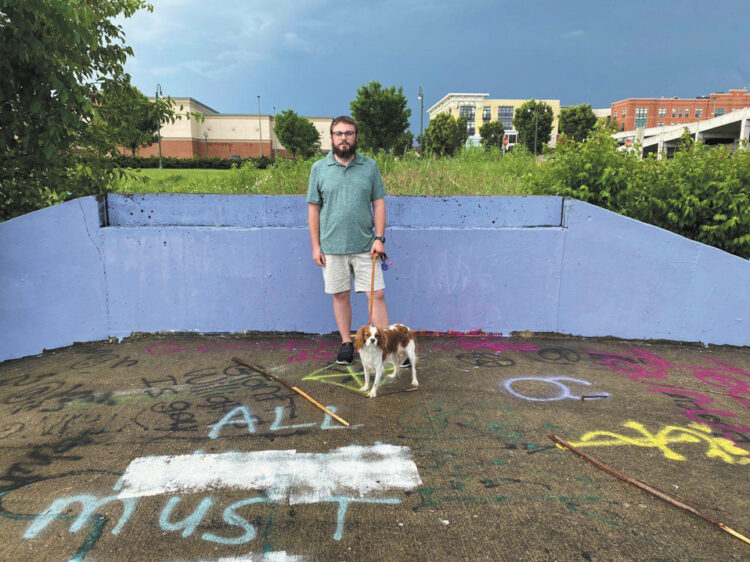 By Jane Kaufman, Cleveland Jewish News
Swastikas, Jewish stars and other symbols of hate were painted on a concrete spillway on the property of The Greene in Beavercreek.
Lake Miller, who lives in Beavercreek near The Greene, noticed the graffiti on June 6, as he walked his dog in the area.
Miller said he relocated with his wife, Allison, about three weeks ago to an apartment near the center and the two have been taking their Cavalier King Charles Spaniel, Rosie, on regular walks nearby.
He said they noticed some kids at the concrete spillway, "shushing us, and we weren't really sure what they were getting into, so we walked past them, kind of went about our business. And then later on in the day…we ended up walking across the trail."
He said the concrete spillway "had been totally covered in graffiti, including swastikas and like incredibly profane language."
"The Jewish star was there among the swastikas," he said. "So we noticed that was happening, and at that point, we usually didn't walk off of that trail, but I knew that at that moment I had to go walk towards this and see what it was. So we walked the maybe 10 feet off of the trail."
Miller took photos and reached out to the management of The Greene to ask whether the spillway was on its property. He was told management would take care of the graffiti.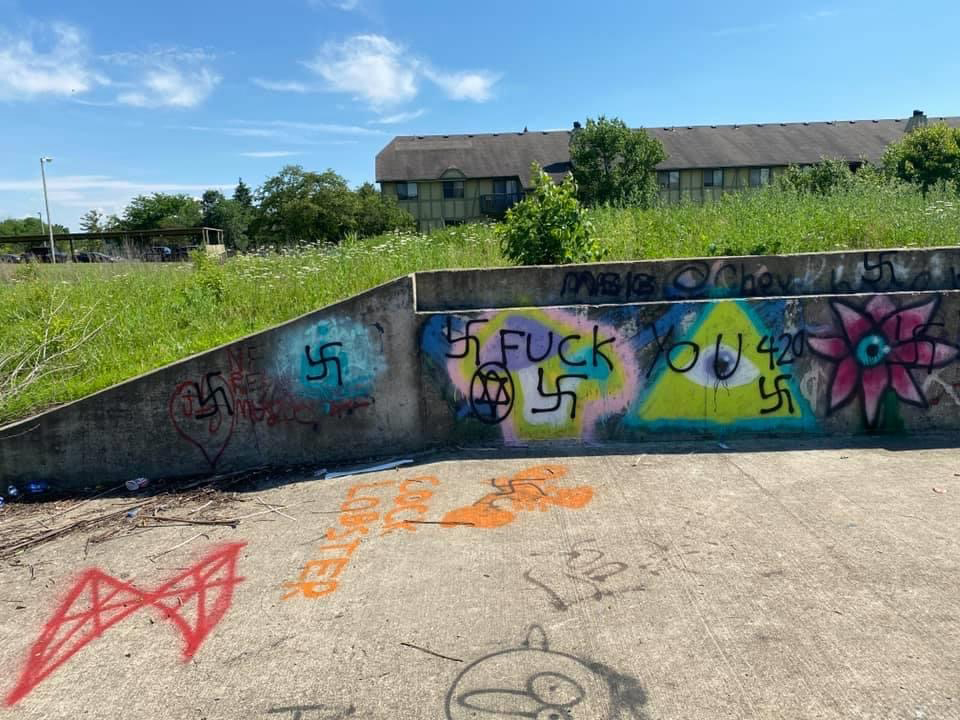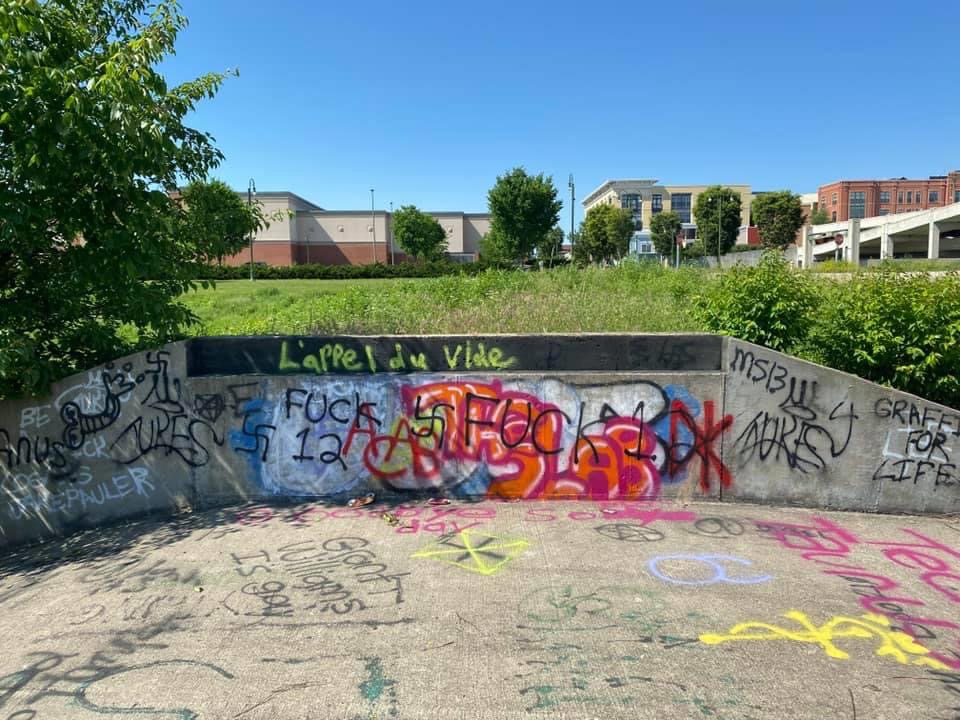 On the evening of June 7, the offensive images had been covered over, he said.
"I checked back this morning," Miller said. "Within 48 hours, it's been completely covered up, which to me makes me feel good supporting them, knowing that they want to make sure that hatred is taken care of quickly."
Miller is a program manager for the National Conference for Community and Justice of Greater Dayton, focusing on youth programs. He grew up in Yellow Springs, about 15 miles from Beavercreek, attending Temple Israel in Dayton, where he still belongs. He said he was inspired to work in his field by experiences at L'taken in Washington, D.C. – a program of the Religious Action Center for Reform Judaism, where he learned about the power of individual action – and an NCCJ camp, Anytown Leadership Institute, of which he is now coordinator.
He said those experiences taught him that, "When you see something that's not right, you stand up and you say something."
Marcy Paul, director of the Jewish Community Relations Council of the Jewish Federation of Dayton, said she learned of the graffiti in the morning of June 8 and emailed Beavercreek Mayor Bob Stone.
He answered within the hour, which pleased her.
"It is my understanding that the area affected has been or is to be painted, either by the owners of The Greene, or by a local arts center that desires to paint a mural," Stone wrote her. "I'm certain an update will be soon to follow."
Paul said she hoped Olshan Properties, the owner of The Greene, would file a police report so the incident would be logged by the Anti-Defamation League as an anti-Semitic incident.
"In my role at JCRC, we had just put out a statement regarding the murder of George Floyd,"she said June 9. "I'm very much intent on being on top of these issues and then following up. So, if there are issues of antisemitism or other acts of hate in our community and I'm notified about it, I'm going to act."
Paul also said she did not think a mural would help prevent graffiti.
"Any act of violence is a threat," Paul said.
Tiffany Clark of Dayton, who runs Mural Machine, said a person from Beavercreek reached out to her offering to underwrite a mural to cover the spillway floor and wall as a way to reclaim the space.
"It changes the perspective and a feeling of a location," Clark said. "It creates new memories too. It lets people know that other people care."
Tabitha Clark, owner of Decoy Art Center in Beavercreek, for whom Clark works, said she has asked for and received permission from city officials for the mural.
Miller said the experience of seeing the graffiti reminded him of his impulse to hide public displays of his religious identity.
"I didn't realize when I called out this graffiti that it would be such a public thing, but I think it's important that people from this community, and every community…realize these things are happening," he said. "I've always had the battle that I think a lot of Jewish people do, of like, if I'm wearing a Jewish star, do I wear it under my shirt, or out and proud? I was always one of those people who – I may be ashamed to say this – but who wore my Jewish star under my shirt because I was afraid of that one person who might say something to me and tear me down.
"Unfortunately, it was like a reminder seeing that, seeing those swastikas there, that those people still exist – people who would try to tear me down simply because of my religious belief."
Miller said he teaches teens about what he called the pyramid of hate, which at its base consists of stereotypes and rises to violence, such as hate crimes and ultimately, genocide.
"This to me is a reminder of why I go to work every day," he said.
James Pasch, regional director of the ADL in Cleveland, spoke out about the incident."It is abhorrent that people would spray paint swastikas by The Greene Town Center," he wrote in a text to the CJN. "We are, however, inspired by the prompt actions taken by so many. We commend Lake Miller who, in the face of hate, did not remain silent. Likewise, we commend The Greene's management who promptly removed the graffiti. They, Marcy Paul, and those offering to transform the defaced space into a work of art, are all exemplifying tikkun olam, repairing the world."
To read the complete July 2020 Dayton Jewish Observer, click here.