Son of WW II master sgt. who saved 200 Jewish GIs at Jewish Cultural Festival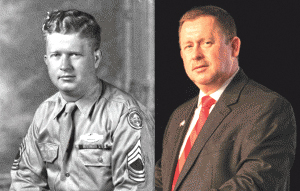 Pastor Chris Edmonds, son of late Righteous Among the Nations honoree Master Sgt. Roddie Edmonds, will share how his father saved 200 Jewish GIs after the Battle of the Bulge in 1944, at Temple Israel's Jewish Cultural Festival, Sunday, June 2. He'll present a talk at 2 p.m. and will screen the documentary, Footsteps of My Father, at 12:30 p.m. and 3:30 p.m.
Now in its ninth year, the festival is held at Temple Israel, 130 Riverside Dr., Dayton from 11 a.m. to 7 p.m. Admission is free.
Festival food vendors are Bella Sorella Pizza, Bernstein's Fine Catering, El Meson, Pasha Grill, Graeter's, Temple Israel's bakery, with beer provided by The Dayton Beer Company.
Entertainment includes readings in English from the Yiddish Forward's advice column of long ago, A Bintel Brief (A Bundle of Letters), with Yiddish songs. Also performing are the Dayton Jewish Chorale, Miami Valley Klezmer Ensemble, and JCC Children's Theatre.
Wild Hearts African Farm in Lewisburg will present a petting zoo near the open-air vendor marketplace.
Registration for the annual Oy Vey 5K begins at 9:30 a.m. The walk/run starts at 10:30 a.m.
For more information about the festival, call the temple at 496-0050 or go to tidayton.org/festival.
To read the complete June 2019 Dayton Jewish Observer, click here.