Cemetery mystery solved for Beth Abraham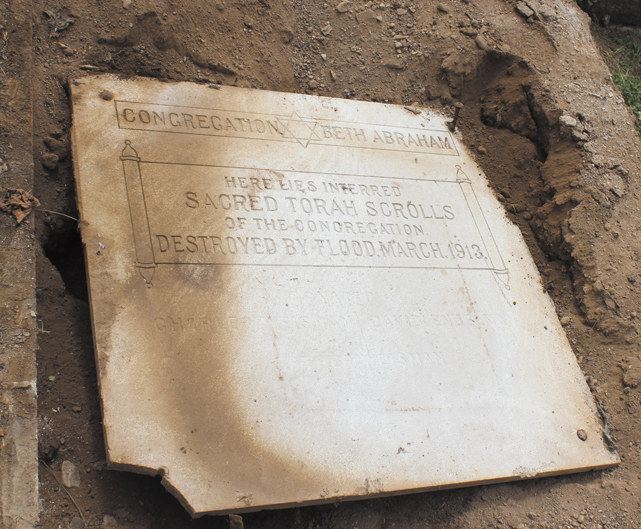 By Marshall Weiss, The Dayton Jewish Observer
No one at Beth Abraham Synagogue knew what was underneath the ornate 3-X-5 foot copper marker with no inscription in the Founders Section at Beth Abraham Cemetery. I was looking through the section a few weeks before I led a cemetery tour May 5 for the congregation's 125th anniversary.
Cemetery Committee Chair Norm Lewis then connected me to Bob Lipps, who retired in 2017 after 30 years as cemetery manager. Bob shared that until the 1990s, a 5-foot high brick structure stood at that spot, with the copper fixture as its dome.
We pieced together that the structure served two purposes: above ground, it was a genizah, a temporary repository for worn-out sacred books and writings before they are buried in accordance with Jewish law. But it also marked the site below, where the synagogue's nine Torah scrolls that were destroyed in the Great Flood of 1913 had been buried.
I knew that at least one of Beth Abraham's Torahs was destroyed in the flood. But when Brandeis University American Jewish History Prof. Dr. Jonathan Sarna lectured at Beth Abraham in March, he cited a May 15, 1913 Dayton Daily News article that reported that nine Beth Abraham Torah scrolls were to be buried three days later, beginning with a procession from the synagogue on Wayne Avenue to the cemetery.
The article also indicated that rabbis from Temple Israel and Beth Jacob would offer words at the burial along with Beth Abraham's Rabbi Samuel Burick.
On two sides of the structure's brick base were stone slabs, identically engraved to mark the scrolls' burial site. When the brickwork collapsed about 1995, Bob pulled it down and left the copper dome, with the two slabs underneath it.
Marshall Weiss is editor and publisher of The Dayton Jewish Observer and project director of Miami Valley Jewish Genealogy and History, a new program of the Jewish Federation of Greater Dayton.
To read the complete June 2019 Dayton Jewish Observer, click here.