Living as one of The Invisibles in Nazi-era Berlin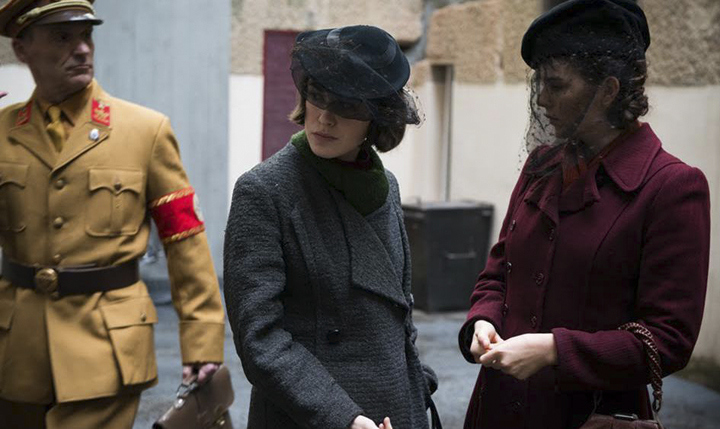 Movie Review By Michael Fox, Special To The Dayton Jewish Observer
What did it take to survive the Holocaust as a Jew in supposedly Jew-free Berlin? Spur-of-the-moment decisions. A sixth sense for imminent danger. Practiced bravado. A blonde dye job. Razor-sharp instincts. Fake papers. A lucky break.
Seven thousand Jews dodged deportation and tried to hide in the German capital by any means necessary. The remarkable sagas of four of those men and women are interwoven to outstanding effect in German director Claus Rafle's excellent new docudrama, The Invisibles, which screens as part of Dayton's JCC Film Fest.
Rafle and his team pull off one of the toughest tricks in narrative movie making: meshing recent documentary interviews of the subjects with top-notch reenactments. Their risky approach is so well-conceived and executed that The Invisibles proves more effective than a straightforward dramatization.
Any time we're in danger of succumbing to the spell of the drama and of "the story" overtaking history, one of the four protagonists returns in an on-camera interview to remind us that they could have been caught at any moment. These repeated interruptions reestablish the stakes every time and are welcome.
Of course, seeing the four men and women in later life, we know they survive the war. A bit of tension is necessarily sacrificed, but not as much as you'd expect. For one thing, we know that everyone in the protagonists' circles—relatives and friends, of course, and also the strangers who hide or otherwise help them — will be tortured and killed if they're caught.
And the viewer is well aware of how many Jews died in the Holocaust. Death is neither an abstraction nor a plot point in The Invisibles. It is the inarguable, underlying horror upon which the film is erected.
That said, The Invisibles doesn't immerse us in an atmosphere of unceasing uncertainty, dread and fear. The amount of time the characters — all of them teenagers compelled to grow up quickly — spend indoors in rooms doing nothing is quite small. The movie isn't called Hidden Figures for a reason, and it's not because the title was already taken. Rather, the characters are depicted as actively engaged in their fates.
Cioma Israel Schonhaus is a talented forger of passports who gets steady work doctoring documents for a Third Reich bureaucrat opposed to the regime. Ruth Arndt and another young Jewish woman land steady work as maids and kitchen staff in the house of a savvy Nazi colonel who, for reasons never stated, protects them.
Hanni Levy is compelled to forage for places to stay, her fake blonde locks giving her cover in cafés and in public, but she often spends the night on the street. "I behave like everyone else," she says. "But I watch carefully to see if anyone recognizes me."
Levy discovers that the cinema is a dark, warm, safe place to pass the hours, and those regular visits ultimately pay an unexpected dividend.
Eugen Friede shuttles from the house of one Communist to another, forming a bond with a flirtatious daughter during his stay.
Stella Goldschlag, a Jew who tipped off the Gestapo to several Jews hiding in Berlin, makes a poignant cameo appearance in The Invisibles. So does the fearless Werner Scharff, one of very few people to escape from Theresienstadt and a fervid resister of the Nazis.
Seven thousand Jews attempted to weather the post-deportation years in Berlin, and just 1,500 survived. Nonetheless, The Invisibles leaves us inspired by the cleverness, resourcefulness, and defiance of young people, and by the courage of the many non-Jews who hid and assisted them.
A portrait of human beings at their best, The Invisibles is a first-rate movie experience.
The JCC Film Fest presents The Invisibles at 7:15 p.m. on Thursday, April 26 at The Neon, 130 E. 5th St., Dayton. Tickets are available at the door, at jewishdayton.org, at the Boonshoft CJCE, 525 Versailles Dr., Centerville, or by calling Karen Steiger at 610-1555. 
To read the complete April 2018 Dayton Jewish Observer, click here.