Legal eagle Bram Fischer's Act of Defiance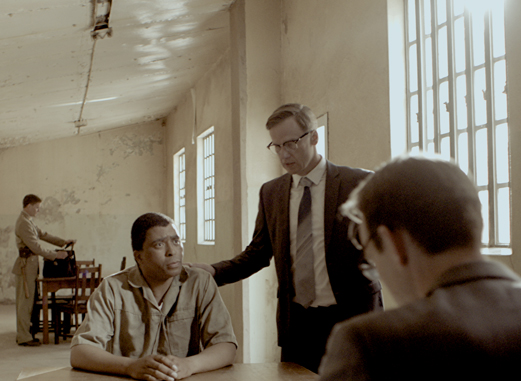 Movie Review By Michael Fox, Special To The Dayton Jewish Observer
Bram Fischer is one of the great Jewish heroes of the 20th century, yet he is not widely remembered outside his native South Africa. A documentary aired on South African television in 2007, Love, Communism, Revolution & Rivonia: Bram Fischer's Story, didn't reach our shores.
If you're drawing a blank on Fischer's name, you're in luck: Dutch director Jean van de Velde has filled the gap and then some with his crackling political thriller An Act of Defiance.
Screening as part of Dayton's JCC Film Fest, it's a gripping, inspiring introduction to a remarkable historical figure.
The movie recreates Fischer's gutsy early-1960s exploits as lead attorney for the defendants in the Rivonia Trial. It's not necessary to remember (or forget) the verdicts in this now-famous case, or to be steeped in revolutionary ideology, for that matter.
From the outset, the film defines Fischer (played with verve and intelligence by Peter Paul Muller) less by his considerable legal skills and reputation than by the company he keeps: He's a strategist and ally of Nelson Mandela and the other leaders (several of them Jewish) covertly plotting against the apartheid regime.
In fact, Fischer was supposed to be at the meeting where the police — who had been tipped off — busted in and arrested the activists.
Free and available to represent the accused against charges of sabotage, Fischer is more than their defender and advocate: He's an active member of the resistance whose actions — epitomized by a lengthy, tense sequence that involves smuggling documents out of a government building and extends beyond the point where Fischer inadvertently places his family in danger — express his commitment and courage even more than his legal challenges and parries.
Fischer's extracurricular activities have the effect of pushing An Act of Defiance out of the realm of cerebral courtroom duel and into a full-bore thriller.
However, the film never loses sight of the plight of the Rivonia defendants, who face death sentences if they are convicted.
It's helpful to know that Fischer was part of the Afrikaner elite. His grandfather and father were high-ranking officials, and he was expected to follow their path. So the enmity of various bureaucrats, functionaries and cops toward him throughout the film, which might be taken for generalized antisemitism, is actually the special loathing reserved for traitors to the class (and race).
Van de Velde fills the cast with South African actors such as Antoinette Louw, who imbues Molly Fischer with backbone, wit and warmth to match her husband. At every turn, An Act of Defiance succeeds as a love story as well as a political intrigue, a courtroom drama and a high-stakes morality play.
Bram Fischer had a comfortable life, and yet he chose to risk everything for a cause he deemed right.
More than half a century later, in our present troubled state, we can find encouragement in his clarity and bravery.
The JCC Film Fest presents An Act Of Defiance at 7:15 p.m. on Wednesday, April 25 at the Little Art Theatre, 247 Xenia Ave., Yellow Springs; and at 10 a.m. on Tuesday, May 8 at The Neon, 130 E. 5th St., Dayton followed by a discussion with retired attorney Jim Levinson. Tickets are available at the door, at jewishdayton.org, at the Boonshoft CJCE, 525 Versailles Dr., Centerville, or by calling Karen Steiger at 610-1555. 
To read the complete April 2018 Dayton Jewish Observer, click here.