Let all who are hungry come & eat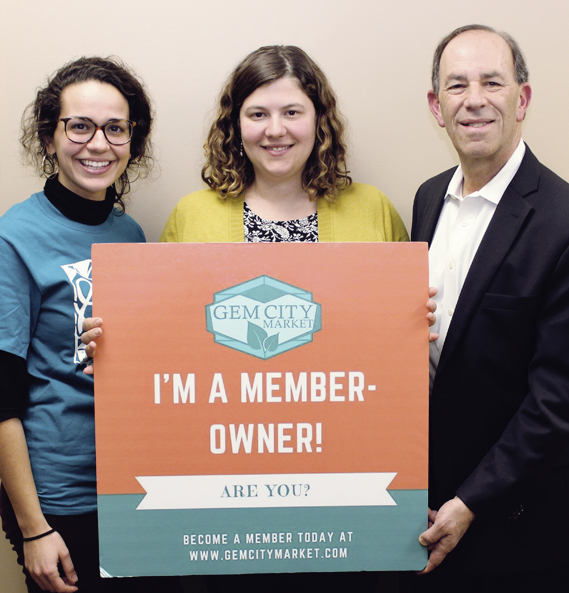 Jewish community members lead charge to open local co-op market in one of nation's worst 'food deserts'
By Marshall Weiss, The Dayton Jewish Observer
When Lela Klein grew up on Superior Avenue in Dayton View, her family's idea of freedom at Passover was linked to economic justice.
"You can't really have freedom if you're bogged down by the chains of poverty," she says.
Klein and her husband, both labor lawyers, returned to the Dayton area from Washington, D.C. in 2012 after their son was born. Klein is now executive director of the Greater Dayton Union Co-op Initiative. Her first charge with GDUCI: to open a grocery co-op for West and Northwest Dayton, one of the nation's worst "food deserts."
Joining Klein to make the Gem City Market a reality on a fast-track fund-raising and construction timetable are Hall Hunger Initiative Senior Advisor Rick Carne and Hall Hunger Initiative Manager Etana Jacobi. GDUCI and HHI were both established three years ago.
"HHI is an outgrowth of the awful food hardship numbers we became aware of three years ago," says Carne, a public affairs and economic development consultant who was former U.S. Rep. Tony Hall's longtime chief of staff.
Carne is also a past chair of Dayton's Jewish Community Relations Council and has served on the Ohio Jewish Communities board for several years.
The Food Research and Action Center reported in April 2015 that the Dayton metro area ranked ninth in the nation for food hardship. Hall, known for his previous fights against hunger in the Dayton area and as former U.S. Ambassador to the United Nations Agencies for Food and Agriculture, called on Carne to set up HHI in Dayton, now a United Way partner.
HHI's goal is to reduce food insecurity and increase food access through collaborations with community stakeholders. In short order, Carne realized the community's most pressing food priority was to help get Dayton's first grocery co-op up and running.
"We are seeing many of our neighbors deciding whether they are going to pay for food or they're going to pay their heating bill," says Jacobi, the newly-hired manager of HHI. "That is a decision no one should have to make."
A native of New Hampshire, Jacobi — whose father is Israeli — arrived in Dayton three years ago to work for the Kettering Foundation. She began volunteering with GDUCI in February 2017 when she met Klein; six months later, Carne hired Jacobi to manage HHI.
"Dayton does a pretty good job of having an emergency food structure," Klein says, "so when a family falls into an emergency need for food, there are a lot of places they can fill that need. What we don't have is consistent, long-term access for working families."
She says the 2008 closure of the Kroger on Gettysburg Avenue was the tipping point toward Dayton's food desert.
"The loss of thousands of manufacturing jobs led to an already unstable situation becoming even more destabilized in West Dayton," Klein says. Along with job losses, she cites the foreclosure crisis, unequal distribution of generational wealth, and the long-term divestment of money out of the community as devastating factors.
"People are spending food dollars. They're just spending it at the Dollar General, they're spending it at Walgreens," Klein says. "You go to the Walgreens by Good Sam and you see people filling their carts with groceries. That Walgreens does not have a produce department."
Carne notes that when people with low incomes arrive at hospital emergency rooms, often times they are malnourished.
Klein says GDUCI initially considered opening its co-op at the site of the old Gettysburg Kroger. But when they conducted a market study, it turned out that lower Salem Avenue just south of Grand Avenue would be the best location.
"You won't have to be a member to shop there," Klein says of Gem City Market. "It will feel like walking into a traditional, conventional grocery store: community-centered, bright, friendly worker-owners who care about your experience."
She plans to work with a wholesaler that itself is a co-op, with prices comparable to Kroger's in-house brand. Approximately 30 percent of Gem City Market's products will be organic and local.
"We want everyone to feel welcome," Klein says, "folks who have very limited budgets who are primarily shopping with SNAP to be able to get what they need, but also for folks who live in the neighborhood who want to get their organic kale."
Carne says the market has plans for a teaching kitchen, educational classes, and a nutritionist on site.
Jacobi describes the market as the first step in building a different kind of economy in Dayton.
"Food insecurity and food access issues don't exist in a vacuum," Jacobi says. "With this particular model, we're able to not just address food insecurity, we're also able to bring an institution that's owned by the community and the workers."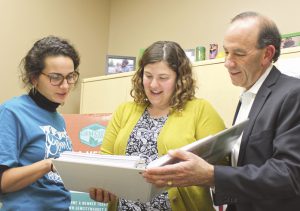 Gem City Market is the first of several co-ops GDUCI has planned for Dayton.
"We know the NCRs of the world and the GMs of the world are going to come and go," Klein says. "We've learned that lesson. How can we build some economic anchors that are really and truly rooted here and that are accountable to us? That, to me, is the very long-term vision of GDUCI with Gem City Market."
Klein envisions the co-ops as an interconnected network of worker-owned businesses.
"The worker co-op experience in the U.S. has been that you might have one pop up here or there, but they tend to be very fragile as stand-alone businesses," Klein says. "What you see elsewhere in the world is that when co-ops work together as a family of co-ops, they are more resilient."
To determine which co-op businesses GDUCI will create next, Klein just hired Rachel Meketon, a graduate of MIT's Urban Planning Program, as its project manager. It turns out that Meketon, originally from Philadelphia, is also Jewish.
It was a happy coincidence when Klein and Jacobi each realized the other was Jewish; they were at the same Chanukah party. The social justice activists had already connected and were working together on the Gem City Market co-op project. And Klein only found out that Meketon was Jewish after she hired her.
"I feel like I came into myself as a Jewish woman in some ways through my economic social justice work," says Klein, who received her law degree from Harvard. "I've had so many mentors who have been Jewish women doing work around worker justice. That's really shaped me and who I am."
Jacobi says that tikun olam, repairing the world, is at the top of her list of Jewish values. "It's so incredibly important to not just be a Jew, but to be a human and to repair the world," she says. "It's part of what we're supposed to do with our time on the Earth."
GDUCI is determined to break ground on the Gem City Market this fall in order to open its doors by late 2019.
"That would mean raising another $1.5 million by this fall," Klein says. "We know that people need access to fresh food now and that's why we are being so aggressive."
To date, Klein, Carne, and Jacobi have raised more than $1 million in grants and pledges from local foundations and philanthropists toward their $4.2 million goal for Gem City Market.
Klein says $4.2 million would allow GDUCI to open the market without debt on the building.
"We're hoping for a new market tax credit to come into the project, which might give us about $1 million in equity," Klein says. "And then we're hopeful for maybe a quarter of a million to half a million from the state capital budget."
To read the complete March 2018 Dayton Jewish Observer, click here.