Saving Syrian lives in Israel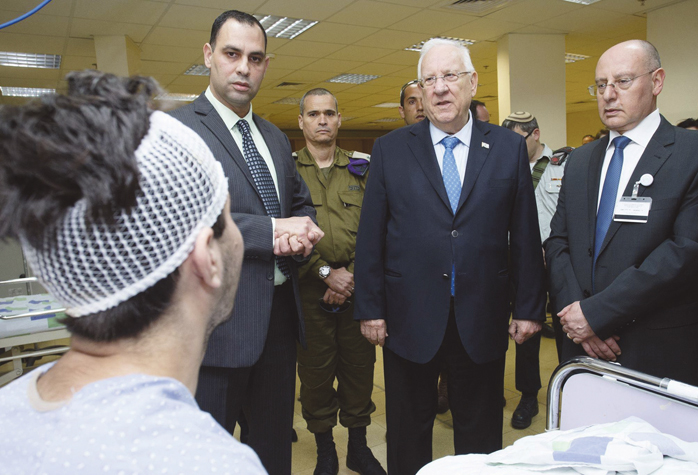 'Caring for the sick and wounded extends beyond borders.'
By Marshall Weiss, The Dayton Jewish Observer
On a night in 2013, two years after the start of the Syrian Civil War, Syrian families placed their injured relatives on donkeys and approached the border fence with Israel. At a section where they found breaches in the fence, they left the wounded, with the hope that an Israeli patrol would eventually find and help them. The families disappeared.
An IDF patrol found the badly injured Syrians lying in the middle of a dirt road. Physicians with the IDF medical corps sent to examine them saw they were in agony. And unless the Syrians were evacuated at once to a proper hospital for surgeries and intensive care, they would die.
Israel's minister of health called Dr. Masad Barhoum, general director of Galilee Medical Center, in Israel's north, and asked if he would agree to accept the Syrians for treatment in his hospital. Barhoum, a Christian Arab, immediately accepted.
That night, the first seven injured Syrians arrived at the hospital. All were treated, survived, and were sent back to Syria.
"That was the first encounter ever that we had with Syrians," Dr. Arie Eisenman said at his June 28 lecture for the Boonshoft School of Medicine at Wright State University and its Medicine and the Holocaust class.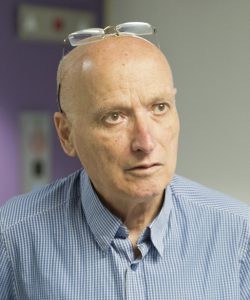 Eisenman, head of internal medicine in the emergency department at the Galilee Medical Center, also met with medical and crisis professionals at Dayton Children's Hospital, Miami Valley Hospital, and Daybreak during his visit here, sponsored by the Partnership2Gether program of the Jewish Federation.
Since that night in 2013, Israel has treated approximately 3,000 injured Syrians — 71 percent of them at Galilee Medical Center near Nahariya.
At first, the IDF set up a field hospital on the border with Syria, but because of the severity of the injuries, 53 percent of the Syrians are evacuated to Israeli hospitals. Galilee Medical Center, six miles from the border with Lebanon, is 100 miles west of the Syrian border.
"What happened next is a constant ritual," Eisenman said. "It is happening every night: There are wounded coming on donkeys' backs to Israel. They are crossing the fence, they are found by the Israeli patrol, they are evacuated to the field hospital up there in the Golan Heights, then, in cases where they are not capable of treating them there, they are transferred from the Golan Heights to Nahariya by a convoy of military ambulances, accompanied by medical staff of the army, directly to our trauma room."
Each morning, the trauma room is filled with badly wounded Syrian soldiers and civilians.
"Mass casualties take place every night," Eisenman said. "They have to be stabilized to be treated in emergency operations. All doctors are called immediately to come to the hospital to take care of these patients."
With an estimated 400,000 Syrians dead, 6 million internally displaced, and 5 million who have fled Syria, Eisenman described the civil war there as a holocaust.
He said approximately 10,000 doctors have fled Syria. Eisenman called the thousand doctors who remain there heroes.
"They are capable of doing emergency operations. What they aren't capable of is taking care of these patients after operations, and hospitalization. They hand the wounded over to the family to take care of them."
But the families must flee from place to place to survive. Hospitals are either full or destroyed. More than 20 percent of the hospitals can't pay their employees and 25 percent have no pharmacies. Relief organizations such as the Red Cross and Doctors Without Borders have field hospitals and clinics throughout Syria, but Eisenman said Syrians can't reach them because of the fighting.
Until 2013, the idea of Syrians seeking help from Israel wasn't considered a reality. It would be akin to Syrians making a pact with the Devil.
"They were brought up with the notion that Israelis are monsters," Eisenman said. "It takes them quite a long time until they make their decision to hand them over to the Israelis. They are afraid of what will happen to them if it is found out that they did such a thing."
That time lag, he said, goes against the chances for the injured to survive.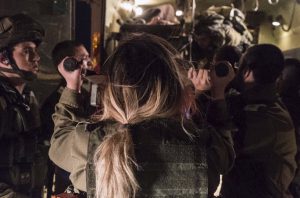 "Because it is their habit to lie them on the ground, they are being infected by very resistant bacteria," Eisenman added. "They come to Israel super-infected with all kinds of bacteria that we have never heard about. It doesn't react to any kind of antibiotics that we know of."
At first, the Syrians were treated alongside Israeli patients, but this led to high cross-contamination. Now, out of necessity, they are sent to a special sector of the hospital. Most Syrians come in suffering from multiple organ failure and require intervention from doctors in numerous specialties. Head trauma is the most common injury.
Eisenman told the story of one Syrian patient whose scalp and half of his jaw were blown out by a sniper.
"This is not at all rare. He was very severely wounded. He couldn't eat, he couldn't swallow, his aesthetic appearance was completely destroyed, and he had facial paralysis. Fortunately enough for him, he was operated on by a Syrian doctor before coming to Israel, who made a small cut in his throat to enable him to breathe."
Surgeons at Galilee Medical Center operated on him three times: first to clean the wounds, then to temporarily reconstruct his lower jaw with bone from his leg. The third operation marked a medical first.
"That was a reconstruction of an implant out of measurements taken from a photograph of a CT scan made by a three-dimensional printer," Eisenman said. "We managed to reconstruct his jaw and recreate the kind of prosthesis that was implanted."
Once the wounded Syrians arrive in Israel, no one asks for their names.
"We don't want to know what they are called, to which militia they belong," Eisenman said. "First of all, we don't want to intimidate the Syrians. And secondly, we are afraid that once we know who they are, there will be many on the staff that will hesitate before treating these patients."
To date, 90 percent of Syrian patients have been discharged to be sent home and eight percent have been transferred to other Israeli hospitals for more specialized treatment. The mortality rate is two percent.
The decision to discharge the Syrians factors in the absence of follow-up or recovery centers in Syria; these must take place at Galilee Medical Center.
When patients are considered capable to go back home, they are returned to Syria the same way they arrived: the army transports them via ambulance to the border. There, they are met on the Syrian side by the Red Cross, which attempts to locate their family.
"But once they cross the border, we lose contact with them," Eisenman said. So far, no Syrian has asked to remain in Israel.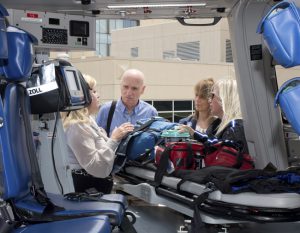 The 800-bed Galilee Medical Center is a teaching hospital for Bar-Ilan University's medical school. The hospital serves a population of about 600,000 people, 50 percent Jews, 50 percent non-Jews, unlike in the rest of Israel where Jews comprise 80 to 90 percent of the population.
"The non-Jewish communities live in small clusters, in small communities of Arabs, both Shiite and Sunni; Christians, Greek Orthodox, Catholic; plus we have Druze, Bedouins," Eisenman said. "These are the populations we are serving."
Galilee Medical Center's staff — at 2,600, the largest employer in the Galilee — reflects the diversity of the community. Half of the employees are Jewish, half non-Jewish.
When injured Syrian women and children arrive at the hospital, local Arabs bring them clothes, toys, and moral support. Oftentimes, the victims arrive at the hospital unconscious; they don't know they're in Israel.
"Then one day, they wake up, and you cannot imagine how they look when they find out they are in Israel," Eisenman explained. "All of a sudden, they are afraid of what might happen to them by the Israelis, and even more, by the Syrians once they go back."
To help the injured Syrians keep their treatment in Israel a secret, Galilee Medical Center buys all of their equipment and medications from foreign countries.
"Most patients, when they are discharged, are sent with wheelchairs, crutches, medication as needed because there is no way to procure these in Syria," Eisenman said. "Normally, all this equipment is labeled in Hebrew. It's made in Israel."
In cases where the Syrian patient is an unaccompanied minor, Israel's ministries of Health and Justice have decided the hospital must contact a Muslim religious leader to appoint a Muslim in the Galilee as the child's temporary guardian. Once unaccompanied minors are discharged, they too, are brought to the Red Cross on the Syrian border.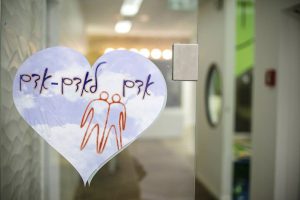 The commitment to treat wounded Syrians has put significant strain on the hospital as a whole. Staff suffer from burnout and meet with counselors. Israeli locals wait months for elective operations which are continually pushed back. Although the Israeli government promised it would pay for the Syrians' treatment, Eisenman said the hospital has received nothing from the government over these four years, though the Red Cross, U.N., and U.S. government help out. With no end to the Syrian Civil War in sight, the hospital's budget deficit continues to expand.
"Is it a reason to stop saving the Syrians? We didn't do that. We cannot do that," Eisenman said. "We cannot look at patients in such bad condition and not do anything. We are doctors, after all."
Eisenman cites the hospital's motto, posted throughout the Galilee Medical Center: Adam l'adam — adam, A person — to a person — is a person.
"Caring for the sick and wounded extends beyond borders," he says. "But we do hope that one day they will remember exactly who was the saving angel. And when there will be an opportunity, they will be goodwill ambassadors."
To read the complete August 2017 Dayton Jewish Observer, click here.