Former World Maccabiah athlete returns to Team USA as rabbi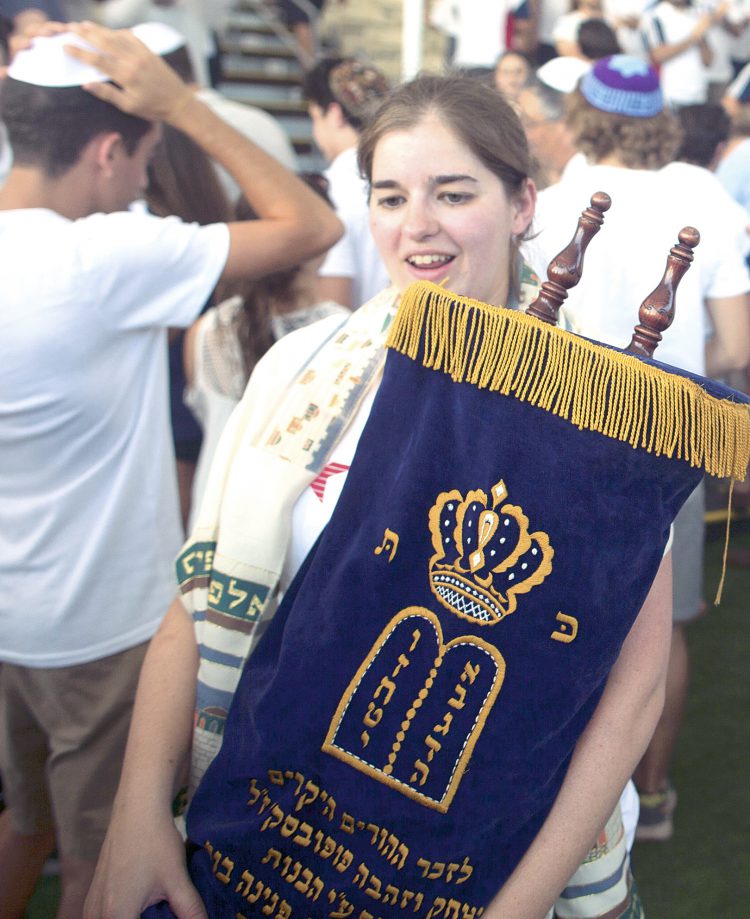 By Marshall Weiss, The Dayton Jewish Observer
Eight years ago, at the 18th World Maccabiah Games in Israel, Team USA swimmer Tina Sobo decided she wanted to become a rabbi.
This July, Sobo returned to Israel for the 20th World Maccabiah Games as the assistant rabbi for Team USA.
"When I went on that trip in 2009, I was deciding if I wanted to go to a Jewish education master's program, rabbinical school, or both," says Sobo, who was ordained last year at Hebrew Union College-Jewish Institute of Religion in Cincinnati, and went directly to her position as Temple Israel's rabbi/educator.
In 2009, the Connecticut native was an undergrad working on a bachelor's degree from Jewish Theological Seminary and one from Columbia University. A returning Maccabiah competitor, Sobo spent time in Israel with Team USA's rabbi and talked at length with him about her future.
Before an evening service for the team that included Torah readings, Sobo mentioned to the rabbi that the Torah passage was her Bat Mitzvah portion.
"The team rabbi looked me in the eye," Sobo recalls, "and he said, 'So this is your Bat Mitzvah portion and you're at JTS? You must still be able to read it. You're reading Torah tonight.' In that moment, all of the stars aligned. That was the moment I decided I wanted to be a rabbi. And eight years later, to be back, a part of the ceremony reading the Torah for it again, really brought things full circle for me."
Sobo and the 2017 team rabbi served as chaplains for Team USA's approximately 1,200 athletes, whose ages ranged from 12 on the junior team, through college age.
"They're away from their parents in a foreign country for three weeks," she says. Her job was to meet the varying spiritual needs of the athletes.
"Maccabi USA looks for rabbis that have experience in multiple movements, because it's not a Reform trip or a Conservative trip," she says. "I led a Friday night Shabbat service for about 400 athletes, some of whom have never been to a Friday night service in their life, some of whom go to Hillel on a regular basis or camp or other Jewish experiences."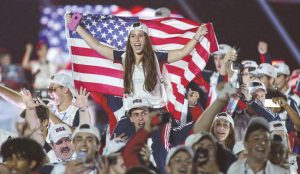 Her hope was that all could connect with at least parts of the service, to instill a feeling "of doing Shabbat together as a team, creating a sense that we can all be Jews differently, but we can all be Jews together."
For the dozen Orthodox athletes in her Shabbat group, Sobo made sure they were comfortable putting together prayer minyans, and saw to it they had a Torah and anything else they needed.
On the whole, Sobo says the U.S. athletes aren't the youths who show up at synagogue each week.
"Many of the athletes identify as Jewish but in a more cultural-ish way," she says. "Many of them have not had a Bar or Bat Mitzvah and/or have not been to Israel."
Team USA athletes arrive in Israel at least a week ahead of the games for training and Maccabi USA's Israel Connect program of touring the Jewish state each afternoon.
"I was with them for the Israel Connect program, and managed to walk down from Masada with the team at five months pregnant," Sobo says, laughing.
One afternoon, they visited Yad Vashem, Israel's Holocaust memorial museum. "On that day, the role of chaplain/spiritual guide is much more intense," Sobo says. "Some of the athletes haven't been engaged in the Holocaust, and some of them have family members or relatives that survived — or didn't survive. It kicks up a lot of emotions."
The team's Torah service offers a Bar and Bat Mitzvah ceremony for those who never had one, and for those who have, as a way of affirmation.
"They're just taken up in this moment and in this experience," Sobo says of the ceremony. "We had 200 athletes participate in the B'nai Mitzvah program this year. The ceremony is hugely impactful, powerful, and just incredible."
To read the complete August 2017 Dayton Jewish Observer, click here.