Debut of the Dayton Jewish Chorale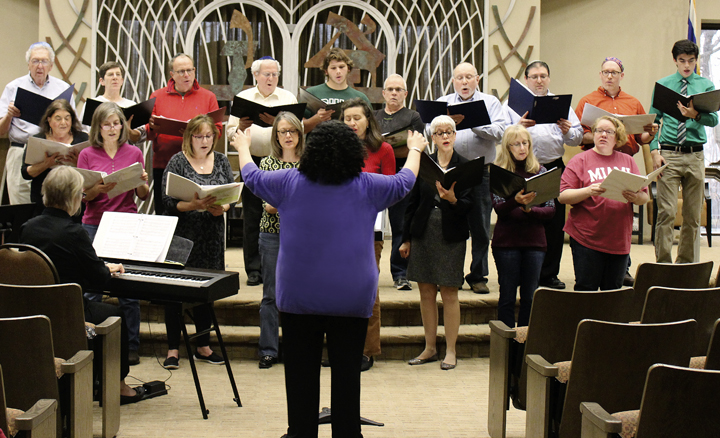 Love of Jewish music brings singers from local synagogues together
Photos & Story By Marshall Weiss, The Dayton Jewish Observer
The Sabbath when Jews read the Torah portion Beshalach is designated as Shabbat Shirah, the Sabbath of Song. In this Torah portion (Ex. 13:17-17:16), the Reed Sea has just closed up over the Egyptians, and the Israelites sing the Song at the Sea, praising God for their deliverance.
This year, Shabbat Shirah marks a new kind of song in the Miami Valley, the debut of the Dayton Jewish Chorale, which brings together singers from area synagogues in one ensemble.
Under the direction of Beth Abraham Synagogue congregant Cantor Jenna Greenberg, the chorale will sing the world premiere of Then Moses Sang, by Beth Abraham Synagogue Cantor Emeritus Jerome B. Kopmar, and musical settings of Shabbat prayers to complement services at Temple Israel on Friday, Jan. 22 at 7:30 p.m. and at Beth Abraham on Saturday, Jan. 23 at 9 a.m.
The project is funded through a Jewish Federation Innovation Grant. Beth Abraham Synagogue Cantor Andrea Raizen said the idea of a Jewish community choir came to her when the Federation first announced the grants four years ago.
"When Jenna Greenberg arrived in Dayton, we began collaborating on various musical projects, and I asked her if she would be interested in leading a choral group," Raizen said.
Together with Temple Israel Music and Program Director Courtney Cummings, they submitted a grant proposal.
"The response to this went way beyond our expectations," Raizen said. "We were hoping for 10 to 12 singers and ended up with 24."
The grant proposal included commissioning Kopmar — a prolific composer of Jewish sacred music — to write an original work for the chorale's debut.
The seven-minute piece for choir, piano and flute, Then Moses Sang, sets four sections of the Song at the Sea in Hebrew and English.
"Although you'd think the Shirah would have a lot of musical settings, it doesn't," Kopmar said. "I think, perhaps, because it's very long."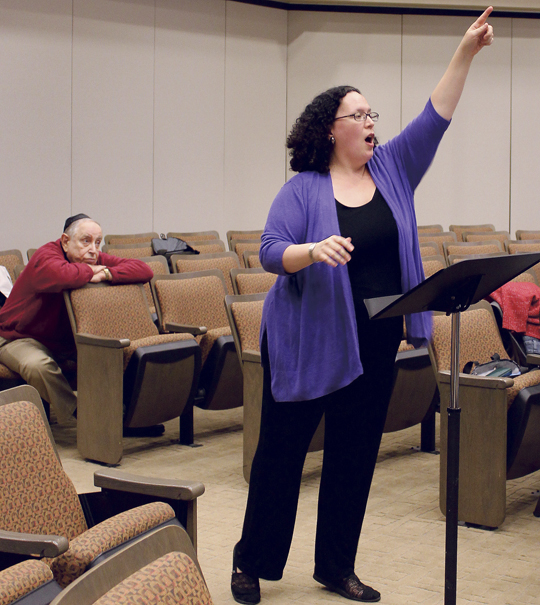 When it came to setting the most famous verse, Mi Chamocha, "Who is like you, O God?" Kopmar said he approached it not as a statement but as a question.
"Who is this God?" he said. "Who is He? Everybody is asking, so musically I wanted a fugue. After everyone has their say, everyone pretty much goes off on their own."
Greenberg, who conducts the chorale, selected the additional music the ensemble will perform for the Shabbat services at Temple Israel and Beth Abraham over the weekend.
"It's in the context of the Shabbat service," she said. "Some of those pieces will be done where those prayers would be done, like Etz Chayim and Sim Shalom."
Greenberg studied conducting as an undergraduate at Earlham College in Richmond, Ind., and at Jewish Theological Seminary, where she was invested in the cantorate.
"I love it," she said of conducting. "I haven't done it in a long time, so it's really a thrill."
Kopmar, who founded and led the Beth Abraham Youth Chorale from 1971 to 1983, said the Dayton Jewish Chorale might be a first for this community; he wasn't aware of any previous Jewish community choirs for adults in Dayton outside of individual synagogue choirs.
Three of his former youth chorale members sing with the new community chorale: Elaine Arnovitz, Janice Krochmal, and Wendy Lipp.
"I figured this was my time to get back involved with singing, and it's been a love of mine because of Cantor," Lipp said.
"We've already been asked to sing at the community Yom Hashoah program and at the Jewish Cultural Festival," Greenberg said. "I think they have high hopes for us in the community, that we'll be available for gigs. It's a wonderful thing, just to bring all these people together — and of all ages — from around the community."
The debut of the Dayton Jewish Chorale — featuring the premiere of Then Moses Sang, by Cantor Jerome B. Kopmar — will take place at Shabbat services on Friday, Jan. 22 at 7:30 p.m. at Temple Israel, 130 Riverside Dr., Dayton; and on Saturday, Jan. 23 at 9 a.m. at Beth Abraham Synagogue, 305 Sugar Camp Cir., Oakwood. 
To read the complete January 2016 Dayton Jewish Observer, click here.