Analytical memoir of survival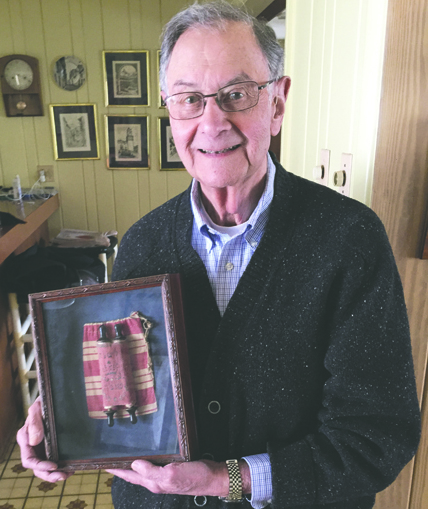 By Marc Katz and Marshall Weiss, The Dayton Jewish Observer
Felix Garfunkel was lucky. He lived.
The Holocaust survivor found his life's love in Erika, had three children, became a doctor and has lived since 1958 in the United States, mostly in the Dayton area, where he is now retired.
Garfunkel survived concentration camps and ghettos. His life was in constant turmoil from the age of 10 to 13, when first the Soviets and then the Nazis rolled through Czernowitz, Romania.
Czernowitz, which had previously been under Moldavian and Austrian control, was home to an estimated 50,000 Jews when Garfunkel was a child.
The Jews of Czernowitz contemplated which would be worse: to immediately perish at the hands of the Nazis, or to wait out the years starving under the Soviets, not knowing how near death was, only that it was near.
Garfunkel, who will turn 84 in July, occasionally speaks to student groups about the Holocaust, but doesn't detail the suffering he endured.
"I had repeated, repeated traumas," he said. "We had terrible conditions. We were starved, we were emaciated, we were obviously going to die. They (the Nazis) wanted us to die. I knew all the two-and-a-half years before we were liberated — every moment — I knew that I was supposed to die, was going to die, and didn't know that I was going to survive."
He said his approach when he speaks in public is to emphasize "more of the triumph, the good, what you can do, and not dwell on the problem."
Garfunkel said he and Erika, also a survivor, didn't talk with each other about their experiences in the Holocaust. And other than bits and pieces, he hasn't talked about it with his children or grandchildren either.
"I did not want to get the kids involved in those stories," he said."My oldest son told me last year, after I had this meeting with students in Springfield, that they (Garfunkel's children) don't know the whole story. So many times they told me to write it down."
That led Garfunkel to finally write his memoir, From Czernowitz (Chernivtsi): A Life In Three Continents. Now in its second printing, From Czernowitz has been accepted as part of the collections of the American Jewish Archives, United States Holocaust Memorial Museum, and Center for Jewish History.
"We had a very good middle-class life," Garfunkel said of his childhood in Czernowitz. "We had a maid. We were going on vacations. I was learning the piano. I had a tutor come in to teach me Hebrew and Talmud Torah."
He described his religious upbringing as traditional.
"We were kosher. We were going to the shul (synagogue) Friday night and kept the holidays," Garfunkel said. "We did not wear peyos (sidelocks), we were not ultra-Orthodox. If anything, most (Jewish) people were more assimilated in my town. And there were some ultra-Orthodox, Chabadniks, originally from that area. And they were making fun of them, those who were assimilated."
June 1940 brought a shock to the people of Czernowitz when the Soviets rolled in, Garfunkel said. "However, they were not there to kill us (the Jews). They did not shoot or burn or hit anybody, but they made a dictatorship where everybody was afraid of tomorrow."
Garfunkel's family remained in Czernowitz until June 22, 1941, when the Nazis broke a shaky truce with the Soviets.
"When they marched in, that's when chaos ensued," Garfunkel said of the Nazis. "In a matter of two weeks, they made a ghetto. You could not live anywhere else if you were a Jew. You had to wear a yellow star. You had to move in this tiny area here between this street and this street, or you would be shot."
After two months in the ghetto, Czernowitz's Jews were relocated to Ukraine. Garfunkel and his family were sent to the Mogilev concentration camp.
"We were doubly scared," Garfunkel said. "Those who were occupied by Soviets were considered now Communists, besides being Jewish. I was 10. I understood we were in peril of death. I knew exactly what was going on. I looked at the planes fighting above. I looked at them bombarding the railroad station."
Garfunkel and his family were among the Jews in Mogilev put on a death march in 1943 to the Skazinetz death camp. The men in Skazinetz, including his father, were used for labor each day.
"We didn't know if the men were coming back in the evening," Garfunkel said. "Some didn't come back. We were there for three months, starving."
Aware they had no hope for survival, his mother and aunt found a way for the family to escape.
"There were sometimes peasants going through there on the outside of the barbed wire in their fields," he said. "And sometimes we can exchange a piece of clothing for some food.
"I don't know what they gave them (the peasants), but they cut a hole in the barbed wire for us to escape and we got out there at night. And then we walked, hiding between the cornstalks for a long time, back to the city of Mogilev ghetto where we came from."
When the Soviets liberated Ukraine in 1944, the Garfunkels first returned to Czernowitz, then made their way to Paris, then Ecuador, one of the few places accepting displaced Jews. An uncle in New Jersey sponsored their immigration to the United States in 1958 through the Hebrew Immigrant Aid Society.
"I really wanted to live," Garfunkel said. "I was thinking, why did I have to die so young just because I was Jewish? I was reading the Torah, wondering why there wasn't some miracle."
The miracle came with the 1944 liberation. Garfunkel passed a synagogue and was called inside. He recited the blessings over the Torah and was declared a Bar Mitzvah. He has a miniature Torah from that time, but doesn't remember where he obtained it.
Garfunkel received his medical degree in Ecuador, married in 1954 (his wife became a dentist), settled in Dayton in 1965, and tried to forget.
It wasn't until the early 1980s that he agreed to talk publicly about his experiences, but with a more analytical than emotional approach.
"Dr. Eric Friedland asked me to talk with his students at UD because he was teaching a course on the Holocaust," Garfunkel said. "There was the general consensus that it was better to educate the public, so that people will be on guard against anything like that happening again."
Twice before, Garfunkel has documented his story: in 1981 in a video interview with Renate Frydman as part of Wright State University's Faces Of The Holocaust series, and in 1993 for Steven Spielberg's Shoah Visual History Foundation. Frydman also arranged for him to speak at schools over the decades.
For 27 years, Garfunkel was director of radiology at Greene Memorial Hospital in Xenia. He then retired from the Dayton VA in 2010.
These days, he keeps in contact with survivors from Czernowitz via email through an organized group.
"Every day I get six or eight emails, pictures of old times, remembering, (information about) meetings and books that have been written," he said.
But he hasn't reconnected with any of his friends from childhood; two thirds of the Jews deported from Czernowitz perished.
"None of them. My dear friends, they did not survive."
When asked if he believes in God, he said yes.
"I have more of a general belief. It's very important to be spiritual and moral. But I don't much believe in a personal God, except on Yom Kippur, when I pray for forgiveness. Quite honestly, I have periods when I don't believe in God, and other periods when I do believe in God, in the same year."
Until now, Garfunkel said he has relied on relatives and his wife to pass on their testimonies about the Holocaust to his children and grandchildren.
"I should say, our granddaughter Aliza, who goes to school in Cincinnati, took us once to her class, and we had a few minutes to talk about it with her class," Garfunkel said.
Aliza and her sister, Eliana, are the daughters of the late Rabbi Janice Garfunkel, who died two years ago after a long battle with breast cancer.
"I should be talking to them," Garfunkel said of his grandchildren. "But I just have happy time with them. Not unpleasant time."
To read the complete June 2015 Dayton Jewish Observer, click here.