Of blessed memory
The history of Dayton's Jewish cemeteries
By Michelle Tedford, Special To The Dayton Jewish Observer
Published October 2004
The purchase of a final resting place signaled the beginning of Dayton's Jewish community.
On July 14, 1851, Joseph Lebensburger purchased a quarter acre of land at Rubicon and Stewart Streets on behalf of The Hebrew Society. This would become the burial site for the society, later to be known as Temple Israel. The society would wait nine more years to buy its first building to serve as a synagogue.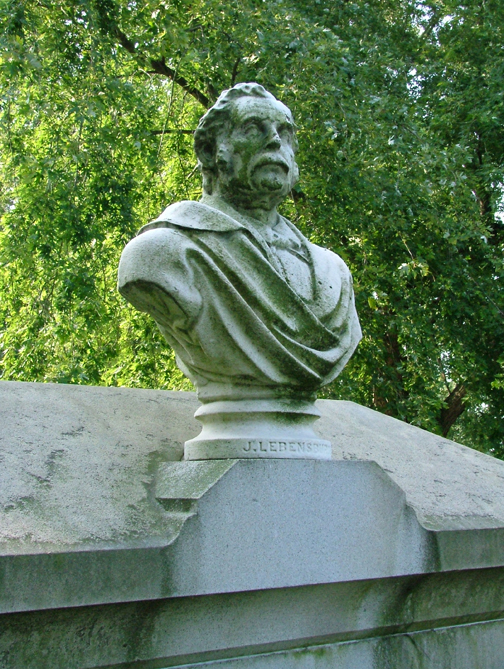 The purchase of a burial site was similar to those that happen today, according to Leonard Spialter, a local genealogist and historian.
"The cemetery is the fundamental declaration or voice of a synagogue," said Spialter, president of the Dayton Jewish Genealogical Society.
"A characteristic of the Jews was to make do with what they had; they didn't always immediately have the means to establish the first requirement, the cemetery, because of money or because land was not available."
The Rubicon Cemetery was a desirable site, outside the city but within walking distance of both the river and the society's meeting place, the former Dayton Bank Building at Main Street and Monument Avenue.
According to Temple Israel's newsletter, the Temple Tablet, "The first burial occurred Nov. 3, 1852, and sadly enough was that of 7-year-old Gelinde Friedlich."
Spialter's records indicate that the girl, who lived in Piqua, was buried in a pink dress. Part, if not the entire lid of her coffin was made of glass.
Ultimately, her parents were buried in Piqua's own Jewish cemetery, Temple Anshe Emeth's Cedar Hill, which the congregation established in 1858.
Another outlying Jewish cemetery established in this time period was Shaare Zedek in Lima. According to Spialter, the site has long since fallen out of use.
As Temple Israel continued to grow however, it needed more cemetery space. In 1889, Temple Israel purchased eight acres on West Schantz Ave. This became Riverview Cemetery, and relatives began moving those interred at Rubicon.
Lebensburger, one of the first Jews to permanently settle in Dayton, was among those moved to Riverview.
Riverview Cemetery is located in Oakwood, once a restricted community, inaccessible to Jewish homeowners and shopkeepers.
"The point was if you were dead, you could be buried in Oakwood, but if you were alive, you couldn't live there," Spialter said.
According to Spialter, the inventor of the first safe gas meter was buried in Riverview Cemetery in 1901. Polish Jew Hyam Hyams was a sheet metal worker in England when he invented the device that allowed British Parliament to conduct its first night meetings. Hyams came to the United States to protect his patent, and moved to Dayton to follow his daughter.
Steele High School is also buried there. According to Spialter, the remains of the school, formerly at the corner of Monument Ave. and Main St. and razed in 1955, were deposited in a ravine near the rear of the cemetery. Those buried near the margins of the ravine had their headstones removed and replaced, in some cases more that 10 feet above the location of the original burial site.
In 1894, Kehillat Kodesh House of Abraham  — now known as Beth Abraham — purchased the land immediately west of Riverview Cemetery.
Beth Abraham Cemetery and Riverview Cemetery stand side by side but are different in texture. Beth Abraham Cemetery has an orderly appearance, with headstones in rows extending back from the street in straight lines.
Riverview Cemetery has a more organic placement that complements the rolling hills of the cemetery.
According to Alan Halpern, Temple Israel's executive director, the design was a conscious decision by the founders to create a space similar to Woodland Cemetery in Dayton.
In 1967, Temple Israel moved the last of those buried at Rubicon Cemetery over to the Riverview location, their headstones forming a "founders" semicircle of weathered rock.
When the Congregation of the House of Jacob purchased land for its cemetery, according to Spialter, it was a day's drive by wagon from its downtown location.
But it was available land, and for Dayton's early Jews, finding a willing seller was often key to acquiring land.
"There was property that was close to them, but it wasn't available, because of cost or prejudice or whatever," Spialter said.
Elizabeth Rothhaar was willing to sell. Her husband, Jacob, had died on Aug. 24, 1875, and left her with seven children, his elderly mother and a farm of more than 85 acres to manage.
The deed transaction dated Nov. 23, 1875 shows that the trustees of the Congregation of the House of Jacob paid $200 for less than an acre of land to be used "for the purpose of a burial ground and for no other purpose."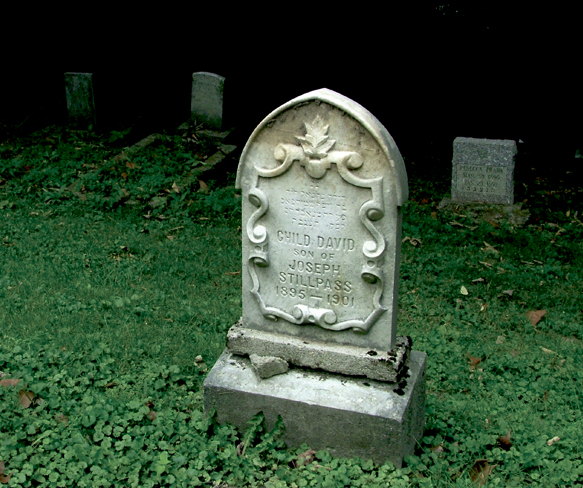 This was 12 years before the congregation had its first synagogue building, on Wyoming Street. Subsequent purchases expanded Beth Jacob's cemetery on Old Troy Pike to 10 acres.
Location again became a concern more than a century later for Dayton's newest Jewish congregation, Temple Beth Or, based in Washington Township. David's Cemetery on Far Hills Ave. in Kettering provided the solution.
Don Weckstein, a founding member of Temple Beth Or and a member of the cemetery committee, said David's fulfilled all the temple's needs. In addition to being close to temple, the discrete parcel is perpetually maintained and conforms with both Jewish tradition and the congregation's philosophy, allowing non-Jewish spouses to be interred within Beth Or's land. In early 1985, within a year of the congregation's founding, Beth Or purchased 80 burial plots; this year, the temple added 118 more, with an option to further expand.
"Just as we wanted to provide for all life cycle events, we want to provide for the stability of the congregation so families will know that they can be in close proximity to each other," Weckstein said. To date, there have been 11 burials in Temple Beth Or's section at David's Cemetery.