Update – Felony charges against 3 Miami U. students who vandalized Hillel's sukkah lowered to criminal damages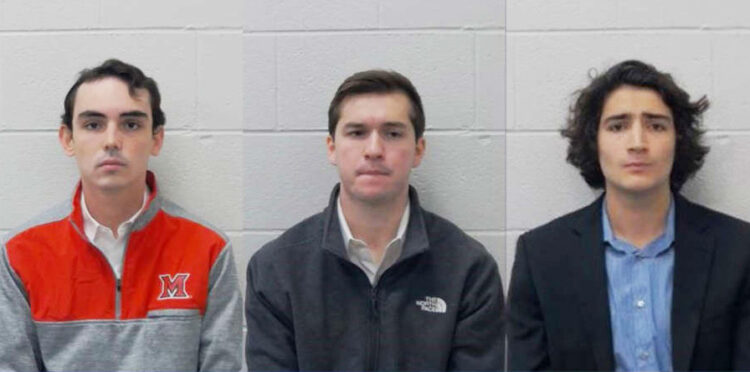 Oxford Police Department: 'No religious bias involved'
By Marshall Weiss, The Dayton Jewish Observer
Three Miami University students who turned themselves in six days after vandalizing Hillel at Miami's sukkah had their felony charges dropped down and were convicted of criminal damages, a second-degree misdemeanor, in Butler County Court on Nov. 17.
Butler County Area I Judge Robert H. Lyons fined each of the students $750 (a third of the cost of the damaged sukkah), court fees, and ordered them to stay away from the Hillel location. The judge also suspended each of their 90-day jail sentences.
On Oct. 21, the Hillel released security video of the three — Santiago Arenas, 19; Kevin J. Ladriere, 20; and Eli W. Lauger, 20 — intentionally overturning its sukkah just before 2 a.m. on Saturday, Oct. 15.
Hours after the Hillel distributed the security video via email and social media, and minutes before Hillel's Family Weekend Shabbat Friday night dinner was about to begin, the three returned to the Hillel building and admitted to perpetrating the act.
"We were welcoming families and one of my student leaders walked out and said, 'So there's three guys upstairs. They look remarkably like the three guys from the video. They look really scared. They asked to talk to the manager,'" Whitney Fisch, Hillel at Miami's executive director, told The Observer.
"They apologized, they swore up and down they didn't know we were a Jewish organization, and they didn't know what it was," Fisch said. "It felt very much like they were just very terrified of going to jail, getting kicked out of school, all of the above. They wanted me to fix it and take away their fear and take away their anxiety. And I can't do that. There was no thought process. It was their anxiety making all their decisions for them."
During the five-minute conversation, she obtained their names, phone numbers, and email addresses, and forwarded the information to the Oxford Police Department and administrators at Miami University who were running the school's investigation into the incident.
Fisch said she didn't have to press charges since the incident was caught on security video.
The three students asked Fisch if they could "volunteer to make up for it." She told them, "We can get there, we're not there yet. I need you to know that violence toward any minority or vulnerable community in southwest Ohio, it lands harder. It hurts deeper. So that's where we're coming from."
The Oxford Police Department released a statement Oct. 27 that it had charged Arenas, Ladriere, and Lauger each with a felony, and that its investigation had determined "there was no religious bias involved with the commission of the crime."
Oxford Police Chief John Jones told The Observer his department was not able "to find any evidence that those offenders violated the ethnic intimidation law in Ohio."
"They brought these kids in, they did in-depth interviews with them, they looked at their background, they looked at their social media, and then looked at the types of crimes that occur in that area," he said.
The Hillel building, at 11 E. Walnut St., is situated off campus, in Oxford. The rear of the building — where Arenas, Ladriere, and Lauger jumped Hillel's fence and overturned its sukkah — is adjacent to a commonly traveled alley, Jones said.
"It's a very high-traffic alley. And they were walking home from a party. That's the evidence that's presenting itself and we've got nothing to contradict it."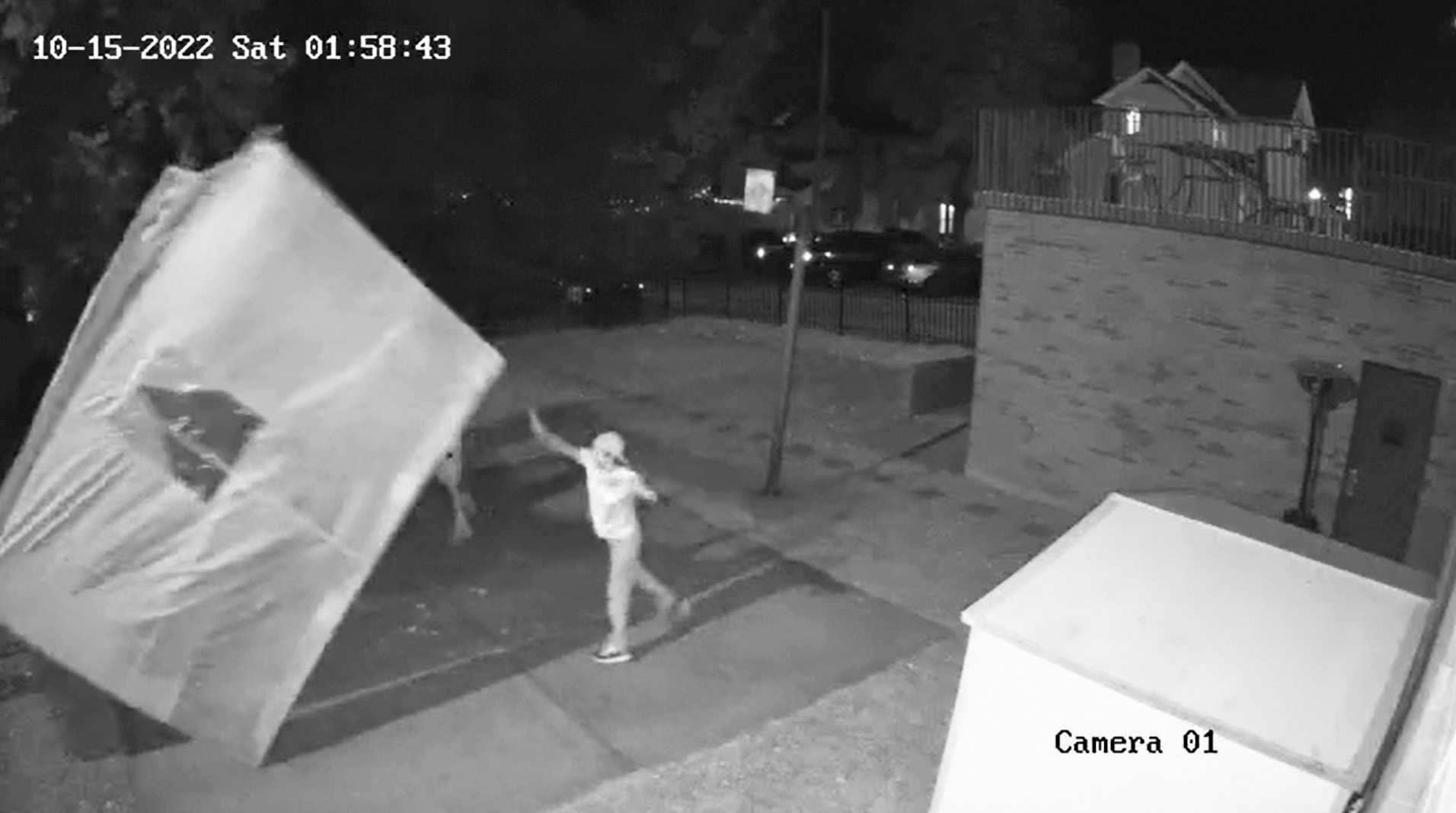 In the security video, one of the vandals is seen wearing lederhosen, traditional German short leather breeches.
"He was at a costume party that was German-themed, the Oktoberfest stuff," Jones said. "Officers had actually seen people out in that type of costume that night. That caught my eye as adding insult to injury."
The police chief described the sukkah vandalism as "essentially run-of-the mill property damage" that happens often in Oxford.
"I don't think people realize the vandalism and the thefts and the property damage we have in this square-mile area," Jones said. He added that the rabbi with the Chabad in Oxford who serves MU's Jewish students had talked with Jones because a menorah was stolen from his porch.
"He's very familiar with the community and he agreed this was not a hate crime," the police chief said of Chabad's rabbi. "He's been the victim of different things like that, just based on where his house is. I've caught kids doing stuff to churches. We need to do a better job on our alcohol enforcement here. But because of their ignorance, they did it to a religious organization (Hillel) and didn't understand the impact it was going to have on the community."
Fisch accepts the possibility that since Hillel's building isn't clearly identifiable from the alleyway, the students may not have known they were deliberately vandalizing a Jewish item on a Jewish property.
"I'm going to give them this one," she said. "Our building looks like a bank."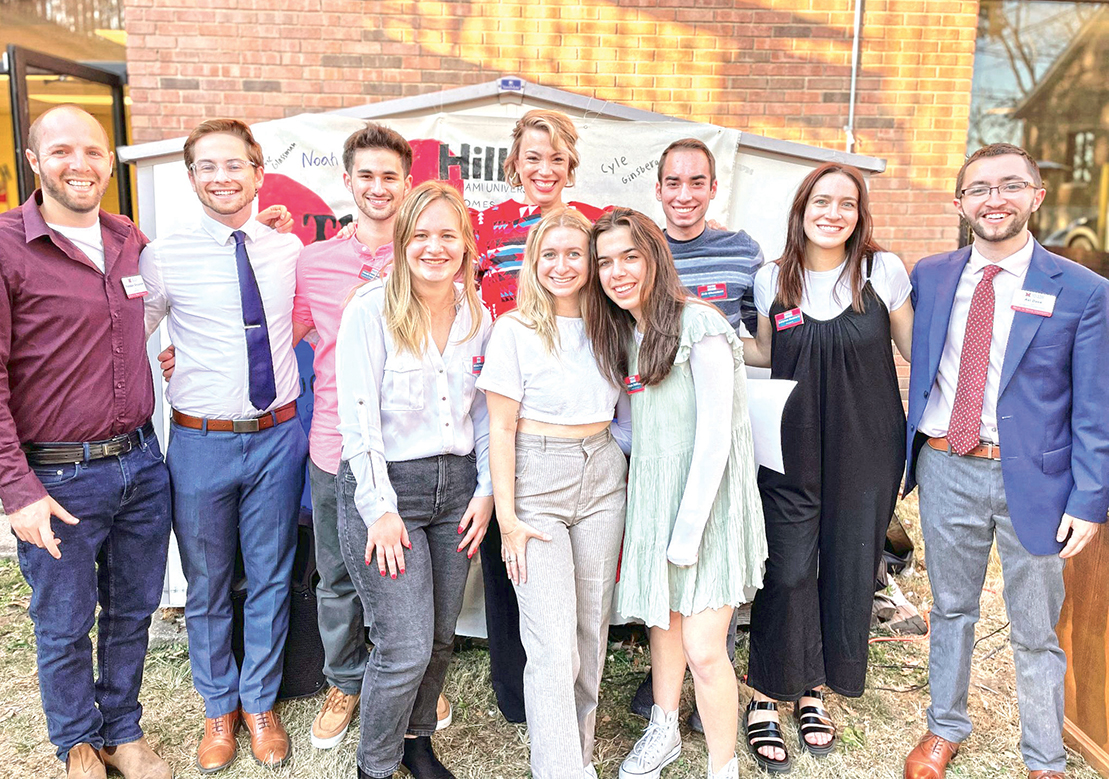 A week after the three confessed to Fisch, the Hillel welcomed more than 100 people from across the MU community for its Shabbat of Love and Honor in partnership with MU's Office for Institutional Diversity and Inclusion.
Hours after the Oxford Police Department posted the names of the students charged with vandalizing the sukkah on Oct. 27, Miami University released a statement that "we empathize with the Jewish community at the distress the incident caused," and that "We do hope that OPD's actions today bring a level of peace and that the healing process can begin."
A spokesperson for the university confirmed on Nov. 23 that Arenas, Ladriere, and Lauger are still students at Miami University. When asked whether the school's investigation into their vandalism of Hillel's sukkah was still in process or if it had concluded, the spokesperson added that she wasn't able to share information "regarding any ongoing campus investigations or disciplinary actions underway due to the privacy protections of the Family Educational Rights and Privacy Act."
Fisch said there's massive relief among MU's approximately 1,000 Jewish students. "We're not sitting here today wondering who did this," she said. "Of course, it's traumatic."
And then on Nov. 11, The Miami Student newspaper reported that MU announced it found drawings of Swastikas in permanent ink in the third-floor bathroom of the psychology building, and antisemitic posters in several locations on the campus. The Miami Student also reported that Hillel wasn't aware of the incidents until the newspaper requested an interview with Hillel's president, Lauren Somers.
"If we're trying to represent the Jewish students, we need to know what's going on," Somers told The Miami Student. "And we should be one of the first people that the university is contacting about antisemitism."
Now in her third year at Hillel at Miami, Fisch said her students have experienced antisemitism at MU before this year's incidents.
"Our (Jewish) students come from everywhere," she said. "The majority of Miami students come from small towns in Ohio, and what we hear from students is in two camps. One is the anti-Israel camp: Students of ours will go on Birthright, they'll post a picture, and then they'll just see it get blasted in social media. 'You're a Palestinian baby killer, you're a White colonialist. FU.'
"And the other side of it is they'll get a roommate who has never met a Jew in their life, and that roommate will say, 'Oh my God, you're nice. Where are your horns?' They're not being silly. They genuinely, truly believe that their Jewish roommate is going to have horns. Or 'So, you're really rich, right? Oh my God, you own all of Hollywood.' Really classic antisemitism."
Fisch said that last year, a registered MU student organization drafted a constitution that included an anti-Zionism clause. "They were a diverse registered student organization that had inclusion as their mission — unless you identified as a Zionist. (If so,) You were not allowed to be part of their organization."
Hillel, she said, empowered its student leaders to navigate the situation quietly. The student group cut the anti-Zionist clause from its constitution.
"Through student leadership, working with that organization's student leadership, and their faculty advisor, they were very successful," Fisch said. "Administratively, it was kind of a roadblock. We were nervous: How's Miami going to respond to the sukkah thing? But it's been nothing but support."
She noted that at the Shabbat of Love and Honor, MU Vice President for Institutional Diversity and Inclusion Cristina Alcalde publicly announced the university has committed to participate in Hillel International's Campus Climate Initiative next year.
"It's an entire initiative involving a deep dive into how hospitable or inhospitable the campus is to Jewish students," Fisch said. "That is a major commitment."
Fisch and Hillel at Miami's board chair suggested the initiative when they met with MU President Gregory P. Crawford in August.
"Miami University is absolutely completely a wonderful place for Jewish student life," Fisch said, "and I hope that community members are involved in our Jewish joy as vigorously as they are involved in our trauma."
To read the complete December 2022 Dayton Jewish Observer, click here.