Israeli drone docking co. to base U.S. manufacturing in Centerville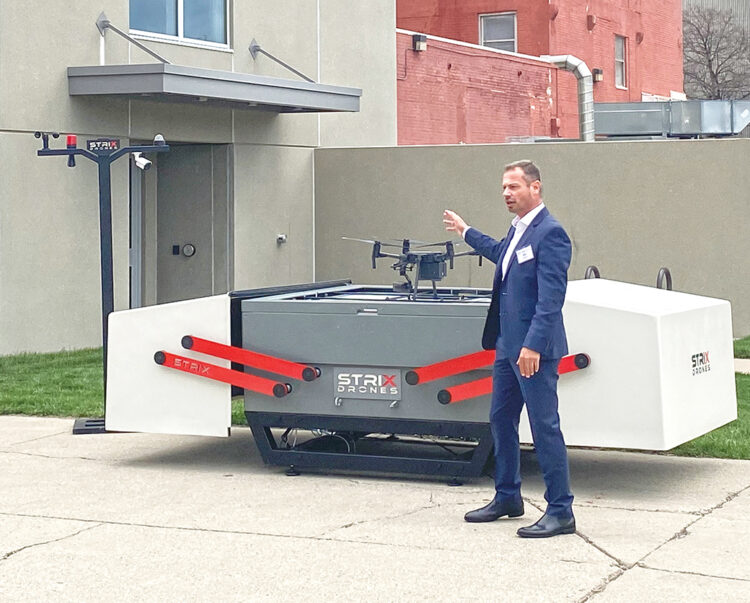 By Marshall Weiss, The Observer
Centerville is now the home of U.S. manufacturing for an Israeli company that produces universal, autonomous drone docking and recharging stations.
Niv Aharoni, CEO and founder of Strix Drones, made the announcement April 11 at Sinclair College's National UAS Training and Certification Center.
"We were founded four years ago in Israel. What we are doing that is different from other companies is that we can fit any kind of drone in our unit," he said.
"We see ourselves as the prime technology for docking station for any kind of drone. What we are trying to do is combine technology of the software and the hardware."
Strix, which is based in Hod Hasharon and has an office in Miami, has leased manufacturing space from Ram Precision Industries in Centerville.
Aharoni told The Observer he decided to manufacture his docking stations in the Dayton area because it holds "the ideal environment."
"They have all the factories for our steel, they have knowledge and land, and we can work together with them. We looked for a year to find a good place, and we find that Dayton by far is the best place."
He plans to hire 10 to 20 people for the manufacturing venture this year and hopes to expand to more than 50 people next year.
Itay Tayas Zamir, who handles business development for Strix, told The Observer he encouraged Aharoni to select Dayton for U.S. manufacturing, based on Zamir's past experiences with the Dayton Region Israel Trade Alliance, a collaborative of the City of Dayton, Montgomery County, and the Dayton Development Coalition.
In 2016, Zamir brought a company he co-founded, Woosh Water, to Sinclair College for its first pilot site tests outside of Israel.
Though Dayton was not selected as the manufacturer for Woosh's water stations in the United States, Zamir was impressed with DRITA's hard work and creativity on the project.
"DRITA facilitated everything," Zamir said of the Strix venture. "They introduced us to our (manufacturing) partners, Ram Precision and Budde Sheet Metal Works. What convinced Niv was the added value, the extra mile from DRITA."
Zamir added that Strix is also partnering with Sinclair's National UAS Center for tech support and on-demand pilots. "We have trained technicians and a pilot from the UAS National Center, from graduated students from Sinclair," he said.
Strix, Zamir said, already has a pilot project with Walmart; it will present a demonstration at Walmart's Bentonville, Ark. headquarters in mid-May. Strix will also demonstrate its docking stations to a medical logistics company.
By the end of May, Zamir said, Strix plans to begin its manufacturing in Centerville.
To read the complete May 2022 Dayton Jewish Observer, click here.