Israeli Chambers of Commerce: 'We want to buy from you'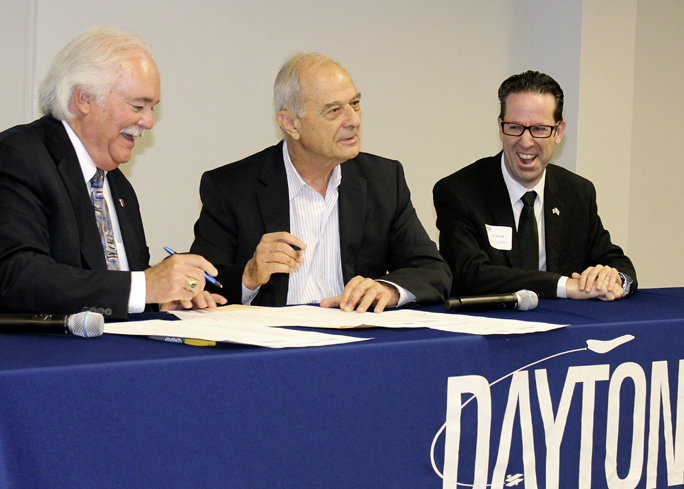 Story and Photos By Marshall Weiss, The Dayton Jewish Observer
The Dayton Area Chamber of Commerce signed its fourth international memo of understanding — with the Federation of Israeli Chambers of Commerce — in a ceremony at the Business Solutions Center on July 21.
"In our 110 years, the chamber has only had four of these such associations in all of our history," said Dayton Area Chamber of Commerce President Phil Parker, "and this is one that we really appreciate and that we take very seriously, and that we're very proud of."
Its other international MOUs are with Osaka, Japan; Zagreb, Croatia; and Sarajevo, Bosnia and Herzegovina.
The MOU encourages the Dayton and Israeli chambers to expand economic and trade relations with each other.
Signing the MOU for the Israeli Chambers was its president, Uriel Lynn, and CEO Dan Carmely.
Lynn and Carmely visited Dayton as part of a two-week tour of the United States to encourage American companies to export their products to Israel.
"We found that we need to put effort into changing the balance of trade between the United States and Israel," Lynn said. "Our buying power is $100 billion, and the total two-way trade between the U.S. and Israel in the last six years was ranging from $26 billion to $29 billion, not growing, just ranging at that level."
Lynn, who drafted Israel's Bill of Rights in 1992 when he served in the Knesset, said that Israel sells to the United States twice more than it buys. Out of Israel's total imports, 54 percent comes from the European Union and only 12 percent from the United States.
"I felt I could contribute a great deal by coming here and saying, 'We don't want to sell you anything, we want to buy from you,'" Lynn said.
For the Israeli Chambers' two-week American tour this year, Lynn and Carmely focused on the Midwest and South; stops also included Atlanta, Nashville, Chicago and Milwaukee.
Co-hosts for the event with Dayton's chamber were the Dayton Region Israel Trade Alliance and the Jewish Federation of Greater Dayton. DRITA is a collaborative of the City of Dayton, Montgomery County, and the Dayton Development Coalition.
For most of the Dayton program, Lynn and Carmely explained to local business leaders the ins and outs of exporting their products to Israel; the two offered their personal help and expertise to facilitate the process.
Afterward, they met with Dayton area businesses ready to crack the Israeli market.
Scott Stone, vice president of customer experience for Obi, demonstrated its dining robot, which feeds those who are unable to feed themselves, at their own pace.
According to Montgomery County Economic Development Director Pam Fannin, who also coordinates the Dayton Region Israel Trade Alliance, a few weeks after Stone's demonstration, the Israeli Chambers identified a company in Israel that reached out to Obi for possible distribution.
Israeli military finance seminar
DRITA's next project will be a statewide foreign military finance seminar with the Israel Ministry of Defense on Tuesday, Sept. 12 from 8:30 a.m. to 3 p.m. at the Dayton Masonic Center.
Fannin said the seminar will include time for one-on-one meetings with the Israeli delegation.
"IMOD officials will talk about the need for new vendors in aerospace, advanced manufacturing, software, UAS, ground-based vehicles, defense, security and more," Fannin said. "Israel purchases approximately $1 billion worth of manufactured products each year from U.S. companies to meet their security needs. Ohio companies will learn how to access this opportunity."
To register for the free seminar, contact Fannin at 225-6140.
To read the complete September 2017 Dayton Jewish Observer, click here.