The Disputation staged play reading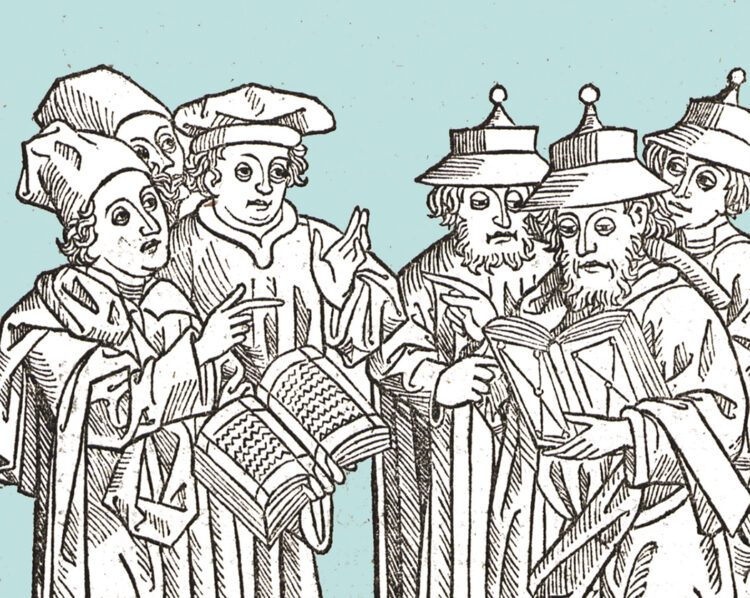 Through a grant from the Association for Jewish Studies, University of Dayton English Prof. Miriamne Krummel will present a staged reading of Hyam Maccoby's The Disputation at 3 p.m., Thursday, March 10 at the Downtown Dayton Metro Library.
Maccoby, a Jewish British scholar and playwright, wrote the play as an outgrowth of his 1984 scholarly publication, Judaism on Trial: Jewish Christian Disputations in the Middle Ages. It dramatizes the Disputation of Barcelona, July 20 to 24, 1263 in which Rabbi Moshe Ben Nachman was forced by King James I of Aragon to debate Dominican Friar Pablo Christiani (who had converted from Judaism to Christianity) on the subject of whether or not Jesus was the Messiah.
The Disputation is the second of two staged play readings about medieval antisemitism that comprise the 2022 University of Dayton AJS Series. Krummel is the director of both.
Wind in the Woods early music ensemble will perform prior to The Disputation, and University of Dayton History Lecturer Miguel Gomez will discuss the intricacies of the 1263 Barcelona Disputation. The staged reading will conclude with a Q&A.
Beth Abraham Synagogue, the Dayton Metro Library, and the Jewish Federation of Greater Dayton are co-sponsors of the University of Dayton AJS Series. The program is free and open to the community. Masks are required. The Downtown Dayton Metro Library is located at 215 E. Third St. For more information, call the library at 937-463-2665.
To read the complete March 2022 Dayton Jewish Observer, click here.