Heading Home: Team Israel's Magic Carpet Ride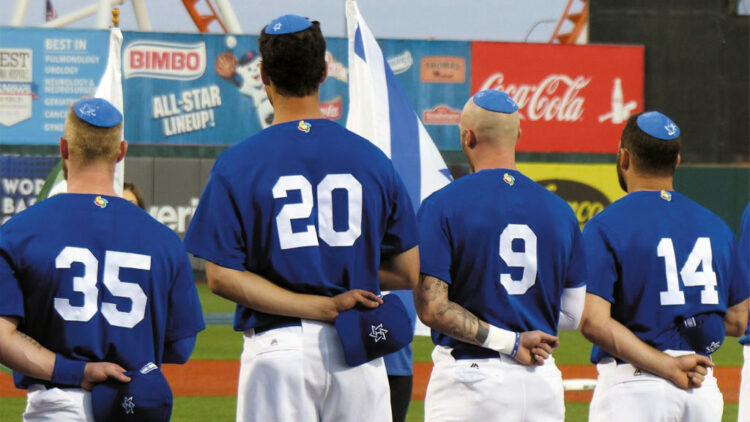 Documentary examines 'miracle' of World Baseball Classic
By Jonathan Mark
The New York Jewish Week
The 2018 documentary, Heading Home, about Team Israel's Joe Hardy-like ride through victory after victory in the Major League's 2017 World Baseball Classic, is a sports documentary, of course, but a love story all the more.
As unlikely as their on-field success, even more unlikely was the Jewish and Zionist pride that percolated among the American-born players who, when first recruited, had only the most tenuous ties to anything Jewish, let alone to Israel, the country they were representing.
And yet, before every game, when Team Israel lined up along the foul line for the national anthems, all the players removed their baseball caps only to reveal a yarmulke on every head. First base coach Nate Fish said matter of factly, "This is what we do. We represent a Jewish country. We cover our heads."
Heading Home: The Tale of Team Israel was produced by Fred Wilpon, the Jewish owner of the Mets, and directed by Seth Kramer, Daniel A. Miller and Jeremy Newberger, all with roots in Young Judea. The directors had earned two Emmy nominations for their PBS documentaries, Untold Stories of Jewish Partisans and The Trial of Adolf Eichmann.
All but two players for Team Israel were American Jews, but according to the tournament's "heritage" rule, players could represent a country if they had at least one grandparent from that country, or if the player would be eligible for citizenship (as all Jews are through Israel's Law of Return).
Team Israel's catcher Ryan Lavarnway, who played for the Red Sox in the 2013 World Series, couldn't help but think of the Nazi mischling law that defined a Jew by even one grandparent.
"Two generations ago," said Lavarnway in the film, "the way this team was put together would have meant that we were being killed…For us to be able to stand up here and have the Israel flag and Jewish star hanging in the stadium, it (means) we're here."
Israel was not the only team using the heritage loophole. In 2012's tournament, there was only one Spanish-born player playing for Spain, and Team Italy had coaches and players like Mike Piazza and Brandon Nimmo of the Mets.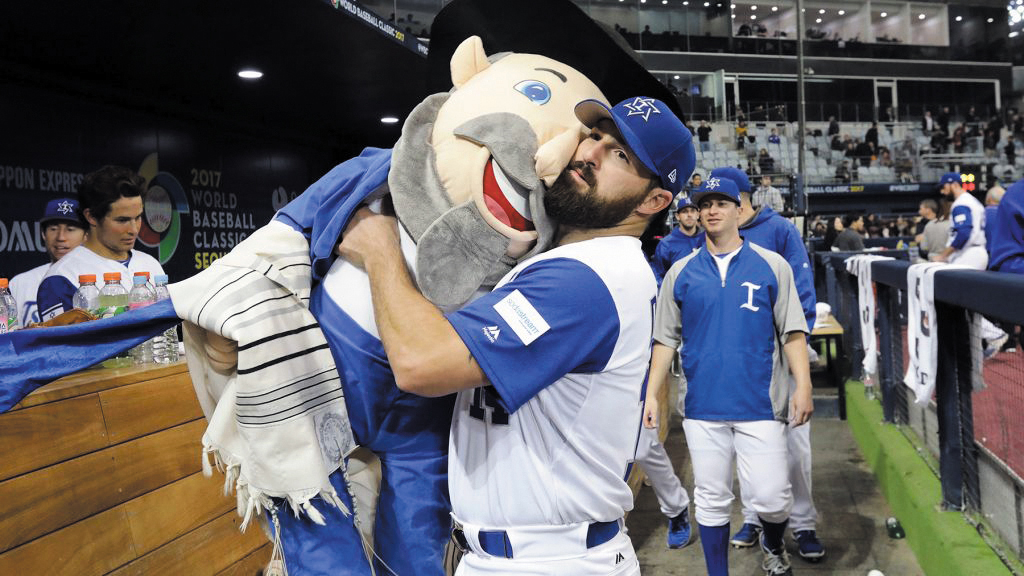 Israel's closest thing to a star was Jason Marquis, who won 124 games over 15 years, as well as starting a World Series game in 2004. The preponderance of American players greatly upset one Cuban journalist who, after Israel defeated Cuba, is shown grilling Team Israel's manager, Jerry Weinstein, a former coach for the Colorado Rockies. Said the Cuban, "Israel has not properly recruited a team of its country…(It's) a team that should represent Israel but actually represents the United States."
Manager Weinstein kept his cool but answered firmly: "Well, I don't agree with that. All our guys qualify under the 'heritage' rules…We're Team Israel and make no mistake about that."
Later, Weinstein adds, "it's just Cuba's face-saver (so they can say), 'We didn't lose to Israel…' That's B.S. You lost to Israel, brother."
Between rounds, philanthropist Sheldon Adelson lent his private plane to take several of the players to Israel, to better understand the country they were representing. The players went to sessions about the peace process, experienced the fun house of Tel Aviv, and then went to Jerusalem's Western Wall. Josh Zeid, who pitched for the Astros, said, "I wrote a note and just started talking. I was just talking to God…I wasn't asking Him for things, I was just telling Him things."
The JCC Film Fest plans to present the documentary Heading Home: A Tale of Team Israel at 9 p.m., Tuesday, June 9 at The Dixie Twin Drive-In, 6201 N. Dixie Dr., Dayton. The program is free and includes bagged snacks. R.S.V.P. to jewishdayton.org/program/dayton-jewish-film-festival. You can also register for a Zoom discussion about the film with Marc Katz at 7 p.m., Wednesday, June 10.
To read the complete June 2020 Dayton Jewish Observer, click here.