Temple Israel votes for U.S. & Israeli flags in sanctuary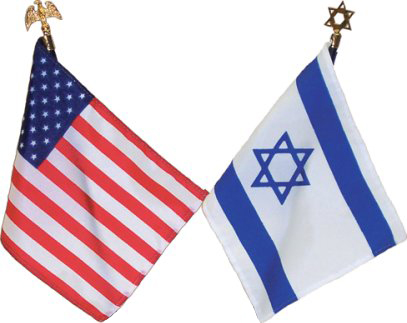 At a special congregational meeting Oct. 29, members of Temple Israel narrowly approved a petition requesting the United States and Israeli flags be displayed on a regular basis in the main sanctuary.
Since Temple Israel's current building opened in 1994 at 130 Riverside Dr., the flags have not been displayed in the main sanctuary unless requested for funerals, memorial services, or events hosted by outside community organizations.
"Most of our important decisions are made by the board of directors, which consists of members elected by the congregation. However, our constitution also lays out a petition process for congregants to bring up an issue on any matter other than halacha, Jewish law," Dan Young, Temple Israel's president, explained.
When Temple Israel was located at Salem and Emerson Avenues, the U.S. flag was displayed on the bima (stage) at its "community house" sanctuary before the congregation built a new main sanctuary on the campus in 1953.
The October congregational vote — 22 membership units for, 19 against — marked the fourth on a petition to display the flags in the sanctuary since Temple Israel moved to Riverside Drive; membership voted down attempts in 2004, 2007, and 2017.
In 2004, Temple Israel began permanently displaying the Israeli and U.S. flags in its lobby.
"I'm proud of how our members energetically discussed the issue, listened to each other, and — on occasion — respectfully disagreed," Young added.
— Marshall Weiss
To read the complete January 2020 Dayton Jewish Observer, click here.