Trapped in a loveless movie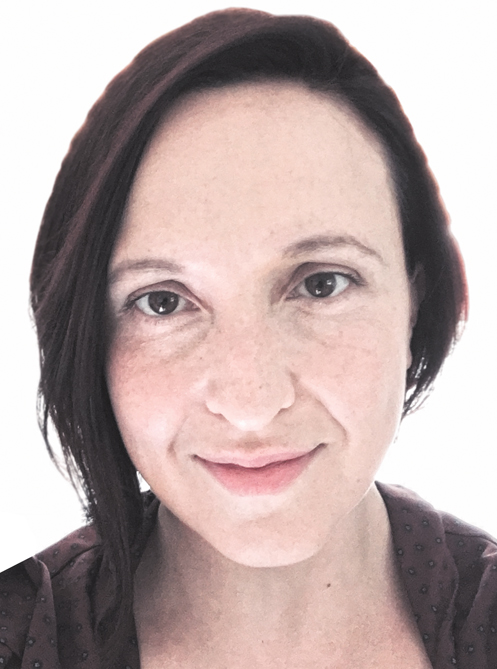 A Bisel Kisel with Masha Kisel, The Dayton Jewish Observer
I recently taught about the 1973 classic movie The Way We Were, directed by Sydney Pollack, for my Jewish-American Film course at UD.
In this class, we examine cinematic depictions of Jewish characters against the backdrop of immigration and acculturation in 20th and 21st century America.
I remembered The Way We Were as an interfaith romance that signaled the increasing acceptance of American Jews.
As I watched it again, however, I realized that this film shows a Jewish woman neither accepted nor loved.
Set in the late 1930s and 40s, Barbra Streisand plays Katie, a young Jewish woman of modest means and passionate Communist ideals who develops a crush on a gentile rich boy — Hubbell, played by Robert Redford. He briefly flirts with her in college, but nothing happens.
Many years later, Katie and Hubbell accidentally meet at a bar. Hubbell, in an officer's uniform and seeking sweet oblivion from the horrors of war, spends most of the scene too inebriated to open his eyes. He doesn't see Katie, who stares at him from across the room and sighs his name before daring to approach. His vacant expression exudes the chill of marble, but as the camera turns to Katie's face, we see rapture, as if she is gazing at Adonis.
What follows is uncomfortable to watch. She coaxes a semi-conscious Hubbell (who still shows no sign of recognizing her) back to her apartment, helps him take off his clothes and gets into bed next to him. He drunkenly rolls over onto her and the camera again focuses on Katie's breathless delight.
"Do I really deserve this?" her eyes say as she gratefully squirms under his great white weight. I inwardly cringed, remembering the time in college a blond farm boy from Wisconsin told me that he didn't like me back because "I had too much personality." I had the impulse to cover my face.
Although not the first to carry a major Hollywood picture (Lauren Bacall conquered audiences with her sultry stare long before), Streisand pioneered playing Jewish female characters in major roles, famously keeping her original nose and Brooklyn accent.
But despite an impressive streak of breakout roles in films like What's Up Doc?, Funny Girl, and The Way We Were, Streisand's characters constantly apologize for their brand of beauty and the garrulous charisma that typify them as Jewish women.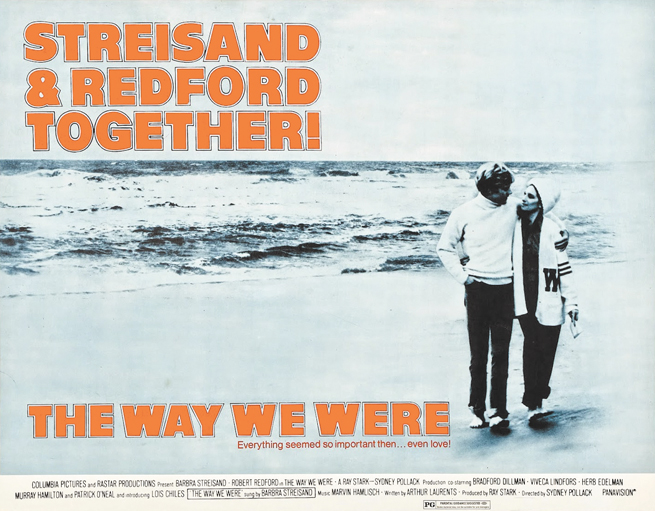 "I am not attractive enough for you, am I?" Katie desperately asks Hubbell after he breaks up with her the first time, and he doesn't say no. After Katie states that she can worship him better than anyone, he takes her back. She straightens and lightens her hair, sails on a yacht, plays tennis and keeps her mouth shut. That is, until she speaks out against McCarthy's Hollywood blacklist and jeopardizes Hubbell's burgeoning screenwriting career.
The unprincipled coward cheats on her and abandons Katie in her last months of pregnancy. The film concludes with another chance meeting. Years later she sees him with his new wife.
"Your girl is lovely, Hubbell" Katie says with decorous restraint and the romantic theme song swells, forcing us to forget our indignation at Hubbell's cruelty.
It would be easy to read The Way We Were as a story about socio-cultural dissonance. In the 1940s, Anglos like Hubbell weren't used to hearing women speak and Jewish girls like Katie were dazzled by the All-American jock, despite their better judgment.
But images of Jewish women who are "too difficult to love" persist into the 21st century, even in films with a Jewish male lead.
Film scholar Nathan Abrams points out in The New Jew: Exploring Jewishness and Judaism in Contemporary Cinema, Jewish women serve as scapegoats, as vilified projections of self-hatred for some Jewish-American filmmakers.
Narratives of interfaith relationships as an escape from the clutches of Yiddishe mamas and Jewish-American princesses recur in romantic comedies like Keeping the Faith (2000), Saving Silverman (2001), and Along Came Polly (2004).
These monstrous Jewesses, a stark contrast to the hero's true love — the gentle gentile — actually made me long for The Way We Were, where Streisand at least played a human being.
"Just because a stereotype is prevalent, does not make it true. All storytelling is derivative," I told my class. But privately I wondered whether my students imagined me yelling at my Jewish husband as he hopes for a "lovely girl" to rescue him.
In a recent interview with Hollywood Reporter, Sarah Silverman said a Jewish male director told her that she "could never be cast as someone who deserved love."
Thankfully, Jewish women have begun to author their own roles. The heroines of television shows like Crazy Ex-Girlfriend, Broad City and The Marvelous Mrs. Maisel possess emotional complexity and self-awareness.
Rebecca Bunch, Abbi and Ilana, and Midge attract love but don't always choose it. They've changed the conversation from whether or not a Jewish woman can be worthy of love to whether the lovers who come along are worthy of the funny girls with bigger plans.
Dr. Masha Kisel is a lecturer in English at the University of Dayton.