Strawberry Rhubarb Blintzes for Shavuot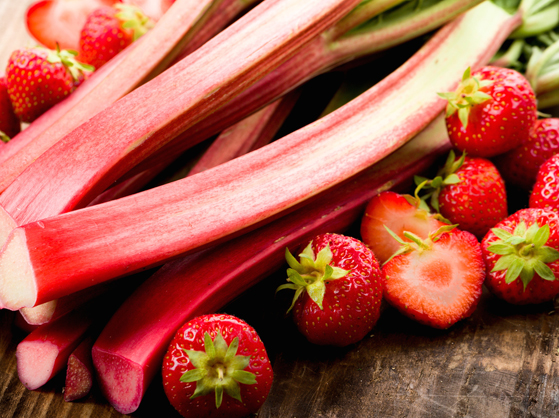 By Leah Koenig, thenosher.com
Blintzes are most often described in relation to other foods. They are like pancakes but thinner, like Russian blini except without the yeast, or like crepes, just folded a little differently.
Still, blintzes are a delicacy all their own. Originally from the Ukraine, fillings like cheese, potato, and kasha were folded inside the blintz wrappers (or bletlach, "leaves" in Yiddish) and fried until golden brown.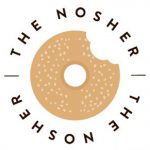 In the late 19th and early 20th centuries, Jewish immigrants transported and popularized the dish in America.
It quickly became a staple offering at milchig (dairy) meals in New York; a tall pile of blintzes came to signify bounty and comfort to vacationers in the Catskills.
In the The Jewish Holiday Cookbook, Joan Nathan describes a typical lunch menu at the famous Grossinger's resort: "cold borscht with boiled potato; their famous pickled herring in cream; marinated carp and, of course, Grossinger's famous blintzes with blueberries and sour cream."
When made without meat, as they most often are, blintzes are a dairy lover's dream: filled with sweet farmer cheese, browned in butter, and topped with sour cream.
As the edible embodiment of "a land flowing with milk and honey," blintzes are commonly served on Shavuot — the Jewish calendar's most unabashedly milchig-friendly holiday.
The recipe below, while still full of milk and butter, substitutes a sweet and sour fruit filling for the traditional cheese.
Regardless of what's inside, however, Marks suggests that all blintzes are appropriate for the Shavuot table: "Two blintzes placed side by side, resemble the two tablets that Moses received on Mount Sinai." Amen, Rabbi.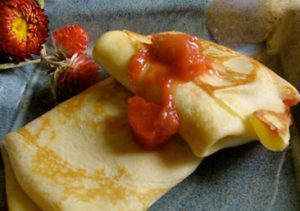 Filling
2 1/2 cups sliced rhubarb (about 1/2 lb.)
1 cup sliced strawberries
1/3 cup sugar
1 tsp. orange zest
Make the filling first. Combine ingredients in a saucepan and cook over medium heat until the rhubarb is tender and the juice has thickened slightly, about 8 to 10 minutes. Remove from heat and allow to fully cool before using.
Blintz wrappers
1 cup flour
1 cup milk
3 eggs
2 tsp. sugar
Pinch of salt
Combine ingredients in a blender and mix until smooth. Let the mixture rest for about 15 to 20 minutes.
Place a non-stick pan over medium heat–ideally, the pan should be about 8 inches in diameter. Coat with a little butter.
Pour three to four tablespoons of batter in the pan and quickly pick the pan up off the heat and swirl it around to spread the batter thinly and evenly around the pan.
Cook until the top is dry and the bottom is golden.
Remove the blintz wrapper with a spatula and place it on a piece of wax paper. Continue cooking the wrappers, stacking them on the wax paper as you go.
When the wrappers are cool, spoon about two tablespoons of filling onto the center of the uncooked side of the blintz wrapper.
Fold the two sides of the wrapper to the center. Starting at the bottom, fold the wrapper up approximately one third of the way. Then, moving in the same direction, fold it up again to create a rectangular package.
From here, the blintzes can be wrapped tightly and frozen for up to one month.
When you're ready to eat, heat a little butter in a large skillet over medium heat. When the butter is bubbly, place the blintzes seam side down and cook until golden on both sides.
Transfer blintz to a paper towel or plate. Serve immediately, sprinkled with powdered sugar or with a dollop of sour cream. Makes 10 to 12 blintzes.
To read the complete May 2018 Dayton Jewish Observer, click here.