Somber, but not defeated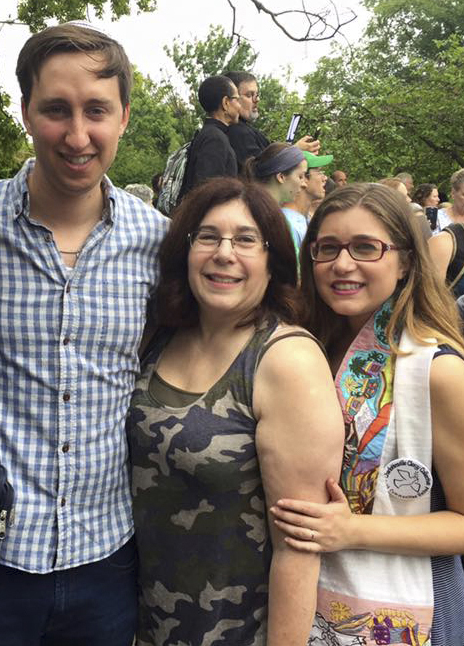 An interview with Charlottesville temple's assistant rabbi & her husband
By Marc Katz, Special To The Dayton Jewish Observer
Charlottesville clergy, including Rabbi Educator Rachel Schmelkin of Congregation Beth Israel, prepared for the worst prior to the Aug. 12 Unite the Right march through their town, and remained busy several days following the confrontation.
Rachel, from Cincinnati and a graduate of Indiana University and Hebrew Union College-Jewish Institute of Religion, is related to the Feldman, Foster, and Moscowitz families of Dayton. She has been in Charlottesville for about a year, serving with Senior Rabbi Tom Gutherz.
"Our congregation is in a process of healing that will take time," she said in an interview with The Observer a week after the hate march.
"At the same time, our congregation is stronger than ever. This past Friday night, we were bursting at the seams, standing room only at our Shabbat services. We have an incredibly resilient community here in Charlottesville."
The congregation serves about 400 households.
In addition to meeting with congregants as part of her normal duties, Rachel has met with city officials to calm frayed nerves and plan what they might do to avoid future confrontations.
Charlottesville's Congregation Beth Israel is just a block from where a car ran into a counter-protesting crowd Aug. 12, and on the route where hundreds of protesters marched with torches and weapons, from baseball bats to guns, the night before.
Built in 1882, Beth Israel is the oldest Jewish congregation building still in use in Virginia, and one of the oldest in the country. Beth Israel congregants and property were not harmed.
"Things did change throughout the day," said Rachel's husband, Geoff, who attends the University of Virginia graduate school of business and law. "But with what happened Friday night, it was pretty clear to everybody what type of situation our town was headed toward."
Not sure of what would happen when permits were taken out by the right-wing hate groups earlier in the summer, Geoff said his congregation secured extra security for the weekend, just in case, especially since the congregation wasn't certain what kind of help it would obtain from local police.
An initial report from the president of the congregation on a blog indicated the Charlottesville police declined to provide officers to protect congregants while worshiping Saturday morning. But according to JTA, Charlottesville City Manager Maurice Jones later refuted that claim.
"Police stationed an officer on the corner of the block where the synagogue is located, plus another 32 officers about one block away in the other direction," Jones said in a statement to JTA, adding that law enforcement placed snipers on a rooftop nearby to monitor a two-block radius which included Beth Israel, and that Virginia State Police walked a route that passed the synagogue that day on several occasions.
"Sometimes perception is different from reality," Rachel said. "The police said they were looking out for us even though they could not be seen. And they were at the congregation for Shabbat services on Saturday (a week later). We are talking with them about what we can do in the future."
As for the letter posted by the congregation's president, Rachel said, "that is from an individual congregant and not the synagogue's official statement."
The congregation held Friday night services at its building on the eve of the hate march, then moved about two miles to St. Paul's church on the University of Virginia's campus for an interfaith service, attended by an overflow crowd of an estimated 1,000 people.
Geoff attended both services with his wife and said it wasn't fearful, as it would become Saturday, but "there was a threat in the air."
The Schmelkins were also in lock-down at St. Paul's on campus for about a half hour after the interfaith service Friday night as demonstrators — allegedly protesting the removal of Civil War statues — clashed with students.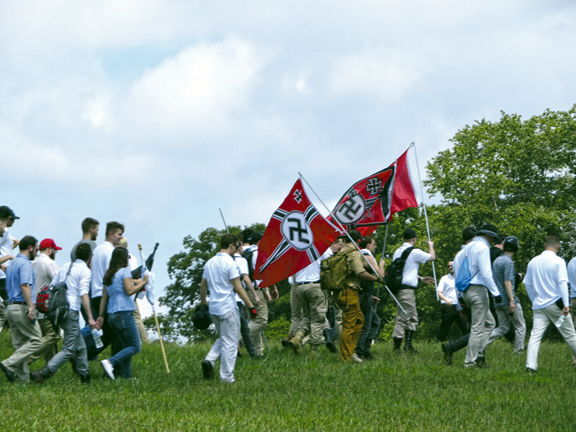 On the day of the march, Geoff said congregants went through their normal Shabbat service starting at 9 a.m., and didn't really see what was going on outside their building, since the windows in their sanctuary are all stained glass, and high on the walls.
"Everyone who showed up that day knew we were taking a stand of some sort," Geoff said. "It was different than a normal Saturday morning."
When they moved to the main hall for Kiddush, where the windows are clear and lower, Geoff said he could see gangs of protesters holding flags of Neo-Nazis, Neo-Confederates, and the KKK walking right by the synagogue, armed, in groups of 20 to 30.
"They didn't come for what they intended to do (protest the removal of statues)," Geoff said. "They came for much more."
Beth Israel had already hired security, a change from normal operations that has required the synagogue to request online contributions to help pay the bill.
"We have to expect a high chance these groups want to come back," Geoff said. "One thing the 'alt-right' might not have counted on is the community of Charlottesville coming together."
At one point on the Saturday afternoon of the march, a friend called the Schmelkins and asked them to help take a wounded woman protesting the demonstrators to the hospital.
Geoff said the woman had to be carried to their car, and was transferred to a wheelchair at the hospital. He was too preoccupied to notice what injuries she had, or who she was.
They also spent time helping shocked residents gathering at the First United Methodist Church near where the car rammed into the crowd.
By Monday, Rachel was in full recovery mode. The congregation has Bar and Bat Mitzvahs scheduled, along with weddings, and is preparing for the High Holy Days.
"I was in the synagogue after the demonstrations," Geoff said. "The phones were ringing off the hook. We've never had to deal with anything like this before. The synagogue is busier than typical. The mood is pretty somber, but definitely not defeated."
To read the complete September 2017 Dayton Jewish Observer, click here.