She's got it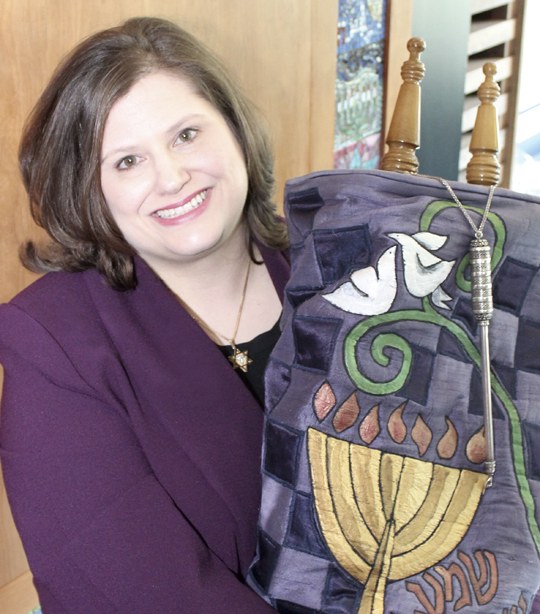 Thirteen years after she first arrived at Temple Israel, Karen Bodney-Halasz to become its next senior rabbi
Story and Photos By Marshall Weiss, The Dayton Jewish Observer
Although she's overseen Temple Israel's religious school since 2003 and has served as assistant rabbi there since her ordination in 2007, Rabbi Karen Bodney-Halasz is ready to reintroduce herself to her congregation and community.
On Jan. 27, Temple Israel's board approved the unanimous recommendation of its rabbinic search committee to name Bodney-Halasz as its senior rabbi beginning July 1.
"People know me in the role of rabbi/educator, and not in the role of a senior rabbi," Bodney-Halasz, 41, says. "It's important for me to sit down with members, share my vision, and say, 'I know that we've talked a hundred times, but I want you to know what it is that I care so passionately about. These are different conversations than we had before.'"
Her selection as the first female senior rabbi in the temple's 166-year history followed a nine-month search process that began after the retirement of Senior Rabbi David M. Sofian; Temple Israel contracted with Rabbi Ilene Bogosian to serve as its interim senior rabbi from July 1, 2015 through July 1, 2016, while it conducted its search.
"This feels natural to me at this time in my life," Bodney-Halasz says. "After eight years in the rabbinate, I'm ready to take on a senior position, whether that was going to be here or elsewhere. Having the congregation here, that I know and that I love — and that shares the same vision as I do — is a blessing."
That vision, she says, puts a priority on pastoral care, social justice, adult education, and involvement in the Jewish and non-Jewish communities.
"I want to work on increasing areas of social engagement," she says. "The more people feel connected and valued, the more engaged they become. We all need opportunities to sit down and share our stories."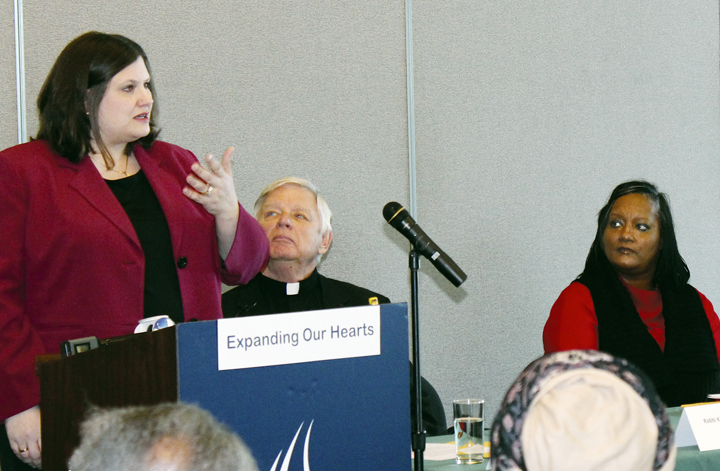 Bodney-Halasz's story of how she chose the rabbinate began in Overland Park, Kan. in 1985, when she was in fourth grade. Her family still belongs to Temple B'nai Jehudah there.
"I didn't have a feeling that I was drawn to anything specifically Jewish in my life until I went to Goldman Union Camp," she says. "I realized as the summers went by, this was so special to me. It was an incredible opportunity to live Judaism completely. I would be immersed in it during the summers and separated from it during the year, and so there was this longing and separation."
One summer, Rabbi Dr. Gary Zola of Hebrew Union College-Jewish Institute of Religion in Cincinnati visited the camp.
She relates that Zola told the campers, "I know a bunch of you are looking into ways you can become leaders in your school, and it's wonderful. For God's sake, the Jewish community needs leaders too."
"That would complete my purpose in life," Bodney-Halasz recalls thinking. "It would allow me to do so many things that I want to do, and do it in a way that was meaningful spiritually as well."
She went on the March of the Living in high school, first touring Nazi death camps in Poland, then celebrating Yom Ha'atzmaut (Independence Day) in Israel.
"I remember sitting across the way from the Western Wall and staring at it. I thought to myself: This is a huge tradition. It is longer than I can even imagine. It's a chain. And I don't want to be outside of it. I want to be a part of it.
I want to be a link. And I want to be an important one, someone who helps to carry the tradition from one generation to the next."
As an undergraduate at Northwestern, Bodney-Halasz pursued a degree in comparative literary studies with a focus on Hebrew literature and culture; during her junior year, she enrolled in Hebrew literature classes at Hebrew University in Jerusalem.
While in college, she interned for two summers at her home congregation to help her decide if the rabbinate was for her.
"It was certainly eye-opening," she says of the politics. "But it fit, and I really enjoyed it."
The day after she graduated from Northwestern, she was on a plane to Israel for her first year of rabbinical school with HUC-JIR, followed by her move to its Cincinnati campus.
'The people here are dear to me'
In 2004, after Bodney-Halasz's first year as director of Temple Israel's religious school, she moved to Dayton.
In her role as assistant rabbi/educator, her contributions to Temple Israel's programming have included healing services, its Day of Jewish Learning, Sukkahs in the City, last year's congregational trip to Cuba, and the Mitzvah Alley component of the temple's annual Jewish Cultural Festival.
"The people here are dear to me," she says. "I've been part of people's lives from births to weddings to deaths. Having people let me into their lives in that way, it's a very special connection, and one that I treasure."
She also met her husband, Scott Halasz, here in Dayton. They have two sons, Jonah (6) and Ethan (1).
"My husband was confirmed here. He had his Bar Mitzvah at Temple Israel," she says.
The biggest challenge she sees for Temple Israel is the same one facing the whole Jewish community and all religious communities in Dayton.
"It's demographics," she says. "And that's not something unique to us. Fewer and fewer people are returning. I think it's a matter of engaging better the people who are already engaged, continuing to make it important in their lives, and for their children's lives."
Bodney-Halasz officiates at interfaith weddings, though she doesn't co-officiate with clergy from other religions.
She is a champion of Hillel Academy, Dayton's Jewish day school, where she is on the Judaics faculty; Jonah is enrolled at Hillel too.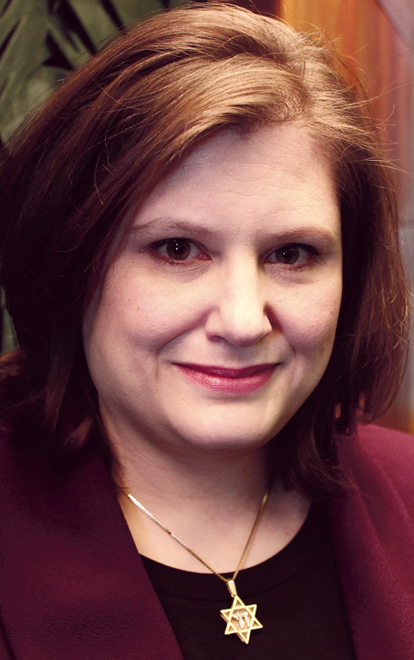 "There are some who feel that we need to be competitive with one another at all times within the Jewish community," she says. "I think we do that to our detriment. The overall goal is to have an active, engaged, Jewishly knowledgeable community that can express its Judaism together. If I see someone going to Hillel Academy as a threat to my religious school, then I lose."
At the same time, she encourages her congregants who send their children to Hillel to also enroll them in the temple's religious school; and most do.
"It's important to me that the kids have a community of other like-minded Reform Jews to explore what Judaism means to them in a different environment," she says. "But for the same reason, I think it's important for a rabbi from Temple Israel to have facetime with the students at Hillel, in order that they are reminded that the Jewish community is diverse."
If Bodney-Halasz doesn't have time to continue teaching at Hillel when she takes over as Temple Israel's senior rabbi, she says she'll try to have the congregation's new assistant rabbi/educator teach there. She and the temple have already begun the search to fill her current position.
She says she's ready to hit the ground running in July.
"I'm able to address issues I already know are significant to this community. I'm sensitive to what the congregation is going to perceive as small or large changes."
She's also excited to continue building relationships with members of the non-Jewish community, particularly clergy involved with Leaders for Equality and Action in Dayton (LEAD), and a new coalition, Dayton Stands With Muslims, which held a solidarity press conference at Temple Israel on Feb. 12.
"Judaism teaches that we have an obligation to fight intolerance, xenophobia, and racism because we view all human beings as b'tzelem Elokim, created in God's image — without exceptions," she told the gathering.
In her interview with The Observer, Bodney-Halasz says she recognizes she's not perfect. She sees this as a strength, not a weakness, in her journey "toward finding wholeness and completion, working to do my best."
"I'm so looking forward to this. It's inspiring, it's exciting, it's overwhelming, but mostly just exhilarating. And how lucky and blessed I feel that their choice was my choice."
To read the complete March 2016 Dayton Jewish Observer, click here.