We carry all we have let into our hearts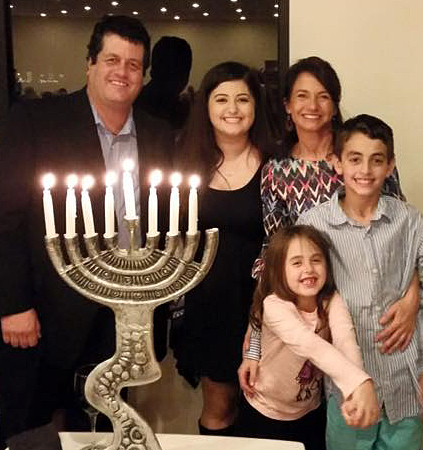 By Rabbi David Burstein, Special To The Dayton Jewish Observer
The Jewish commentator Rashi said that Avram (Abraham) gave up four things by following God's command. He gave up his birthplace, his home, his extended family, and his name. But in exchange for all of these losses and for following God's command, he would be blessed.
In April, I decided that I was going to embark on a new journey: that at the end of 2015, at the cusp of my 50th year, I would venture away from my longtime home, Temple Beth Or, and venture out to try a path closer to my actual home, Cincinnati.
For 14 years, I have been traveling from Cincinnati to Dayton, charting a course through the orange barrels of I-75 and coming into the doors of Temple Beth Or: a destination that I have come to love and where I know peace.
Dayton has become the birthplace of my congregational rabbinate, a spiritual home for myself and my family, a true family of Jews who have embraced me across the city and a place where I embraced my title, rabbi.
A city and people I have grown to respect and love. And one I must leave now.
Like Avram, this was less a midlife crisis and more a journey born of great discernment and faith in God.
Why would I leave a job I love with an amazing congregation and an outstanding senior rabbi to set out on my own? Because it was time, and I had faith that this was the right decision.
Rashi continues by saying of Avram's leaving his home: "The Torah is saying that God will only make Avram understand his place in the world when he makes this journey. God has a destiny in mind for Avram, one that can only be fulfilled by believing in God's words."
I do have faith, and I also have the experiences that I have taken part in here in Dayton to build upon.
Being a rabbi has given me great fulfillment and joy. I have been entrusted with the most intimate moments of people's lives, and welcomed into lives all across Dayton. And I have learned from each of them what Dayton's Jewish community has to offer.
This is a community built upon collaboration and a united vision. Each congregation works together to create a community of shared practices and experiences.
Some of my favorite memories were the combined Purim celebrations we used to hold together.
There are excellent rabbis and teachers in this city, and watching them interact with not only text but all types of people should make you feel proud.
The Federation has consistently searched for ways to help others, and that is a benefit to this community. You gather as a community to celebrate and mourn, to laugh, and of course to nosh, to learn and teach.
I have always felt embraced and welcomed at any place of worship, at any event, and any gathering. From playing and meditating with the children at Hillel Academy to participating in numerous weddings, I have been able to become the rabbi I am today because of your openness and trust.
So I leave my Dayton Jewish community better than when I arrived, with wonderful memories and even better friends and colleagues.
But most of all, I will miss my Temple Beth Or family. There is too much to be said in gratitude to put here right now.
It is said that when you truly love someone you leave a piece of your heart with them as you move on.
Nothing could be more true of my 14-plus years at Temple Beth Or. You embraced me — drums, meditation pillows and all — into your hearts and lives, and for that I am truly grateful.
So I set a new course; one in which I will work on building a coaching and consulting practice that will help people through transition and change.
I will be home with my children and wife, focusing on family.
And I will still maintain a relationship with Temple Beth Or and the Dayton community. I will continue the relationships I have made here and strive to make more.
I will still be involved through my men's spirituality retreats and groups. I will be just down the road, and am looking forward to my new role with our community.
Change is often difficult. But it is part of a journey in which we carry with us all we have let into our hearts. Thank you, Dayton, for touching mine.
Rabbi David Burstein served as assistant rabbi and educator at Temple Beth Or from 2001 to 2015.
To read the complete January 2016 Dayton Jewish Observer, click here.