Moshav outdoor concert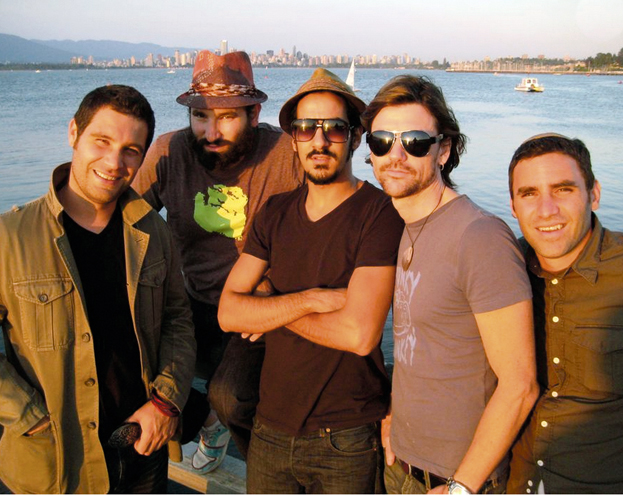 By Shelley A. Sackett, Jewish Journal of Massachusetts
Dayton's JCC will present the Boonshoft Center for Jewish Culture and Education's first outdoor concert when the rock band Moshav performs there on Sunday, Aug. 9.
In Hebrew, the word moshav means a cooperative community in Israel. It was indeed a moshav that brought the band together: Moshav Mevo Modi'im in central Israel, founded in 1976 by the late folksinger and songwriter Rabbi Shlomo Carlebach.
Yehuda Solomon (vocals, percussion) and Duvid Swirsky (vocals, guitar) met as youngsters growing up four doors apart on the moshav.
"My parents were living in a hippie commune in northern California and they moved to the moshav and never left," said Solomon, who is in his late 30s and lives in Los Angeles with his wife and three children.
Swirsky arrived at the moshav on a Shabbat when he was 10 years old. "I remember Shlomo as a Santa Claus-like character," he said of Carlebach. "Everybody danced and sang, banging and screaming and jumping up and down. It was a very accepting and comfortable environment. A lot of us kids from the moshav are singers, spread out all over the world. We run into a lot of them when we travel."
He also lives in Los Angeles with his wife and son.
The duo was discovered by some visiting American students while Solomon and Swirsky were singing on their moshav; the students raised money to bring them to the United States for a college concert tour in the 1990s. Moshav the ensemble was born and relocated to Los Angeles, where Solomon and Swirsky recorded their first album in 1998. They've continued to tour the United States, Australia, Canada, and Europe and have released eight albums.
Moshav's most recent album, Shabbat Vol. 1, pays homage to the many Sabbaths they spent with their beloved Reb Shlomo on the moshav, in the small synagogue packed with family and friends dancing late into Friday nights.
"This record brings us back to our childhood," Solomon said. "We tried to give it a raw vibe, like we're all just hanging out again and jamming on the moshav."
Swirsky added that the 2014 record feels like home. "Shabbat is music," he said. "Shabbat is roots. Shabbat is open. Shabbat is no judgment."
Last year, Moshav also released New Sun Rising, with the single World on Fire featuring Matisyahu; its music video has been viewed more than one million times.
"We try to make music that we really love and connect to," Solomon said. "We draw from our Jewish roots and heritage, but hopefully the result is universal, something that also sounds really interesting and cool to someone who isn't Jewish."
The JCC presents Moshav in concert, outdoor at the Boonshoft CJCE, 525 Versailles Dr., Centerville on Sunday, Aug. 9. Local entertainment begins and kosher food vendors will be available starting at 3:30 p.m., with Moshav's concert at 5 p.m. The event is free and open to the public. For more information, call the JCC at 610-1555.
To read the complete August 2015 Dayton Jewish Observer, click here.