'Stand united in support of Israel's safety and security'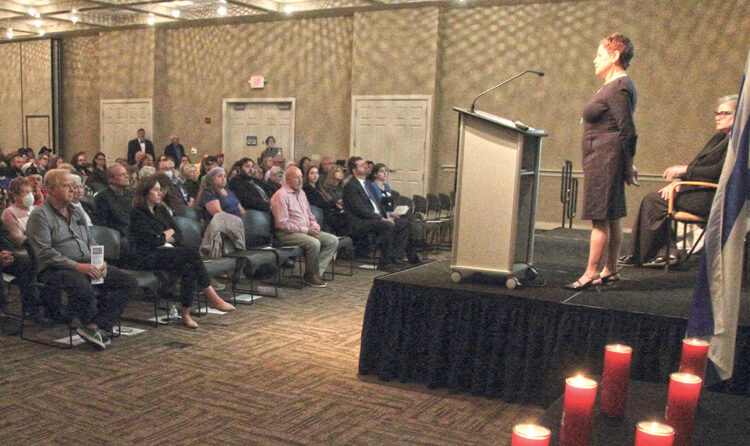 Federation president urges local Jews to help the Jewish state through the crisis of Hamas' massacre and war.
By Marshall Weiss, The Dayton Jewish Observer
Three days after the brutal Hamas massacre that left 1,400 mostly civilian Israelis dead, thousands wounded, and more than 220 captive, members of the Miami Valley's Jewish community came together to mourn, pray, find strength, and show their support for Israel.
"At dawn on the Jewish holiday of Shemini Atzeret, the terrorists of Hamas sent thousands of rockets into Israel and launched unthinkable attacks," Jewish Federation of Greater Dayton President Mary Rita Weissman told the 250 participants at the Stand With Israel Community Solidarity Gathering, at the Boonshoft Center for Jewish Culture and Education on the evening of Oct. 10.
The State of Israel has confirmed that approximately 30 of the hostages are children and up to 20 are elderly. More than a dozen are American citizens.
Hamas' Oct. 7 invasion of Israel marks the deadliest day for Jews since the Holocaust.
It was a day, Weissman said, of terror, death, and unbounded grief.
"Striking revelers dancing through the night at a music festival, killing babies, some of them by beheading. Slitting open the bellies of pregnant women and pulling the fetuses out of their uteruses."
She urged Jews in the Dayton area to advocate on Israel's behalf.
"In your community, classrooms or social media platforms, let the world know that you stand with Israel. Shout at your employers and any universities that you support to stand with Israel. Most of those who have been quick to support other beleaguered communities in their time of need have been notably silent in supporting Israel and the Jewish community. Do not let them be silent."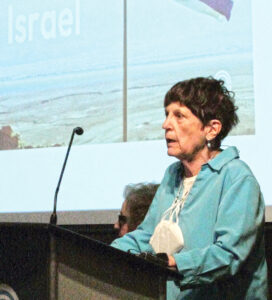 She called on those present to pray for the safety of the Israel Defense Forces, for the comfort of those who grieve for loved ones, for the welfare of Israel, "and for the nearly superhuman strength and wisdom that this terrible hour necessitates in their leaders. Pray also for the multitudes of Gaza citizens who condemn the terrorists and their inhuman attacks."
Weissman's call to action included a call to unity.
"As difficult as this may be, put politics aside," she said. "Our community has diverse political views, both in America and in Israel. Now is the time to set our differences aside and stand united in support of Israel's safety and security."
Cathy Gardner, the Jewish Federation's CEO, emphasized that the Hamas terror organization, which perpetrated the unprecedented attacks, wants to see Israel and Jews "wiped off the face of the earth forever."
"Tonight, we reaffirm that the Jewish Federation of Greater Dayton and our community partners will do all that we can to stand with Israel and help our fellow Jews who have been affected by this horrific war."
Before he recited Psalms and prayers for healing, Chabad's Rabbi Nochum Mangel noted that the "battle against evil" can take place on multiple fronts.
"The physical war is fought with bullets, tanks, planes, and missiles," he said. "And the spiritual one, to destroy or eradicate evil forever, is fought with prayers, Torah study, and good deeds."
When Temple Beth Or's Rabbi Judy Chessin recited the Mourner's Kaddish, she noted that in Hebrew, the word crisis, mashber, also means childbirth chair.
"Written into the language of the Jewish consciousness is the idea that the pain of hard times is akin to the contractions of a woman giving birth: something new is about to be born out of the crisis. And today, we make history. In an age in which people of violence are committing acts of brutality in the name of God without compassion for us, we gird ourselves for yet another battle.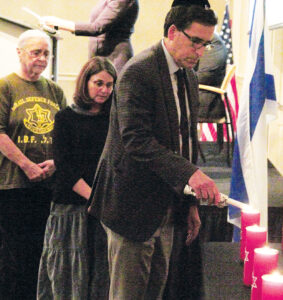 "But we are Yisrael. We are those who struggle with God and nation. And we will wrestle once again. We will prevail. And we will give birth to a new Middle East that is closer to our dreams and our hopes for peace."
Chessin invited Israelis at the gathering to join the Dayton Jewish Chorale on stage to sing Hatikvah, Israel's national anthem. Hatikvah means The Hope.
Weissman, the Jewish Federation's president, echoed Chessin's message of hope.
"Perhaps most difficult and important of all, resist succumbing to despair. Continue to hold fast to the belief that a better future is possible. Even if the path is unclear. Israel is our family. The Talmud teaches us that all of Israel is responsible for one another. In crisis, family steps up.
"Even if there is discord among us, may we all step up in this difficult hour. May God save Israel from this unbearable tragedy and help each of us to find a way to support and uplift one another."
Jewish Federations of North America have opened a fund to support Israel. Donations will support victims of terror, help rebuild damaged infrastructure, and address the unprecedented levels of trauma caused by Hamas' brutal attacks. To donate, click here.
To read the complete November 2023 Dayton Jewish Observer, click here.