12-year-old's head, heart are with her parents in Ukraine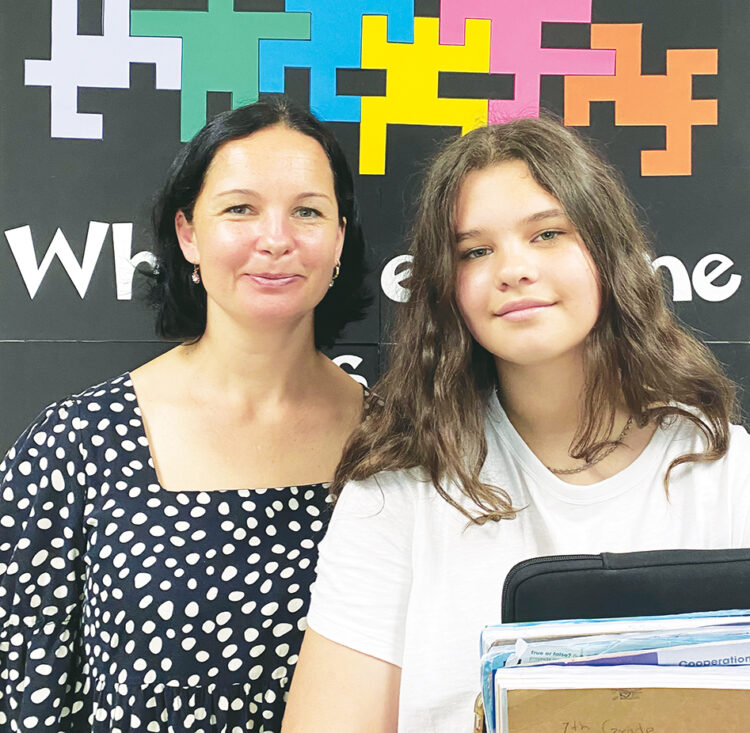 By Marshall Weiss, The Dayton Jewish Observer
Like so many middle schoolers, 12-year-old Polina hangs out with her friends, riding bikes after school and on the weekends.
She and her friends constantly check on their chats to find out the latest news among their classmates.
Unlike her friends, she keeps up with assignments from two schools: Magsig Middle School in Centerville, where she is enrolled as a seventh grader, and online for her school in Ukraine on evenings and weekends.
Polina is determined that when the war in Ukraine ends, she will return and pick up her studies seamlessly, without falling behind.
She arrived in Centerville last August accompanied by her mother, who then returned to Ukraine, where her husband fights in the army and her parents and his parents live. It was a harrowing journey of three months across five countries to get Polina out of a war zone.
Polina lives with her aunt and uncle, Maryna and Michael Braginsky, and their six children.
"I hope I'm coming back to Suma so soon. I hope so," she says of her family's hometown.
She hasn't seen her dad, Maryna's older brother, since March 2022 — and that was for 15 minutes. He is now stationed in Slovyansk, near Bakhmut.
"My grandmother misses my dad so much, like me," Polina says. She follows the news from Ukraine every day.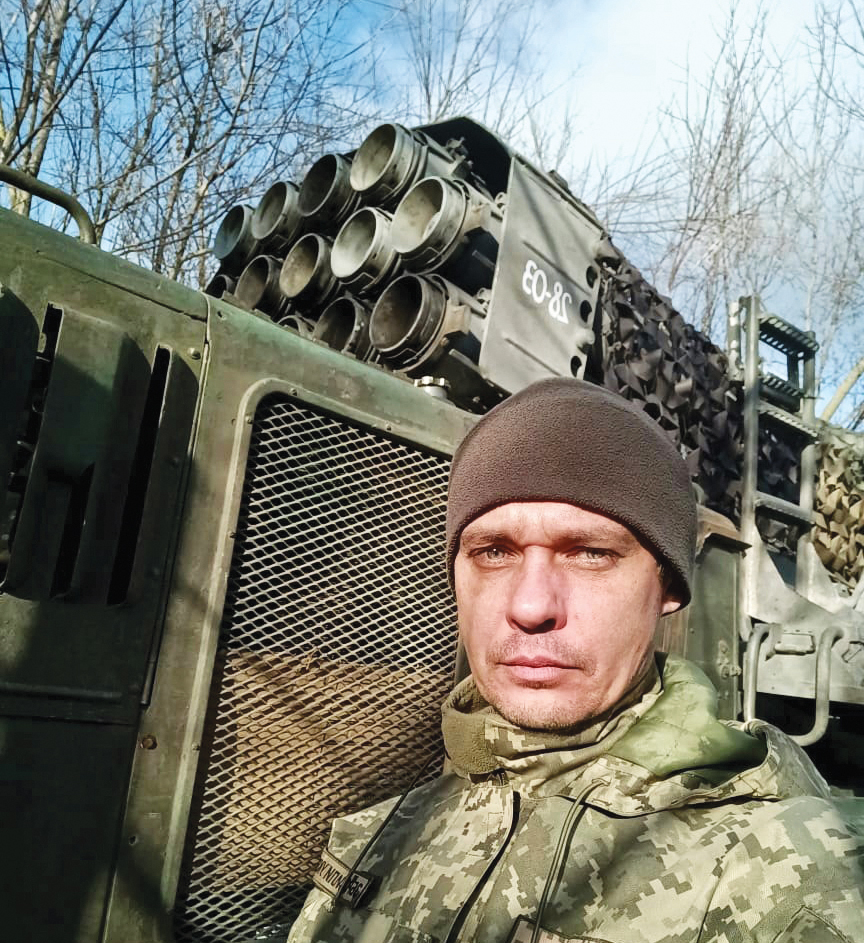 "I need to know everything that's happening in my country because I miss my country. I want to go back there so soon. I hope I'm going this summer to Ukraine, but I don't think the war will be finished."
It's a painful realization for Polina to accept.
"At first, she wouldn't make friends with even my kids — her cousins — she wouldn't make friends at school," says her aunt, Maryna.
"She knows a Ukrainian-speaking girl, so she was friends with her, and that's it. She didn't care about schoolwork because she was expecting that she wakes up the next morning and the war is over. As the time goes by, at some point she realized that it's taking longer than she thought. So she started making friends and her school grades improved, and she started to go in to (worship) services with us, and to attend religious community functions."
Polina says her best friend at Magsig is a girl from Japan. "She's been here two years."
To cope with the constant stress about her parents and the war, the youngster plays volleyball, listens to Ukrainian pop music, and talks with her cousin, Maryna's daughter Elizabeth, who is in eighth grade at Magsig.
"She knows everything about it, but doesn't tell everybody," Polina says of her cousin.
Polina is in contact with her dad almost every day. "I talk with him more when I can, but it's war. And I have to adjust."
Her mother continues her work in a grocery store in Suma.
"We are not talking every day, but we're trying," Polina says, "because she comes home at seven or eight, and she goes to work at 5 a.m. in the morning."
Her mother helps her with Ukrainian school assignments.
"She doesn't want to miss the grade," Maryna says of her niece. "That's why they agreed, the Ukrainian school, that she will do some assignments. Not every day, but some assignments, so she has grades going there. And now, they are approaching final exams in May. I don't know how they will arrange that."
As her first school year wraps up at Magsig, Polina describes her situation as "actually good."
"My grades are good because my English is just a little bit better. I'm so glad my English is much better right now. Teachers can understand me. I love this school. It's a good school. It's good teachers. They help me with everything."
An only child, she's also had to adjust to a family dynamic of six other children in a household.
"And her parents worked constantly, so Polina was home by herself after school," Maryna explains, which is the norm in Ukraine. "People in Ukraine have much less flexibility with working hours and do not have a system of afterschool care."
"Yeah, I did whatever I wanted," Polina says of her life in Suma. "Here, I always have my aunt staying home. At first, it was uncomfortable for me because somebody's always home. And there are so many kids."
She sleeps in the girls' bedroom, with her three female cousins.
It's not known when Ukraine will launch its anticipated advance on the Russian army. But Maryna says that right now, her family in Ukraine is safe. Her parents have the food and medicines they need at their home in Suma.
"They do bomb that city," Maryna says. "They just don't get as far as they used to."
Her younger brother, also in the Ukrainian army, married a woman with the army's medical personnel in December.
"He says that she really kept him sane, because he lost his friend, dying in his arms," Maryna says. "He lost another friend, shot somewhere, so he traveled just to see him in the morgue."
Along with the American fast food Polina has come to enjoy, she says she loves her aunt's cooking.
"She can cook Ukrainian food and I'm so happy about it, because I can eat this food, what I was eating in my home," Polina says. "I love borsht (beet soup) so much."
Polina says that since she arrived at the Braginsky home, she has all but stopped eating pork, because the family keeps kosher.
"Right now, I'm so fine with this," Polina says. "If I eat pork, it's at a restaurant and not very often."
Polina was raised as a Christian, her mother's faith.
"We did have that adjustment about dietary restrictions," says Maryna, who keeps a traditional Jewish home.
"In August, she would make herself a sandwich with turkey and the cheese on top. And everybody just faints. And of course, there is an issue of dress code. We try to maintain modesty. And that is a huge and big struggle."
When Polina first attended services with the Braginskys at Chabad, Rabbi Nochum Mangel gave her a Siddur (prayer book) with a Russian translation.
"Rabbi Mangel said, 'Well, we couldn't find it in Ukrainian, but this will do.' And it did," Maryna says.
"I was trying some singing," Polina adds. "Rabbi Mangel was so nice to me."
Through the Uniting for Ukraine program of the U.S. government, Polina is able to stay in the United States for two years, until May 2024.
"Our concern is, what if the war is not over until after May 2024?" Maryna says. "We know for sure that this program has absolutely no mechanisms of extending her legal time in the U.S.; Homeland Security said they do not have anything in place yet.
"It was super hard to get her here. We fought through lawyers and senators and congressmen. We are preparing already to research the options. It would be easier if she was going to transfer to high school next year, because we can apply for a student visa. But they don't do it for middle school-age kids."
Polina says her plans for the summer include "lots and lots of swimming," riding bikes, and to join a volleyball team when she turns 13 in August.
Except for the littlest one, Polina's cousins will go to Camp Livingston overnight Jewish camp this summer.
"We offered to take her also," Maryna says. "But she said no, she didn't want to. It's too many new places for her to handle in such a short period of time."
To read the complete May 2023 Dayton Jewish Observer, click here.