Meet 3 Judaic scholars now teaching in our region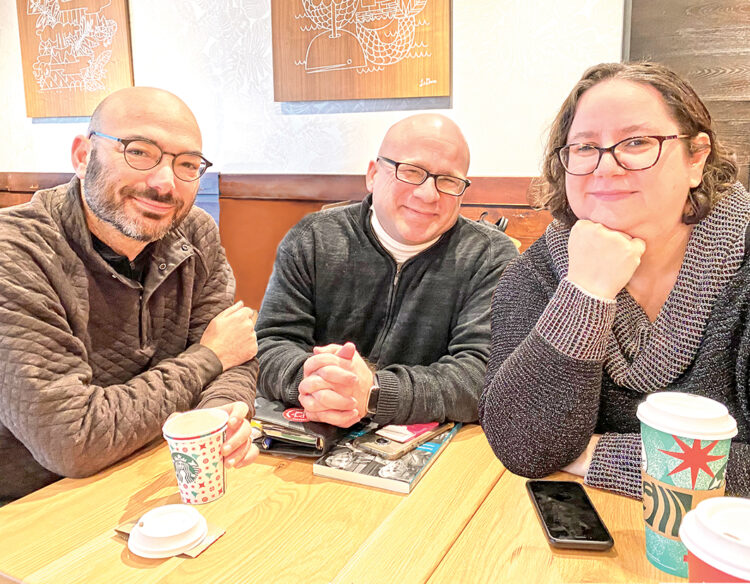 By Marshall Weiss, The Dayton Jewish Observer
With the recent hiring of three Judaic scholars in our region, we introduce you to them here. They are Jenny Caplan, Jewish Foundation of Cincinnati Chair in Judaic Studies at University of Cincinnati; Elliot Ratzman, chair in Jewish studies and visiting assistant professor of Jewish studies at Earlham College in Richmond, Ind.; and Abraham Rubin, assistant professor of religious studies at the University of Dayton.
Ratzman received his Ph.D. from Princeton University and began teaching at Earlham in August 2021. Caplan received her Ph.D. from Syracuse University, and Rubin received his Ph.D. from City University of New York. Caplan and Rubin started their new positions in August 2022. This interview has been edited for clarity and length.
Jenny, you have major ties to Dayton.
Jenny: Yeah. My dad is from Dayton, my family. And we moved up here (from Florida) the summer before my sophomore year of college, which was '98.
Elliot, you're originally from Cincinnati?
Elliot: I went to Finneytown High School, Northern Hills Synagogue, and on to Ohio University for college. I live in Richmond, but I'm always here. I hang here and in Cincinnati because I was very involved with BBYO and Camp Livingston. I have a lot of Dayton and Cincinnati friends still here.
Abraham: I was born in Chicago. My parents made aliyah when I was 10 months old. I grew up in Haifa, Israel. I lived there until I was 27. I was at the Hebrew University of Jerusalem for the past four years.
What are your specialties?
Jenny: I'm trained in religious studies, not Jewish studies. My area of expertise is in American religion. But Americanists tend to pick some sort of corner of that to focus on and so mine is American Judaism. I mostly do contemporary American Judaism and popular culture. A lot of stuff about film and television.
My first book is coming out in a couple of months on Jewish humor and my second book, that I just got a yearlong fellowship to write, will be on comic books: Jewish comic book characters and the story of how these Jewish comic book creators made characters that weren't Jewish, and then when they got taken over by non-Jewish writers, the characters got turned into Jewish characters.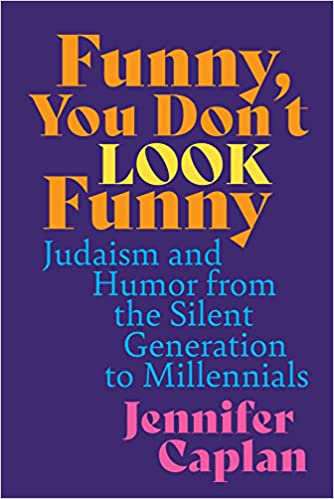 Elliot: I think of myself as a social ethicist, working with modern religious materials. Everything I teach, everything I write, is all in the service of political ethics. If I'm known for anything, it's around questions of race, racial identity, and solidarity in the history of the Jewish 20th century. But originally my claim to fame was in contemporary Jewish thought and Jewish philosophy.
I'm working on a book on Jewish anti-racism and who knows when that will be finished. And then I have another project on undercover passing projects, where writers pretend to be members of another group, sometimes Jews pretending to be non-Jews, sometimes wealthy people pretending to be poor people, White people pretending to be Black. That's another project I'm hoping to dust off soon.
Abraham: I focus on German Jewish literature, culture, and thought. Most recently, I've been working on conversion narratives, the autobiographical writings of Central European Jews who converted out of Judaism to Islam and Christianity and their ongoing dialogue with the background that they rejected. I try to look at how these stories can be understood in the context of modern Jewish history as growing out of the options that Jews faced in the modern era. I have a manuscript that is currently under review.
What classes are you teaching?
Abraham: Intro. to Judaism and Intro. to Religious Studies.
Elliot: Science, Medicine, and Religion, a course on the Bible and Politics, and my signature course on Race and Judaism.
Jenny: Intro. to the Study of Religion, and Jews in American Film.
Do your non-Jewish students come with any prior knowledge of Judaism?
Abraham: No.
Jenny: Mostly with my classes, it's a subset who are interested in whatever is after the "and" of "Jews and…" They usually know more about the second half of the course title than the Jewish part.
Elliot: Teaching Bible courses to mostly non-Jewish students, they are fascinated and repelled by what they discover in the Hebrew Bible. It seems like most of them have never read the Bible. This semester, all of my students are international students, too.
Elliot, how much of the student body at Earlham is Quaker?
Elliot: Very little. Earlham used to be about 10-15 percent Jewish. But not anymore. Not at all. So I don't have any Jewish students really. What I have been delightfully unexpectedly pleased with is introducing the students to medieval rabbinic commentaries on the Bible, because Sefaria, the website, has provided a one-stop shop for going down a rabbit hole of how the Jewish tradition interprets this material. And I'm learning a lot, too.
Abraham: The cultural baggage students are bringing from their own faith commitments is actually a great opportunity for them to reexamine their own commitments when they study Intro. to Judaism. Elliot encouraged me to teach a segment on Jewish-Christian differences and Jewish-Christian relations, which was actually one of the most positive parts of the course.
They get very curious about the Jewish context of the early Christian movement, and they were very surprised about some of the things that they learned. I think there's still some room for a Part II of this class. The students were writing about their midterm reflections, they learned about how Jesus is a committed Jew, so their question was, "Why don't the Jews believe in Jesus then?" They were curious about it because it related to their own faith commitment.
Jenny: My evangelical students are really my favorites. They're so interested. They frequently come at it with very little self-conscious self-censorship. They're willing to ask questions that most students will be like, "Oh, I don't want to ask, maybe it'll be offensive, maybe everybody already knows that." I love those students.
Abraham: To go back to the issue of the students' backgrounds and what they know or don't from their own religious traditions, they're surprised to learn about some of the very anti-Jewish statements in the New Testament, like Jesus calling the Jews "children of (your father) the devil." Or again, the "synagogue of Satan." Things like that. They're shocked to learn that those things exist in their scriptures.
So you have students with zero frame of reference for what you teach?
Jenny: That's most of the students these days.
Elliot: Well, yeah. Some of my more activist students were very angry at me last spring for talking about how White American Jews are very ambivalent about their whiteness. And when I announced that I and other people I know sometimes check the "other" racial box, they were aghast.
They couldn't understand the complicated politics of whiteness because they see it all through the lens of the Israel-Palestine conflict: Jews are obviously White because they're dominating Palestinians. And so they were not very generous in understanding the history of Jewish ambivalence about whiteness and gestures of solidarity with African Americans.
Were some eventually able to process that?
Elliot: Some. The head of the Palestinian students took my class, Race and Judaism. He's learning a lot about Jewish internal handwringing around impressions of power and race. So that's important.
What projects would you like to pursue that you haven't yet?
Jenny: I want to get back to contextualizing American Judaism within a larger religious context.
Abraham: In terms of experiential learning, my dream is to get my Intro. to Judaism students to Beth Abraham for Purim. I think that a lot of the things that worked for me five or 10 years ago in the classroom need to be rethought and reworked to connect students to the material. Covid and the changes to students' learning habits have really required me to adapt.
Elliot: I've gotten much more involved with the organized pacifist community in the last few years. So I'm hoping to do some actual archival work on some of the American Jewish history of pacifism. I also have a project on Martin Luther King Jr.'s intellectual influences, which was a class, which I'm hoping to turn into something like a book.
What else would you like to share?
Elliot: We have a wonderful convergence of great scholars now here in the region to add to the already existing Jewish studies faculty the region is dotted with. I'm really glad to have my colleagues here.
Abraham: I've only been here three months now, but it's been such an enriching experience to be teaching Jewish studies at a Catholic, Marianist institution. I really have this comparative cross-cultural experience here that I don't think I would have had anywhere else.
Elliot: But we're also not here just to be ambassadors for the Jewish world to the non-Jews. We're here doing serious pedagogy and we teach serious stuff. We're not here to promote Judaism. And a lot of parents and students think, "I'm going to take a Judaism class to get what I didn't get in terrible Sunday schools." And that's just not part of the bag.
Jenny: Or "I want my kid to take it for the Judaism so that they stay Jewish."
Elliot: "Marry a Jewish person."
Jenny: They are much more likely to come out of my class slightly disenchanted.
Elliot: I've met with parents of prospective students who are wanting to see if Earlham will offer a sort of wrap-around Jewish life experience for them. In some ways, I'm also the Hillel director. We have five students who reside in the Jewish Cultural Center, which was dedicated by Elie Wiesel in the late '80s. There are theme houses at Earlham. But there's no Hillel building. It doesn't make any sense. Small liberal arts schools do not have the same resources as a UC or even a UD.
So talking to prospective Jewish parents, I said, "Look, your student's going to come here and have a really enriching experience with international students and an incredibly engaged intellectual experience. But there's not a Hillel house with Shabbat dinners every Friday like other schools." There's Shabbats every few weeks for the whole community. We have a lot of non-Jews who come to the Shabbats.
SIDEBAR: Nearly a quarter century at Wright State for Judaic Studies Chair Mark Verman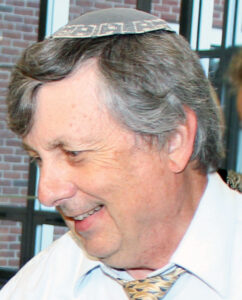 Mark Verman has served as professor of religion and Larry and Leonore Zusman Chair of Judaic Studies at Wright State University since 1999. With a Ph.D. from Harvard University, he specializes in biblical and post-biblical Jewish literature, comparative mysticism, and Holocaust and film studies. He is the author of The Circle of Contemplation: Medieval Jewish Mystical Sources and The History and Varieties of Jewish Meditation. Verman teaches the Bible, Koran, World Religions, and various aspects of Jewish thought. He facilitates the Annual Ryterband Symposium in Judaic Studies, co-sponsored by the University of Dayton, United Theological Seminary, and Wright State.
— Marshall Weiss
To read the complete January 2023 Dayton Jewish Observer, click here.