Beth Abraham's new rabbi expected to arrive in Dayton in time to lead Rosh Hashanah services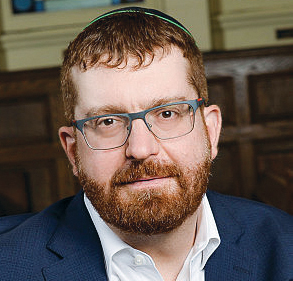 In an email this afternoon to members of Beth Abraham Synagogue, its president, Scott Liberman, announced that Rabbi Aubrey L. Glazer was approved to enter the United States in time to lead services in person for Rosh Hashanah, the Jewish new year, which begins at sundown on Sunday night, Sept. 25.
Glazer, who was selected to serve as the Conservative congregation's rabbi in March, was to begin his work in Dayton on Aug. 1. Because of a U.S. government backlog  processing visa approvals, he has remained in Montreal, working remotely instead. The rabbi was unable to begin his work in the U.S. until U.S. Customs and Immigration made a site visit to Beth Abraham. According to Liberman, the synagogue filed the visa application for the rabbi in mid-April.
A prolific author and educator who specializes in Jewish mysticism, thought, and philosophy, the rabbi received his ordination from Jewish Theological Seminary and his Ph.D. in religious studies from the University of Toronto. His publications include Mystical Vertigo, Tangle of Matter & Ghost: Leonard Cohen's Post-Secular Songbook of Mysticism(s) Jewish & Beyond, and God Knows Everything is Broken: Bob Dylan's Gnostic Mystical Songbook.
Glazer most recently served as senior rabbi of Congregation Shaare Zion in Montreal and has served as senior rabbi of Congregation Beth Sholom in San Francisco and the JCC of Harrison, N.Y.
The rabbi will arrive here with his wife, artist and art teacher Elyssa Wortzman. Their teenage daughter, Tal, is studying in Israel for the year.
— Marshall Weiss