Infectious disease specialist Dr. Jack Bernstein: Take the vaccine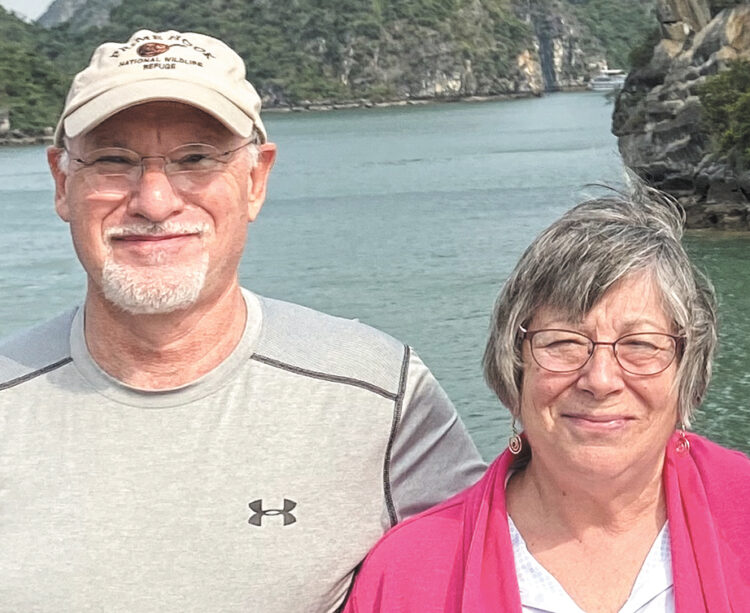 Interview by Marshall Weiss The Observer
Although Dr. Jack Bernstein estimates he's run between 60 to 100 medical studies over his career as an infectious disease physician, the trials for Pfizer's Covid-19 vaccine this fall marked the first for him and his wife, Maryann, as participants.
An emeritus professor at the Wright State University Boonshoft School of Medicine who was head of infectious diseases with Dayton Veterans Affairs Medical Center for 20 years and also served as its associate chief of staff for research, Jack has returned to the Dayton VA's infectious diseases department for now.
Here, he talks about why he and his wife — longtime director of nursing at Covenant House, formerly Dayton's Jewish nursing home — decided to join the Pfizer study, his confidence in the new vaccines, and his advice for those before, during, and after they receive it. This interview has been edited for length and clarity.
Why did you return to the VA?
I was pressed back into service. I'm wearing two masks and a face shield. There have been several physicians that have gotten Covid. At the same time as I was going to cover the hospital, someone got Covid, so I'm pretty much there alone (in infectious diseases). But it's no big deal. I used to be in charge. I don't forget how to do it. And I've got residents and fellows with me, so it's OK. We have a nice little team.
At the VA, there are probably a dozen and a half, two dozen Covid patients. And we're a 120-bed hospital. That's 10 percent of the beds.
What we do with the Covid patients is mostly, we do things electronically: we look at them through glass doors because there are other docs there taking care of them for their breathing.
It's pretty much an algorithmic approach. If your oxygen is below a certain level, we give you this medicine, and if that doesn't work, the pulmonary doctors try to do everything they can to keep you off a vent.
We give them steroids, we give them Remdesivir, and then we give them supplemental oxygen.
What we have available right now, if you were to have Covid tomorrow, and we felt that you were at risk for complications as an outpatient, we give you the IV monoclonal antibody. That's being done as a standard of care.
If you deteriorate and you're admitted to the hospital and your oxygen saturation is below a certain point, we hit you with steroids and we start you up on Remdesivir. The steroids are going to go for about a week, 10 days, the Remdesivir is five days.
If that doesn't work, then what we're talking about is supportive care, try to maintain you until you recover.
How did you get involved with Pfizer's trial?
One of my colleagues, a friend, also who is a physician, told us about the trial, so we inquired, and they picked us up.
On the first day, we got some bloodwork, we got swabbed for the virus, and we got the first injection. And so the way that worked is just an intramuscular injection into your arm, not subcutaneous, meaning deep.
And, in my case, it was like I got nothing. In Maryann's case, a couple of hours later, it hurt, but by the next day she was pretty much back to normal.
Three weeks later, we had a booster dose. After the second vaccine, for me it was like nothing. For Maryann, she had more severe pain in her arm within a couple of hours, and a little bit of pain under her arm. And the next day, she had a very mild transient rash. No fever. She felt off and was tired that day. She was in bed that day. But she was back to normal within 48 hours. And that was the worst it was.
My supposition, which was not proven, is that she got the vaccine and that it gave her a good immune response, so with the second shot, she was reacting to the vaccine, and what happened was the proteins that were made in her arm drained into her armpit. And so the T cells were hitting her armpit because it looked like it was virus. And also, you could frequently see a slight rash, with a lot of viral diseases, which is not the virus itself, but the body's reaction to the virus.
My theory is I had placebo, though when we talked to the physician about it at the study, he said he's known more than 50 percent of people did not have a reaction (to the vaccine) so there may be some people who just don't have that much of a reaction. Maryann may have had a bit more (of a reaction) than many. And what she had was not inconsistent with what's been written up.
How will you be tracked moving forward?
What I am told by a text message from the other physicians on the study is that those of us who got the placebo will be offered vaccine, but they don't know the exact timeline of that, meaning I don't know if it's this week, this month. If it's not going to be in the near future and it's available at the hospital, I will get it for myself, no matter what.
But I would like to know if I had the vaccine or not, because I don't want two doses. For lots of reasons: both the reaction and because I'd rather save it for someone else who needs it.
If you're going to maintain objectivity for the physicians, the physicians running the study can't know what you had, because they might have an unconscious bias. 'She got the vaccine, she looks better.'
Now that there's a vaccine that's under emergency authorization, is there an ethical mandate to tell us who had placebo and offer us the vaccine?
This has been a big debate in the NIH for the last month or two. And some people had said, 'No, leave them on, we want to follow them for two years, so we're not going to tell the placebo participants whether they had the vaccine or not.'
What I think is that this has fallen by the wayside, and the present intention is to tell us — whichever of us have had placebo — and to offer us vaccination.
I think one of the reasons for that is that if they don't tell us, we're going to drop out of the darn study and get the vaccine.
Knowing how this vaccine works and how efficacious it appears to be, I have no desire to remain unvaccinated, as a person over a certain age and as a healthcare professional — both ways, even though I don't have any major underlying diseases. I've seen people with no underlying diseases in the Jewish community, as you're well aware, get very sick from this and die.
This vaccine and probably the Moderna look really good insofar as it appears you have reasonable protection in 10 days, which is just amazing.
When Pfizer released their analysis of the data, that's when they broke out the fact that, counting days from vaccination and what was your chance of getting infected, with placebo, the line went up 45 degrees.
With the active, it went up the same slope for 10 days, and then plateaued and went up a very tiny bit. That tells you something. But at the second dose, we were at 95-percent efficacy.
I wouldn't tell anybody one dose is good enough to be fine. Please take the two doses. And that's going to make it the most effective, best antibodies against it.
And I reviewed a paper by a friend of mine from early on in the studies, and I looked at the antibody levels, and really, the two doses are what you need. It's really good protection. At least, it looks that way.
Why did you decide to participate in the trial?
I've spoken on the Flu of 1918 many times. I know what happened then and I didn't like what was happening now. So I think going on the trial gave me a 50-50 chance of getting a vaccine that might have worked.
I'm familiar with the technology, it's a new technology. I thought it should be pretty effective. I thought since it had already gone through the Phase I and the Phase II trials, and I knew there were no major adverse effects, there was little for me to lose and a lot to gain.
Once you and Maryann have both received both doses of the vaccine, how will you navigate the world around you?
Number one, I will not rip off my mask in public. We will continue to wear masks because I think it's bad form to not wear a mask in this epidemic until everybody cannot wear a mask.
However, I will feel much more comfortable traveling to Cleveland, traveling to New York City, traveling on an airplane if I know I'm protected.
I'd say my anxiety level will be close to zero one month out of the vaccine. Because that's 95-percent (efficacy). A week after the second vaccination, you're at your maximum antibody level and then, do what you want.
How long will the vaccine last?
I will guess it will last a couple of years. But no one knows. This is too new. I've been asked many times: will we need to get vaccinated with this every year? Well, this is not flu. Now, if we look at this as analogous to a measles shot, which is another RNA virus, a measles shot lasts for years. So unless this virus does something really strange and invades in our immunity, it should last for a while. We may need boosters eventually, but it should last for a considerable while.
But even with the Covid vaccines starting to be distributed, people shouldn't let their guard down.
Until you're at least a couple of weeks out from the second dose of the vaccine, I wouldn't let my guard down. Not at all. We've been successful in avoiding this, and the way we avoid it is: no big crowds, when we're shopping at Kroger we're wearing our masks, we wash our hands.
We cannot let down our guard insofar as distancing and being careful about exposures until we see that curve coming way down.
Ohio now is the highest rate. I look at the Times every day. And Ohio's color, you don't get any darker than Ohio's color right now. If you look at it, it's all over the state. And the hospitals are filling up. We don't want to be one of those patients. So that's the first thing.
The second thing is, when you're offered the vaccine, take it. It's going to protect you. It's not going to turn you into a mutant or an alien.
It's a new vaccine but it's just a different way of presenting you with viral antigens. And I think it's the way of the future because now if we get a new virus next year, we can produce this in months, not years. And that is just one thing this has taught us.
To read the complete January 2021 Dayton Jewish Observer, click here.