A familiar face and a new face ready to inspire at local Reform temples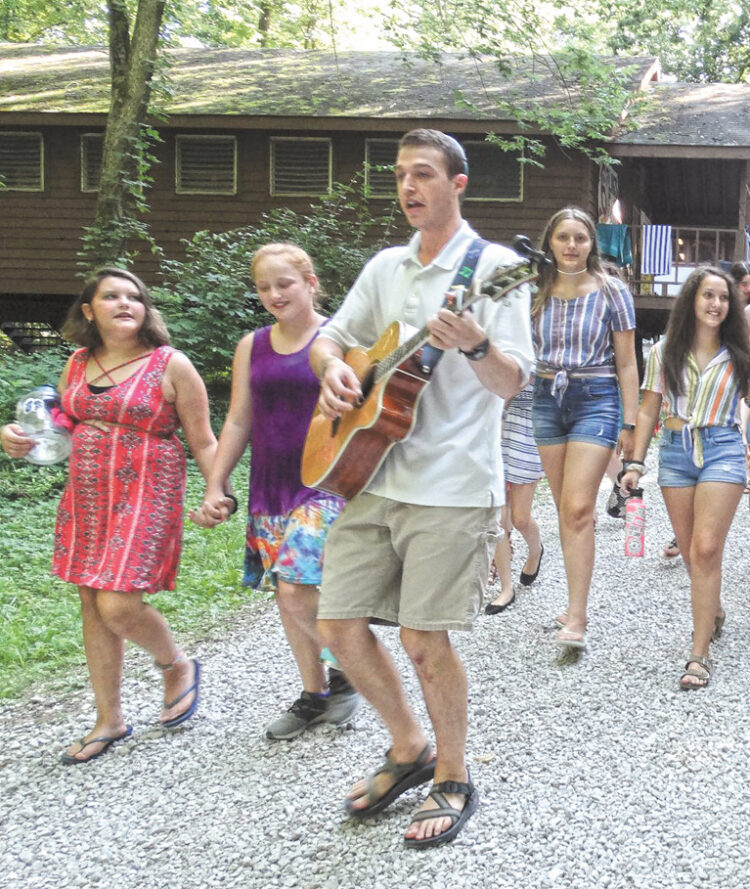 By Faygie Holt, Special To The Dayton Jewish Observer
Temple Beth Or encouraged Grant Halasz to use his musical talents there for its programs when he was growing up.
It was a skill he furthered during his years at Union for Reform Judaism camps, including Goldman Union Camp Institute in Zionsville, Ind., where he worked for several years as a counselor before serving as song leader in 2019.
"I fell in love with Judaism through song-leading," said Halasz, of Centerville. "My family was very involved with Beth Or when I was growing up, and Rabbi Judy Chessin asked me to start helping out with leading a couple songs in the morning before Sunday school. It just grew from there."
Now a college graduate with a degree in Judaic studies from the University of Cincinnati, Halasz is taking a gap year off from his studies and putting his skills to work at another Miami Valley Reform congregation, Temple Israel, where he'll serve as rabbinic intern and youth director.
It will allow him to really see the day-to-day inner workings of the rabbinate as he intends to start rabbinic school in the near future.
"I have always loved helping people with their problems and helping them to feel that they are part of the community and not ostracized," he said. "I think that intersection between the love of Jewish culture and helping people feel they are part of the community would most fit with the rabbinate."
During his internship, Halasz will assist with Friday-night services, give Torah-study classes, and work with the temple's youth. Of the latter, he said, "It's important to have buy-in from the kids" when it comes to programming, as that's "a good first step in them wanting to return more and be more engaged. "
Halasz's guide through his rabbinic internship is his aunt, Rabbi Karen Bodney-Halasz, Temple Israel's senior rabbi.
"Grant has been thinking about this for a long time and I'm very proud of him," Bodney-Halasz said, adding that "Grant is not afraid to ask questions and to reflect on what's happening. The experiences in leadership he's had through his undergraduate experiences and his work at camp show me that he understands what it means to be a part of an organization."
Halasz is also a familiar face at Temple Israel too, playing guitar and singing for programs and services.
"He is someone who feels deeply connected to the Jewish people and loves Judaism and is willing to work for something that means a lot to him," Bodney-Halasz added.
Cheering him on in Dayton are his parents, Teri and Dr. Mike Halasz, and grandparents Maxine and Jerry Halasz.
Also cheering him on is Chessin, who first encouraged him to use his musical talents at Temple Beth Or.
"I'm really thrilled he has the opportunity to be at Temple Israel," she said, adding that by serving there, "he gets to experience a different setting and community, because one doesn't know where they will feel most at home."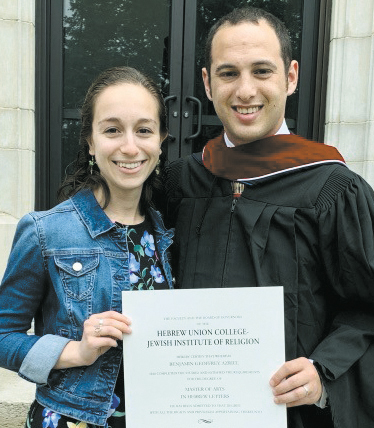 Also this summer, Temple Beth Or welcomes its new assistant rabbi, Benjamin G. Azriel, who received his rabbinic ordination from Hebrew Union College-Jewish Institute of Religion in May; he's also Temple Beth Or's new educator, running the congregation's religious school, Makor.
"I have always wanted to be a teacher," Azriel said. "Following a trip to Israel when I was young, I discovered a love of Judaism and a personal connection to my religion. The perfect combination of teacher and religion seemed to be the rabbinate."
Azriel said the rabbinate runs in the family: his uncle led a synagogue in Omaha for decades.
Azriel and his wife, Rachel, a medical student at the University of Cincinnati, have been married three years. They live just outside of Cincinnati along with their dog, Wrigley, named for the famed Chicago baseball stadium. "She was adopted during the 2016 World Series where the Cubs won it all for the first time in 108 years," the Chicago native said.
Though he's a trained tax accountant — an Ohio State alumnus — Azriel said he always knew his time in accounting would be limited.
"Today, I try to bring my business sense to effectively manage the organizational aspect of a synagogue, from budgets to time management to facility upkeep," he said. "A background in accounting will mesh beautifully with my love of being a rabbi."
Along with his role at Temple Beth Or, Azriel began his work in April as rabbi-administrator for Northern Hills Synagogue, a Conservative congregation in Warren County.
That financial background is a definite benefit, Chessin added, calling her new assistant rabbi a leader and an outstanding figure.
"Given the health concerns and coronavirus atmosphere, there will be a difference in how our whole religious education program runs, and that will all be his bailiwick," Chessin said.
Azriel said he looks forward to it.
"For me, it's crucial to bring Judaism alive for my students, to allow them to find personal connections to Judaism."
To read the complete August 2020 Dayton Jewish Observer, click here.