Young entrepreneur designs wheelchair apparel in sister's memory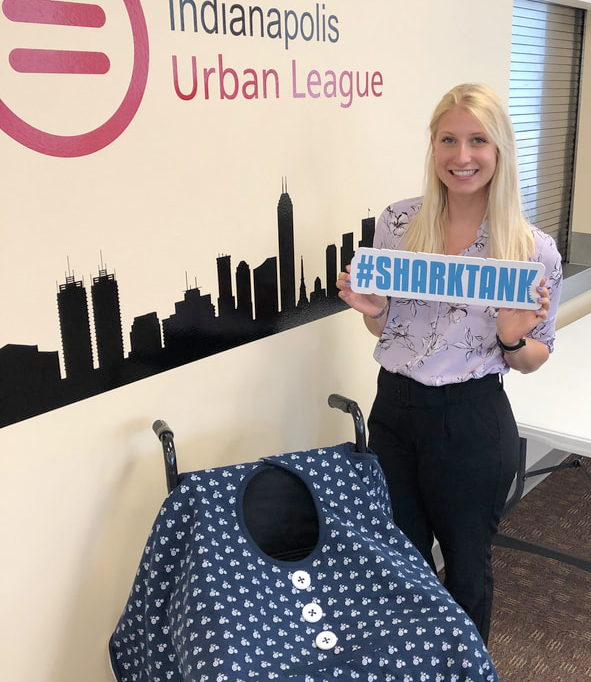 By Martha Moody Jacobs, Special To The Observer
Melanie Barrett, 20 years old and a junior at Wittenberg University, is an entrepreneur who designs and markets clothing. You might imagine she sells custom T-shirts or dresses made of repurposed fabrics. No. Barrett's passion is creating specialized apparel for people in wheelchairs.
Her upbringing at first sounds similar to that of many a Dayton area Jewish teen. She grew up in Vandalia, studied at Hillel Academy through third grade, attended Temple Israel, studied voice with Cantor Jerome Kopmar, and graduated from Vandalia-Butler High School.
But every day she experienced what most people don't deal with for even a minute: life with a severely disabled relative.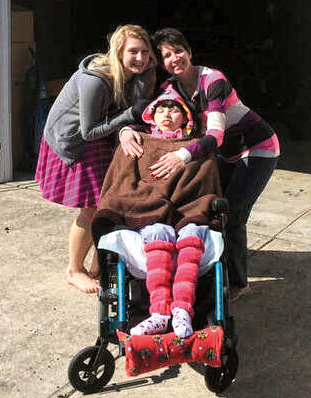 Barrett is the youngest of five children born to Anita and Michael Barrett. Her sister Bailey, born three years before Barrett, was diagnosed as a baby with Lennox-Gastaut Syndrome, a rare seizure disorder. Barrett says Bailey had the brain of a 6-month-old in a body that continued to grow and mature. Bailey was bed and wheelchair bound, legally deaf and blind. She was fed with a feeding tube and couldn't speak.
Yet Barrett describes her sister as radiating trust, warmth, and love.
Bailey's parents were told that Bailey would only live 10 years, but under the family's home care, she lived to age 20, dying in February 2017, after a bout of pneumonia. Barrett was a senior in high school.
"My parents are incredible people," she says.
"(Bailey) taught me a different kind of love," Barrett says. "After she died, I felt like I needed to do something for her." Barrett stresses the word for.
When Bailey reached 8 or 9, Barrett recalls, it became difficult to get her into a coat. Just leaning her forward and getting her arms into sleeves was a challenge. To keep Bailey warm and comfortable, the family devised a cape. Barrett's first clothing design was inspired by that cape.
She named her cape the Bailey Bug — the family nickname for Bailey. The fabric in Bailey's cape was printed with ladybugs, "Bailey's signature thing." Barrett says she hoped to help other families do something distinctive for their disabled loved ones.
Now, Bailey Bug is a functioning LLC that makes and sells capes and accessories. Barrett has had help getting to this point. As a freshman at Wittenberg, she won the university's inaugural Shark Tank-style contest, Tiger Tank.
Through that contest, she met a Wittenberg alumnus who became her mentor and introduced her to other helpful people.
Barrett tested and improved upon her design through a paid internship in product development, and, in her sophomore year of college, she arranged for her items to be manufactured at The Abilities Connection, a Springfield company that employs and supports people with disabilities.
In the meantime, Barrett added a major in business administration to her original major in opera performance.
She applied to be a contestant on Shark Tank and made it to the second but not the final round. She may try again.
A Bailey Bug cape is a washable, one-size-fits-all cape. The open back can be secured with snaps. Openings near the back shoulders accommodate wheelchair handles, giving a caregiver a better grip on the vehicle. The cape has a large central pocket on its front. The sides of the cape can be hooked onto buttons in the cape's chest area in order to free up the wearer's arms. Each Bailey Bug has a fleecy liner, calming with its texture and weight. The outer fabric is customizable, with lighter or heavier weight, solid colors or prints such as cats or bicycles. Barrett wants each family and wearer to have a cape special to them.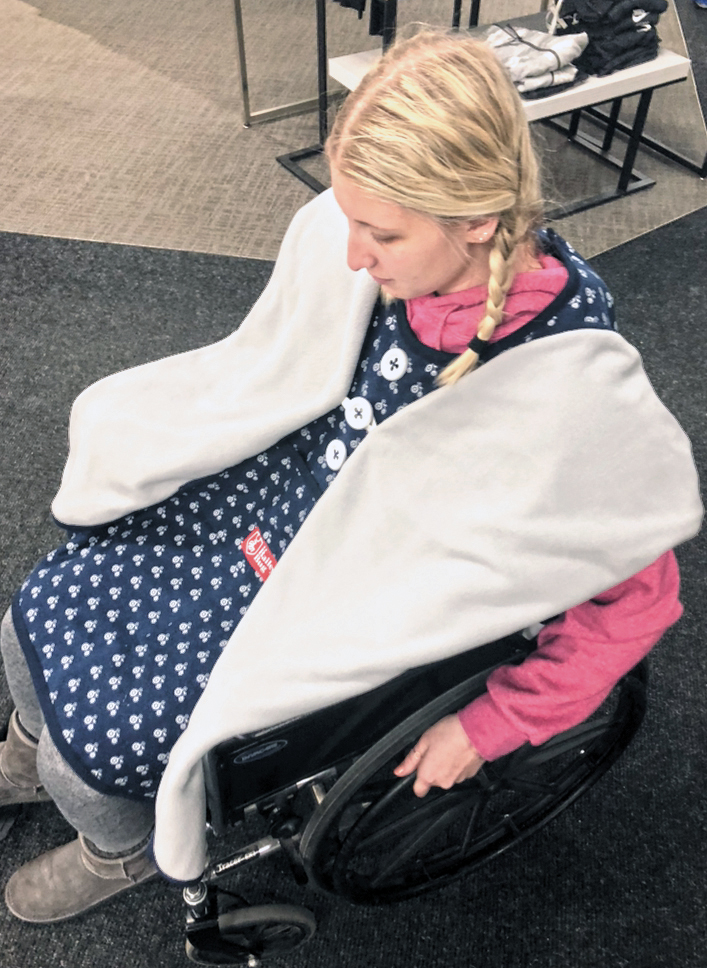 A friend of Barrett came up with the company's slogan: Bailey's touch has never been so warm. "He said, 'It seems like (Bailey) is adding more to the world than she ever could before,'" Barrett says.
Asked what she learned from growing up with a sister like Bailey, Barrett says, "I try not to take anything for granted…to be more accepting and to work with the community."
So far, Bailey Bug has sold 15 capes and has orders for 25 more. The company also sells Bailey Bug accessories, snap-on hoods, and bibs. Barrett once spotted a Bailey Bug worn by a person in a wheelchair at a Walmart. "That was the coolest thing!" She hopes that the capes will someday be sold in stores as well as online.
Barrett remembers her mother saying that a person is never really gone until the last time their name is spoken. Asked about her dreams for her business, Barrett has a quick response. "I want families (with wheelchair-bound members) to say, I want a Bailey cape!"
Bailey capes are available online at baileybug.org. A cape costs $70, a cape with a hood is $75. Bulk order pricing is available.
To read the complete November 2019 Dayton Jewish Observer, click here.